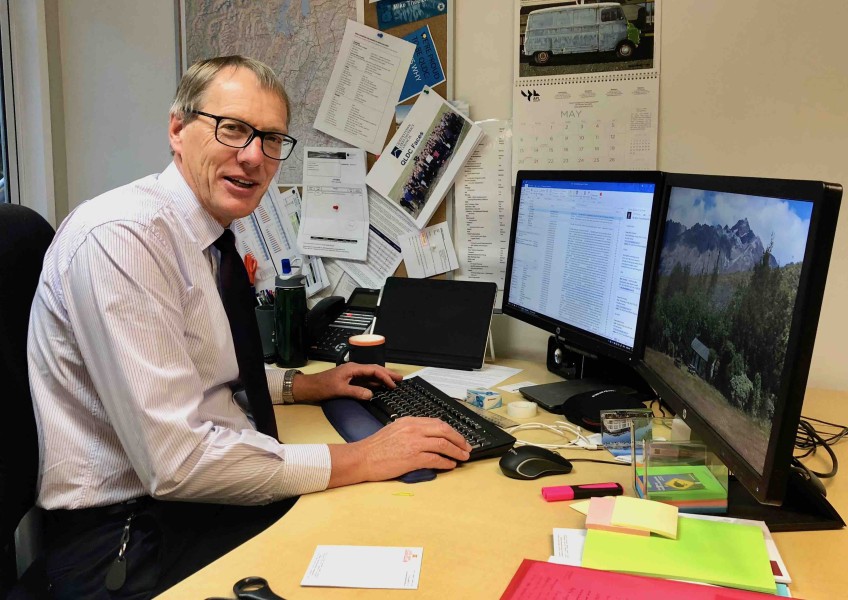 Our billion dollar man - QLDC boss Mike Theelen
---
Crux editor Peter Newport profiles the power behind the throne - Queenstown Lakes District Council chief executive Mike Theelen. He's the biggest employer in the district and will be in charge of a planned $1 billion spend over the next 10 years. What makes him tick and is our $1 billion in a safe pair of hands?
Mike Theelen is a tall and confident man with a quick, almost sharp, sense of humour matched by a calm, reassuring demeanour. Just the sort of man you'd want in charge of our multiple community crises and challenges. He occupies the office next door to Mayor Jim Boult in the council's bulging and overcrowded Gorge Road HQ - one of three large council offices in central Queenstown.
In fact his office is slightly bigger than the Mayor's. His salary is bigger and some would argue his job is bigger.
But who is Mike Theelen? He's largely managed to stay out of trouble since replacing former chief executive Adam Feeley in 2015. Feeley, a former head of the Serious Fraud Office, resigned before his contract ended after making 36 staff redundant and seeing seven out of nine senior management staff resign or have their positions disestablished.
It's never easy making those sort of cuts but many thought that Feeley was doing good work in giving the council a massive shake up and restructure.
That work however was not finished at the time Feeley left, amidst reported tensions with then Mayor Vanessa van Uden.
So how has the current chief executive, Mike Theelen, spent his two and a half years with the council? Has he continued with the Feeley fundamental shake up or taken a different path?
"We are asking more of our organisation and our key staff than we have ever before. While at times that creates some tensions and some stress in people's lives, I get the impression that everybody's up for it and wants to see the entire district thrive," says Theelen. In other words, he seems determined to get the best out of the staff and managers he's got, rather than trying to replace them.
But replacing people is not an easy task anyway, with house prices and the cost of living in the Southern Lakes soaring past what many people can afford.
"We don't pay above market rates. We're benchmarked to Auckland, Wellington and Christchurch, not against the rest of Southland," Theelen explains. "We don't pay premium salaries but we do pay competitive salaries and we are doing a lot of work to get the culture right and experiment with flexible working practices."
Certainly my own encounters with Theelen have been positive. At a charity quiz night recently, his knowledge of the region bordered on the encyclopedic, even knowing that the offical title of the Pigroot is State Highway 85. He's always keen to talk about world news and even had the courage to suggest that Wanaka and Queenstown should be connected by an Elon Musk style Hyperloop rail system using a tunnel under the Crown Range. He was not joking.
In fact, his keen intellect sometimes comes close to escaping the prudent confines of a council chief executive. At a business lunch I once watched from the edge of my seat as his speech teetered precariously on the brink of satirical humour and crossing the line into something that would be seen by some members of the audience as inappropriate. It was when van Uden was still Mayor and she seemed ready at a moment's notice to intervene and get Theelen off the stage. Van Uden liked to be in control of things.
Theelen has not always managed to stay out of trouble. He was criticised by Christchurch High Court judge Sir John Hansen for being ill informed about a district plan that Sir John was reviewing. At the time he was General Manager of Strategy and Planning. Theelen told the Otago Daily Times that he did not leave Christchurch City Council under a cloud. "I did not think that the way my job was being restructured suited my skill set, and it certainly had nothing to do with Judge Hansen's or anybody else's comments."
Theelen was accused by the Wanaka Sun earlier this year of stonewalling on the subject of a recent salary increase. He had been given a $21,000 pay rise to take him to $336,000 a year. Theelen explains that he and the Wanaka Sun journalist "got off on the wrong foot" during that interview, in which he basically said that he did not have to justify the increase. He admits he could have handled the situation better, but that Mayor Jim Boult was the driving force behind the salary increase and the mayor was therefore the best person to comment on the salary increase.
In my interview with Theelen for Crux, he was comfortable to talk about his pay. He makes the point that his job in managing growth in Queenstown and Wanaka is not that much different in terms of complexity to the work load of a council chief executive in Wellington or Auckland, and yet he makes only half of what those chief executives earn.
Under Theelen, the QLDC ship has largely stayed on a steady course with relatively few icebergs encountered. The planning and consents department is certainly under immense pressure, coming under constant criticism for delays and inefficiency. But there have been few, if any, big dramas. The big question of course is whether Adam Feeley was on the right track with his ambitious but unpopular programme of redundancies and new managers, or whether Theelen's "steady as she goes" approach of leadership training for senior staff and creating a positive culture is the way to go.
"Sure growth is demanding and stressful," says Theelen. "But for the right sort of person it can be highly challenging and highly exhilarating. If I ended up as the chief executive of a town where the setting of dog fees was the biggest issue, I'd have ripped my eyes out by now. I personally find this job really, really invigorating. There's always too much to do and there's always unknowns in the air. There's a sense of momentum and a sense of energy here which is just fascinating."
Theelen is ambitious. He says Queenstown is more well known and arguably more important internationally than Auckland. He's not blind though to the high costs here and the often poor services, in particular public health services. But he stays focussed on what he sees as the big picture.
"We are part of a small number of destinations that feature on the world stage. We are, in my view, New Zealand's only international destination. What that means is that we've got a big responsibility, not just to this community but to the whole of New Zealand."
With the council launching consultation on an ambitious 10 year plan that will demand a billion dollars of debt and ratepayer funding, the devil may well lie in both the detail and the big picture. It will be enough to test any chief executive, but Theelen says he is up for it. He'll need all of his intelligence and humour to pull this one off.


---