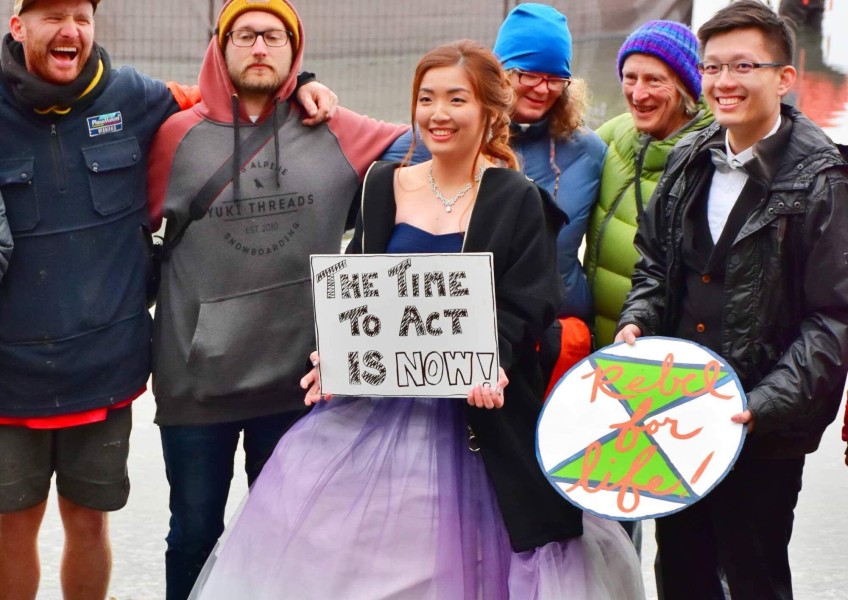 Global climate protesters target Wanaka Tree
---
Climate change activists are spreading their message using two things Wanaka has in abundance - beautiful views and tourists.
The group set up their peaceful disruption at 7 o'clock this morning, as part of the global Extinction Rebellion movement. The disruption included mounting a big sign in the lake, blocking the view of New Zealand's most instagrammed tree.
 "We thought we could put the two together and highlight what we risk losing, and ask the tourists to help us get the message out there," says organiser Anna Simmonds.  
"We're here to highlight the disconnect between the value we place on our beautiful scenery, and the apathy we have to protecting them."
The global Extinction Rebellion movement has been going since October, phase two of which has been in progress for nearly 10 days, with non-violent direct action causing disruption across the world. In London, activists have crippled traffic and closed major intersections, and over 1,000 people have been arrested.
This civil disobedience movement is a direct call to action to governments to start acting with the urgency required for climate change. According to Swedish teenage activist Greta Thunberg, we passed the safe threshold for carbon emissions in 1987 - we have no 'carbon budget' left.
The movement has three aims: to get governments to declare a "climate emergency;" to eliminate net greenhouse gas emissions by 2025; and to have citizens' assemblies lead the government on climate and ecological justice.
Activists at Lake Wanaka were wearing furry animal hats to highlight the 200 species lost to extinction every day. On a local level, Simmonds has several suggestions for action - including to ditch plans for a major airport expansion, immediately outlaw minimum build sizes for houses and stop terraforming of new subdivisions.
She says ecocide law is really the solution. "Every council decision must be put through the lens of the planet as an affected party. No other lens works for a good decision in these times, this is too important."
Main Image: Climate activists get tourists on board at the Wanaka Tree this morning. Photo supplied by Renee Walden

---