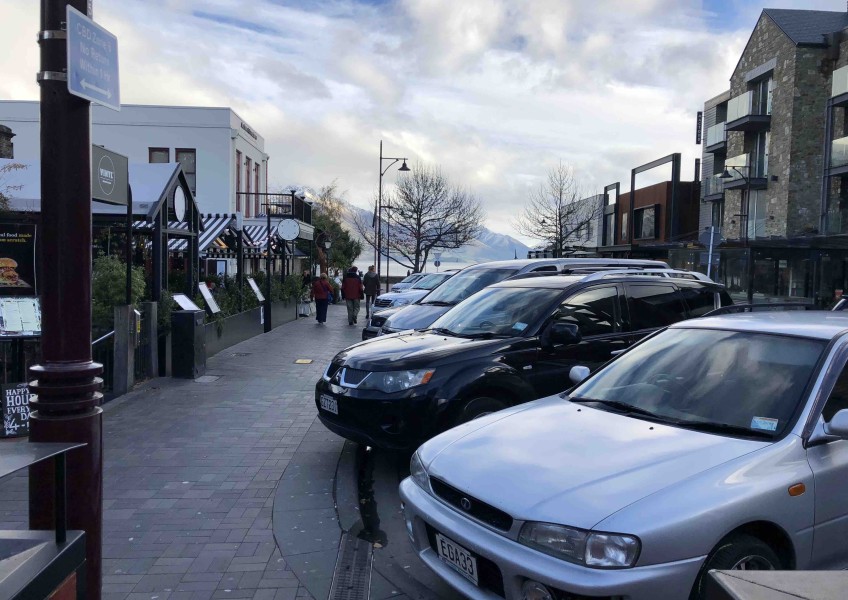 Time to ban cars from our town centres?
---
There's growing pressure to remove cars from the centre of Queenstown and Wanaka. It's a debate that is splitting the community but the trend towards being largely car-free now seems unstoppable.
 In the first part of our story, here's Jessica Maddock's Wanaka report.
Wanaka
The Wanaka Chamber of Commerce is throwing its weight behind a proposal to close part of the town centre to vehicles.
The Wanaka Lakefront Reserves Management Plan, adopted by the Queenstown Lakes District Council (QLDC) in late 2014, discusses removing the car parks which currently dominant the lakefront in the town centre.
Chamber of Commerce, Ignite Wanaka, chairperson Bridget Legnavsky said the organisation had pushed the proposal forward by providing the QLDC with an "aspirational plan", through the council's Ten Year Plan submission process.
Led by former chamber chairperson, Alistair King, the plan outlines a pedestrianised town centre and a roading network that directs drivers around the CBD, rather than through it as is the current situation.
"(It'll be) better for business, safer as well, and will hopefully keep visitors and locals in the CBD longer. It'll be a nicer environment."
The plan factored in the loss of town centre car parks by using other, existing car parks differently, Legnavsky said.
Queenstown Lakes District councillor Quentin Smith said the options currently being discussed were closing part of Ardmore St to traffic, either from Lakeside Rd to Dungarvon St, or from Helwick St to Dungarvon St, and possibly also pedestrianising lower Helwick St.
Work has begun on a Wanaka Masterplan which would consider the proposals in conjunction with the roading network, Smith said.
"The Wanaka Masterplan process, during the second part of this year, will allow for proper exploration of that and consultation with stakeholders and the community, with integrated transport and car parking."
The lakefront car parks, which would be closed if the plan comes to fruition, could be replaced by angle parking along Ardmore St, between Dungarvon and McDougall Sts. Depending on the configuration, there was space there for 140-240 car parks.
This, along with the new car park and toilets being built on the lakefront at the bottom of McDougall St, meant few, if any, car parks would be lost, Smith said.
A "shared space" on the lakefront in front of Pembroke Park was also being discussed.
Roger North, owner of Kai Whakapai, a café which would be lakefront if there wasn't a car park between it and the water, said he has "mixed feelings.
"From a selfish, personal viewpoint, the more pedestrianised, the better. From a business point of view, first thing in the morning, people are rushing off to work, if they can't get a park near us, they'll get their coffee somewhere else."
Lakefront business owners and landlords had lodged a joint submission on the QLDC's Ten Year Plan so their needs were heard, should pedestrianisation become a reality, North said. For example, loading zones outside businesses would be needed, even if the area was made vehicle-free.
Queenstown
The Queenstown CBD has recently seen Beach Street become very successfully car free and that trend is due to spread under the QLDC's Town Centre Master Plan. However some businesses are complaining that they need car parking in the town centre for both their customers and staff. Many have commented on social media that new increased parking charges are hard for businesses to afford even though the balancing $2 bus service is working well for some CBD workers.
Queenstown Chamber of Commerce Chairperson Craig Douglas supports a general move away from cars in the CBD but has concerns that even the new $2 bus service can't work for everyone. "Staff who work in the CBD can't use a bus if they need to pick up their kids from school or make multiple shopping stops on the way home from work. It's just not practical." Douglas also points out that with the Queenstown CBD being so close to the Lake, underground car parks are complex and expensive to build. "We need some parking in town. It's essential for business," he adds.
Under the QLDC Town Centre Master Plan two new car parking buildings would be constructed in Ballarat and Boundary Streets over the next three years at a cost of $44 million, to provide 592 car spaces. That's a staggering $74,324 per car park. The Master Plan also allows an extra $3.9 million for a parking management system that would help CBD visitors monitor parking availability via smartphone apps as well as providing variable pricing controls and some bike parks.
In addition, the Master Plan proposes spending almost $50 million on upgrading many CBD streets with wider footpaths, shared spaces (pedestrians and cars) more cycle lanes and general improvements.
In fact bike users get a lot of recognition in the Master Plan but it all comes with a fairly heft price tag. Just one cycle path upgrade from Park Street to Hotops Rise is priced at $7.4 million.
The retailers who operate in central Queenstown are concerned about the potential loss of car parking spaces even though the new cycle paths are welcomed. The CBD retailers had asked the QLDC for twice as many spaces as are proposed in the Master Plan. "We wanted 1500 spaces in the car park buildings," says Steve Wilde, the Town Centre Manager for lobby and advisory group Downtown QT. "Pedestrianisation is good only if there's enough car parks nearby."
Steve Wilde is a fan of the general idea of a car free CBD, but has the same concerns as the Chamber of Commerce' Craig Douglas. "The car parking has to be close to the retailers and some staff also need to bring their cars to work. The shared spaces such as along Marine Parade at the moment work well, where pedestrians feel comfortable but there is still some vehicle access."
Already the QLDC has shown both a willingness and an ability to remove cars very effectively if the need arises. Last year they managed to surgically terminate a long established habit of airport users parking alongside State Highway 6 near the BP roundabout. However, that move was linked to the launch of a new, relatively low cost park and ride scheme from near Glenda Drive.
In the past week, with little fanfare and no obvious alternate being offered, the QLDC removed car parking from the lakefront section of the Glenorchy Road just beyond the Fernhill roundabout. It was a dramatic and effective move, but with no commensurate increase in parking elsewhere the move does raise questions about where the parking pressure will move to. It has to go somewhere.
In the meantime Mayor Jim Boult's initiative, in partnership with the Otago Regional Council and the NZTA, to provide better and cheaper public transport goes from strength to strength. Use of the $2 Orbus service is heading towards over one million passengers a year.
However, the introduction of a new flexible Orbus travel card that can be topped up online has been delayed until towards the end of this year. The current Go card can only be topped up at limited, physical locations and not online. The new card is expected to reduce delays and make the Orbus service even more attractive to local passengers.
In a follow up story tomorrow we'll be speaking with the QLDC about their current parking strategy and whether the move towards car free town centres will be balanced by viable alternatives that will produce a positive outcome for the community.

---