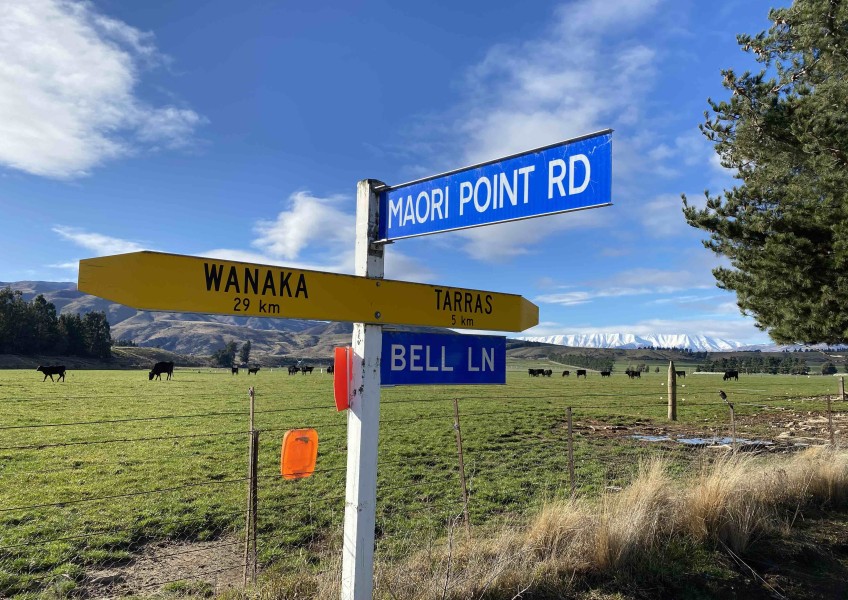 Tarras residents: "New airport more of a gamble than a strategy."
---
Tarras community members are claiming that Christchurch Airport (CIAL) does not have the funding or shareholder backing for a new Central Otago airport. However, the airport company told Crux today that it can not only build a new airport but that it will successfully co-exist with Queenstown Airport.
CIAL project manager Michael Singleton said "Tarras and Queenstown airports can co-exist. Realistically, Tarras and Wanaka are alternatives in the short term. The site and location of Tarras means that it can provide regional connectivity for longer into the future than Wanaka can."
So far, the reaction from Tarras residents to the airport proposal has been overwhelmingly negative with their recent research highlighting what they claim are serious weaknesses in CIAL's management structure and strategy.
Here are some of their key points:
The Christchurch Airport CEO Malcolm Johns was paid $898,640 last year including a $100,000 bonus directly linked to the Tarras airport project. Other staff have since lost their jobs or had their wages frozen.
The Christchurch airport company owes $7 million in GST, PAYE and other taxes – no IRD penalties are being applied post Covid.
Various CIAL debt facilities are being increased or extended.
There is currently no obvious way to fund Tarras airport, but the airport company's "outdated" constitution allows it to sell shares to raise cash. The shares currently belong to the NZ Government and the ratepayers of Christchurch.
The picture painted by the Tarras community has some similarities with the Queenstown Airport Corporation and their relationship with the Queenstown Lakes District Council as well as QLDC ratepayers. Tarras residents say that CIAL is running their own race while keeping vital commercial details from both Christchurch City Council ratepayers (who own 75% of CIAL) and the Government (25% ownership.)
When the Tarras airport project was revealed by Crux in July this year it was clear that Christchurch City councillors had not been briefed on the Tarras activities of CIAL by Christchurch City Holdings that holds the 75% share ownership on behalf of the ratepayers.
Both Prime Minister Jacinda Ardern and Deputy PM Grant Roberston have both publicly expressed doubts that a major international airport at Tarras would go ahead, as has Queenstown Mayor Jim Boult.
According to multiple sources in Tarras and Wanaka CIAL is still buying more local land. Today CIAL denied the claim and told Crux that no more land had been purchased after the 750 hectares announced back in July.
In parallel with ongoing tensions between CIAL and Tarras residents, a new drama is developing at Christchurch City Council where an Ombudsman's report into a culture of secrecy looks like leading to a number of senior council managers being sacked or moved from their jobs.
The new CEO at Christchurch City Council, Dawn Baxendale, told Stuff yesterday (November 9) that those being sacked or moved could include a number of General Managers linked to communications, community relationships and corporate services. The number of General Managers could drop from six to four.
Reflecting on the combination of Christchurch council and Christchurch airport secrecy, Tarras community spokesperson Chris Goddard told Crux: "The CIAL strategy is starting to look more like a gamble than a considered plan."
Goddard said that because the CIAL constitution had not been recently updated it would be technically possible to sell off Government and Christchurch ratepayer shares in order to raise the "billion-dollar plus" cost of the Tarras airport project.
Tarras residents have also discovered some evidence to support the Central Otago airport plan dating back four years to the time when John Key was in Government and linking some Tarras property sales to people associated with former National PM Bill English.
Queenstown Mayor Jim Boult was CEO of Christchurch airport up until 2013 and he previously (2003 – 2009) was a Board member and Director of CIAL.
Here's the full statement released by Christchurch International Airport's Michael Singleton today in response to Tarras resident's claims:
"Christchurch Airport is an independent commercial entity governed by an independent board, which endorses the business' strategy. We will continue discussions with our shareholders – the government and Christchurch City Council - and respect the confidence those discussions are held in."
"We have an open mind and an open door to conversations with other parties, including QAC and QLDC. We see our project as a positive long-term opportunity for the region."
"Tarras and Queenstown airports can co-exist. Realistically, Tarras and Wanaka are alternatives in the short term. The site and location of Tarras means that it can provide regional connectivity for longer into the future than Wanaka can."
"Building at a new site enables us to create an airport that Central Otago can be proud of. Our project would enable more sustainable aviation and future technology, be able to cater for future generations and serve a wider area."
"We're in the very early days of a very long process and it's important we get it right. That is why we are starting by meeting with locals, industry, iwi and other stakeholders – we want to hear their thinking, what concerns them most and what opportunities they want this project to consider. These are critical conversations. If we decide an airport on our site is viable, listening now will help us create a formal proposal that addresses as many concerns and creates as many opportunities as possible."
"The project is currently fully funded by Christchurch Airport. We will continue to consider the appropriate funding options for future stages as required."


---