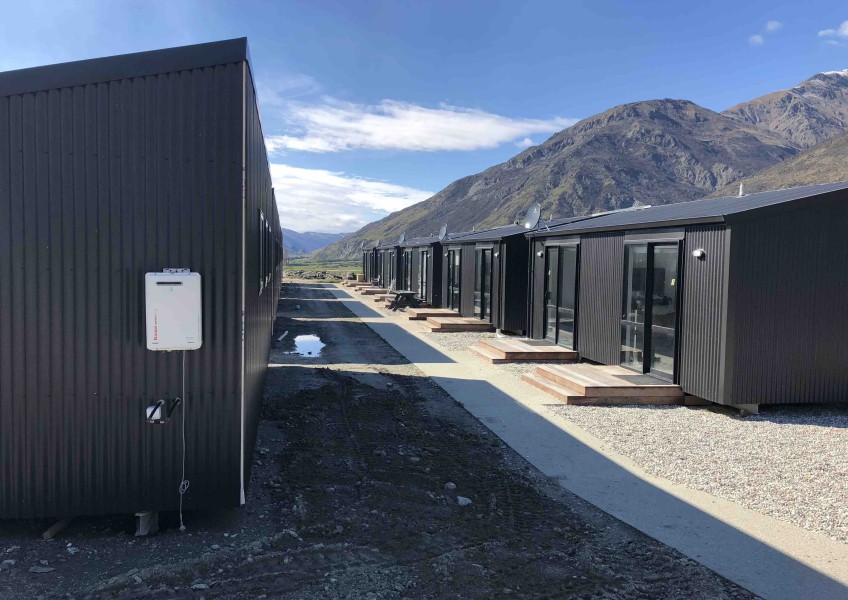 Is this the future of Qtown rental accommodation?
---
One of Queenstown's largest construction projects has shipped in its own worker accommodation, and says it might become a permanent housing solution.
The units are part of the Queenstown Country Club project. The Club is an upmarket retirement village under construction between the Lake Hayes Estate and Shotover Country.
The project is being run by the Sanderson Group of Tauranga. The group applied for resource consent last year to house its "massive workforce" in temporary accommodation.
The Country Club site is also expected to be home to the new district hospital expected to be announced in the next few weeks.
Sanderson's General Manager, Gary Curtis, told Crux today that the worker units has been incredibly successful and that "they might be kept on as a permanent solution for visitors or staff."
Group Chairman, Fraser Sanderson, has been quoted as saying the accommodation provided a competitive advantage over other construction projects, including retirement villages being built in the Wakatipu Basin area.
Gary Curtis says that it was the only way to get the project done on time. "We knew about the accommodation problems in Queenstown and we decided this was the only way to get the job done - it was a common sense approach."
"Long term it will no doubt be rented when we've finished with it, but we believe there will be always be a need for worker accommodation. We can't really see it changing in the short term given the shortage of accommodation in Queenstown. It's a good principle to adopt."
Some of the larger tourism and transport operators in Queenstown have tried small scale solutions, some even purchasing houses, but most rely on their workforce competing for often expensive, overcrowded and low quality rental accommodation.
Many workers are now being forced to live in Cromwell and Kingston with a daily two hour commute to Queenstown.

---