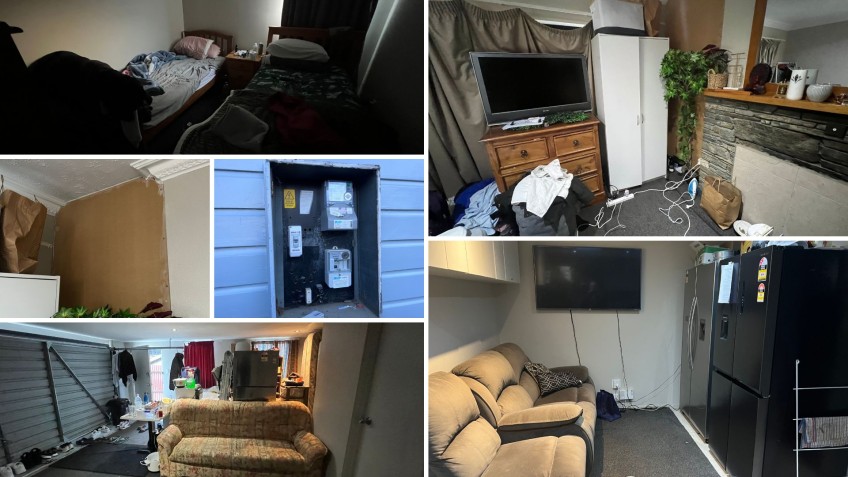 Government and MBIE move to support Queenstown 'slum' tenants
---
Following Crux coverage this week of slumlord James Truong both the Government and the Ministry of Business, Innovation and Employment (MBIE) have issued statements that offer protection to Queenstown tenants in sub-standard and dangerous properties.
The main feature of the statements is the fact that tenants can make formal complaints and have their names kept private. Crux has discovered that many Queenstown tenants are afraid to complain as it may affect their future accommodation or work prospects.
The Queenstown Lakes District Council and MBIE have both launched new investigations into the Queenstown property owned and managed by Mr Truong following Crux coverage this week. Previous investigations in 2019 found multiple problems with Mr Truong's rental as well as an intent to deceive the council regarding the number of tenants and the general compliance of the property.
Government Associate Housing Minister Barbara Edmonds told Crux today:
"I'm aware that a case is being investigated by the Tenancy Compliance and Investigations Team at the Ministry of Business, Innovation and Employment.
"The Government has undertaken considerable work on tenants' rights, including through implementing the Healthy Home Standards.
"We've also made a number of changes to improve rights for renters and strengthen our ability to address non-compliance and enforce standards. These include: clarifying the Residential Tenancies Act and its requirements apply to unlawful residential premises, such as converted garages; introducing name suppression for parties who are wholly or substantially successful in their case to the Tenancy Tribunal; and introducing new enforcement powers and higher penalties for large-scale and boarding house landlords who breach key provisions of the Act.
"We're working hard to address Queenstown's housing crisis, which has been decades in the making. This includes through delivering 300 new homes and investing in infrastructure to get even more new homes built."
Crux has also received from MBIE's national compliance and investigations manager Brett Wilson, some detailed answers to our questions regarding how tenants can complain and what rights they have in situations like we've reported on this week. We are publishing these answers in full as they will be useful for many local tenants in difficult situations.
What happens if a landlord harasses tenants or threatens them if they speak to media outlets such as Crux? Can tenants complain and still keep their name private?
"We can take action on behalf of a tenant to enforce compliance through the Tenancy Tribunal and can continue to work with a landlord to ensure they are acting in accordance with the Residential Tenancies Act even if the tenant has left the property.
"The Tenancy Tribunal can, and does, order tenants names to be redacted in Tenancy Tribunal orders, the privacy commission has guidance about tenants blacklists here: https://privacy.org.nz/assets/New-order/Your-rights/Rental-sector/09-11-2021-Privacy-Act-2020-Guidance-for-Landlords.pdf"
Can a landlord evict tenants without proper notice?
"Under the Residential Tenancies Act landlords are required to provide notice to end a tenancy. Either party can terminate the tenancy, as long as they do this lawfully. More information on the timeframes for the notice period can be found on www.tenancy.govt.nz/giving-notice-to-end-tenancy/.
"Notice requirements do not change while a property is under investigation. A 'retaliatory notice' where a landlord gives a notice to a tenant to end a tenancy in retaliation for a tenant standing up for their rights is unlawful and may incur exemplary damages of up to $6,500 in the Tenancy Tribunal.
"It is also an unlawful act for a landlord to give notice to terminate a tenancy knowing there is no lawful reason to do so. This may also incur exemplary damages of up to $6,500 in the Tenancy Tribunal. Alternatively when a larger scale landlord (holding six or more tenancies) or a boarding house landlord issues retaliatory notice, or knowingly issues notice when they know they are not entitled to, then Tenancy Services can apply to the Tenancy Tribunal seeking pecuniary penalties of up to $50 000."
What are the rules on bonds and tenancy agreements and how can tenants check that their agreements and cash have been properly lodged?
"A landlord must lodge a bond with Tenancy Services, but there is no legal requirement for them to lodge a tenancy agreement with Tenancy Services. Failure to lodge a bond is an unlawful act which can attract exemplary damages of up to $1,500. The tenants could contact Tenancy Services to see if their bond is lodged. A boarding house landlord is only required to lodge a bond with Tenancy Services if the required bond is more than one week's rent equivalent."
Please contact Tenancy Services if you live in an overcrowded, over-priced or dangerous property – Crux is here as a safety net if the Government's systems are not working properly or if you think a situation is so bad that others in the community need to be warned.
Read more:
Read more: Queenstown tenants illegally evicted from slumlord's garage
Queenstown tenants living in $7,500-a-week ghetto house tell their story
'Slumlord' denies breaking any law, says tenants are 'family'


---