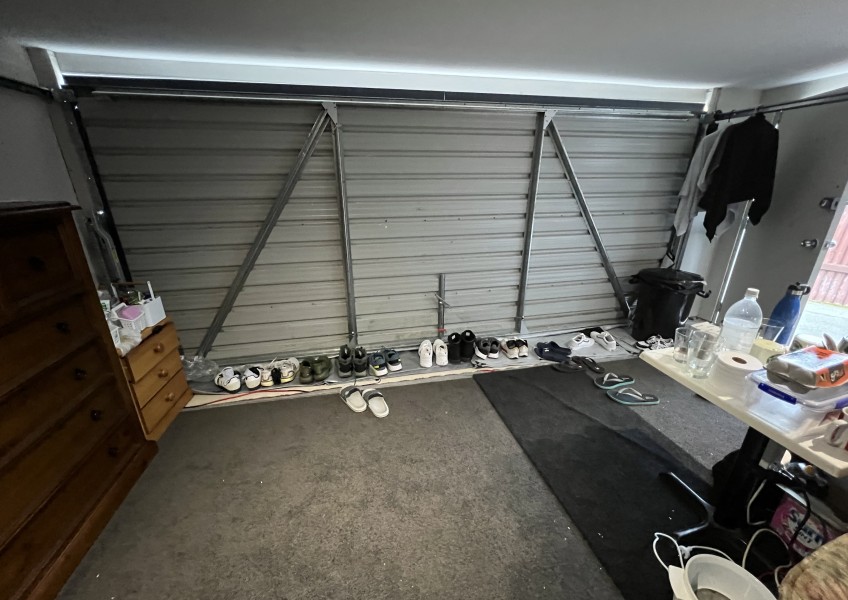 'Slumlord' earns $30,000 a month cramming 30 people into Queenstown rental, denies breaking law
---
Crux journalists visited the Queenstown rental house today that is bringing landlord James Truong around $30,000 a month in rent from overcrowded, sub-divided rooms where up to 30 people are living.
In 2020, Mr Truong was told by the Queenstown Lakes District Council to stop using the property as a boarding house and return it to single residential use.
At the time, he was issued with a 'Notice to Fix', forcing him to remove partition walls and return the garage space to the consented use – storage, not residential accommodation.
He was told failure to comply could result in a fine of up to $200,000 plus an additional $20,000 for each day of non-compliance. Assuming the Notice to Fix still stands the fines now total more than $23 million.
Mr Truong stated in a series of emails in January 2020 that he was using the house to provide accommodation to extended family members, and the garage was unoccupied - although Crux's visit today (June 20th) shows this is no longer the case. None of the tenants we spoke to were related to Mr Truong.
Crux has approached the QLDC to ask if any further action was taken after the notice deadline of May 29, 2020.
Tenants living at the property today tell us they are paying $490 a week plus power for each tiny double cubicle - or $250 for every single bed.
None of the rooms have a toilet or bathroom and the electricity supply cut out roughly once every two minutes during our visit, clearly overloaded despite some of the tenants being away from the home.
Crux found five people living in the garage, where multiple wardrobe-sized cubicles have been built around the edge of the garage floor.
All of the tenants complained of being over-charged but said they had no choice but to live there given the current housing crisis in Queenstown.
The tenants we met were all employed - one was a teacher, another a corporate executive.
Mr Truong has been the subject of other instances of complaints from tenants in other parts of New Zealand.
A previous tenant of a property rented in Christchurch has referred to landlord Mr Truong as a "slumlord" online.
While at the Queenstown property today Crux received a call from Mr Truong – also known as Oai Phuoc Truong.
Mr Truong told Crux that he was calling police to the property even though we as journalists had been invited into the house by the tenants – as is their right.
During the call Mr Truong told Crux that he had complied with all MBIE and QLDC inspections and denied the house was a safety risk.
He says he was busy on a "business trip in Queenstown" and unable to agree to a meeting time until he had a chance to "check his schedule".
He said though that he was happy to answer any questions "later".
Crux has not heard back from Mr Truong as at Tuesday afternoon (June 20th).
The Companies Register shows Oai Phuoc Truong as a director of Jade Orchid Investment Ltd with fellow director Shai Hung Tan, of Richmond, near Nelson. Mr Truong owns 40 percent of the company with 60 percent being owned by Shai Hung Tan and Be Hung Tan.
Mr Truong's address is given as Highview Terrace in Queenstown. He's also shown as a director of Accura Investment Ltd and a former director of Acclaim Foods Ltd - in these cases using a Blenheim address. The QLDC rates database shows the owner of Mr Truong's Highview Terrace property as Shai Hung Tan.
Following a site visit with MBIE in December 2019, the QLDC's building control officer Lyndon Paul concluded his report with this statement:
"From my research the owner Mr James Truong has a history of similar actions at various locations around New Zealand. Mr Truong has made a clear intent to deceive council representatives by removing elements from the site. Evidence on site confirmed the occupancy numbers maybe higher than we are currently aware of. There is significant risk to occupants as there are a number of building codes clauses that at this time cannot be determined.
"I cannot determine whether the building is dangerous in that injury or death to any persons on the site could occur. I cannot determine whether the building is insanitary and is likely to be offensive or likely to be injurious to health without further investigation."
The report makes it clear that MBIE investigators recorded bodycam footage during the same 2019 site visit.
Crux understands that a team of four MBIE inspectors have arrived in Queenstown following the publication of our initial story on Friday. Two of the team members were at the property this afternoon, telling Crux reporter Lauren Pattemore that they would not be able to make any comment for at least a couple of days.
Read more:
Queenstown tenants living in $7,500-a-week ghetto house tell their story


---