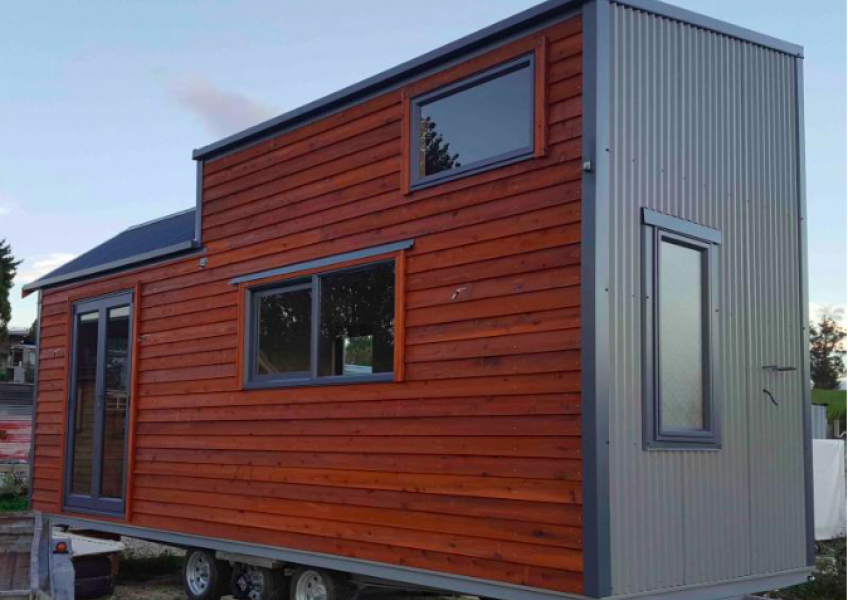 A tiny house with a significant story
by Ella Lawton - Aug 30, 2018
---
After a calamity of life events, Wanaka sustainability expert and Otago Regional Councillor, Ella Lawton, woke up one morning and realised the only logical action was to invest her life-savings in a healthy, happy home - a tiny home. Crux is publishing a diary of her journey, with its many upheavals, challenges and successes...
Chapter 6: Wharariki, a reflection of my journey...
What's in a name? There's so much you can do to personalise special things and places in life. I have always enjoyed naming significant "things", from my many guinea pigs called Snowy and Spike, to the first trees planted on my previous property.
A name captures a feeling at the time and personifies the "thing" so it becomes something I connect with and have feelings for. Once my tiny house progressed to a point that I could really imagine it, I took this important step to truly make it mine.
Once we had designed the roof, we were able to progress to the windows. My priorities were maximising solar gain, enabling the right amount of air flow, suitable entrances and, finally, framing the view.
"The view" is a little challenging with a tiny house, because it may change a few times over the course of the life of the house.
Similarly, wind direction is also important - finding a way to enable indoor/outdoor flow in Wanaka without being battered by the nor-westerly.
The position of the shower/laundry was the only other significant decision - having it at a short end of the house, or on one of the longer sides.
I had already decided that I would have a toilet outside as I wasn't keen on having the toilet in the house, particularly in the kitchen.
When we started I was convinced I wanted the laundry/bathroom off to one side. I hadn't physically experienced the inside of a tiny house of this design, so I used corflute partitions and a wardrobe to figure out what the size would feel like. I went back to a bathroom at one end.
In the end, my tiny house ended up looking only slightly similar to the design below. Once I was actually standing on the trailer and the framing went up, I had context and the possibilities became obvious.
At one stage Dem, the builder, asked me what the mezzanine would look like? What would you see from the living room? Would it be open or covered in? I said something like "kinda covered in for privacy, but I want to allow for light".
When Dem said it, I knew it was exactly what I wanted, but I had never considered the possibility of a round hole between the bedroom and the living room. It would provide a beautiful flow between spaces and frame-up the lead light perfectly.
Once my tiny house took shape to the extent I could really imagine it, I was able to make it a space that reflected my journey to date. Two things happened simultaneously – one, I settled on a name for the tiny house and, two, I decided the space needed to reflect its name and the journey of its creation.
Mum's property is called Harakeke, an obvious choice reflecting the many flax plants which line two of its sides. The harakeke (flax) plant represents the whānau (family) in Māori thought. The rito (shoot) is the child. It is protectively surrounded by the awhi rito (parents). The outside leaves represent the tūpuna (grandparents and ancestors).
It is an incredibly useful member of the lily family, having been used for nearly everything including eating and wearing. For me, woven flax is all of these things, the interconnectivity of whanau, cultures and basic needs past, present and future.
Mum had grown these particular flax plants from seed when she was still living on our old lifestyle block in South Auckland - Braidwood Farm. When she suggested transporting them first to Devonport, where they became rootbound over the course of three years, then on to Wanaka, I mocked her and told her they would never survive the change of climate. Well, the flax plants are flourishing, proven by the large amount of work I put into trying to tame them back from bursting onto the neighbours' properties.
It occurred to me that my tiny house would, in fact, look very similar to the main house Mum had so lovingly crafted. We are of course surrounded by mountains and at the foot of Mount Roy, so I Googled mountain and flax and, low and behold, there is a mountain flax called Wharariki.
I had always dreamed of a leadlight/stained glass window. Mum had put one in the stairwell of her previous house and I felt it was a beautiful way to personalise a space. I wanted something that would honour my journey so far. It was also a reflection of the land where I thought Wharariki and I would remain. A theme for the design came to me in a dream.
The five pictures I sent to Jannine Richards at Glassworx Nelson, who I asked to tell my story in a stained glass window.
I do not consider myself to be artistic, but the concept was strong in my mind - woven flax, each woven strand representing a family member with their own character. I relayed the story of my journey to Jannine, highlighting the part of the story I wanted to capture, then left her to it.
She invited me to visit her studio when I was in Nelson and choose the glass colour and texture. It was a beautiful moment for Dad and I. The results, which I will share in the next chapter, were stunning.
Next it was time to pull all the parts together and start building…
A self-confessed geek, Ella Lawton's curiosity of society, politics and the planet has provided for a dynamic journey. Ella is a Wanaka local, outdoor enthusiast, local Otago Regional Councillor, tiny home owner and someone who is forever fighting to retain their optimism in this crazy world we live in.
Main image: Ella Lawton's tiny house.

---