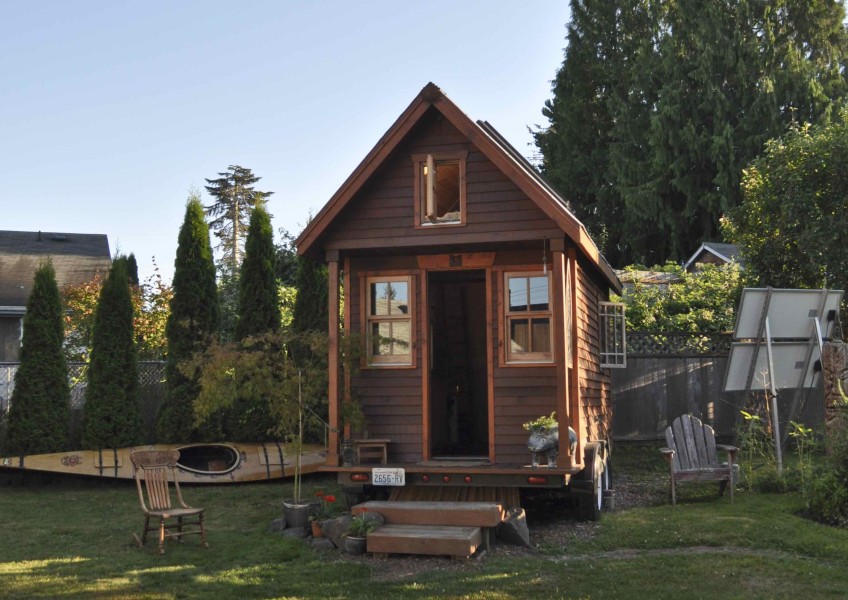 A mobile home with more
by Ella Lawton - Jun 20, 2018
---
After a calamity of life events, Wanaka sustainability expert and Otago Regional Councillor, Ella Lawton, woke up one morning and realised the only logical action was to invest her life-savings into a healthy, happy home - a tiny home. Crux is publishing a diary of her journey, with its many upheavals, challenges and successes...
Chapter 3: Finding a team and a trailer
Where to start when building a tiny house? And, not just a house, but a home that reflects who I am and what I believe in.
Not just a "build", but a project I wanted to be part of. And, if you are going to progress a crazy idea, you might as well start with a wish list. This is mine:
1. Be part of the build, learn some new skills.
2. Work with a "dream team" which has the same values as mine and will work hard to uphold them.
3. Design and build a mobile tiny home, that doesn't necessarily feel like a mobile home.
4. Fit within a $60,000 budget (I know I'm dreaming!).
5. Get it done ASAP.
1. Be part of the build: I was never going to take a year or two to learn how to build a home and build it myself. I am a pretty resourceful person but, honestly, not that patient. On properties that I have owned previously, I've built fences and refurbished furniture. I've used plenty of tools and machinery along the way, mostly with success. For my 30th birthday, Dad and I built a fully insulted chicken house.
2. Finding a dream team seemed like an impossible task but, as it turned out, I had just met one of them. I started asking around Wanaka and spoke to a couple of people about building tiny homes. As it happens, one person didn't get back to me whilst another used a prefabricated building method that I wasn't that keen on. They were also not that interested in the idea that I helped with the build. And then, as you do in small towns, I had a conversation with my friend Florence who said: "I know someone who could help, and you know them too".
I had previously met Lindsey Ellison in Queenstown during a block course for the Graduate Certificate in Sustainable Practice with Otago Polytechnic. This is a course I helped develop and used to teach. The course teachings use a framework to support strategic project development and decision-making, based on the science of sustainability. I knew this chick would speak my language! I was reminded that Lindsey's major project for the course was the development of a family business specialising in the design and build of small spaces, Little Place Ltd. I emailed Lindsey with my wish-list on November 25 2017 and, much to my surprise, she said it was doable. Success!
When I say "values", it covers a set of criteria covering ways of operating, and decisions about purchasing materials and build methods. As covered in my first diary entry, some of my core reasons for building small was to build happy and healthy. Key values include:
Natural materials such as wool insultation and minimal or zero chemicals in wood materials, paints and stains.
Spacious and light with natural heating and cooling, meaning having the ability to capture the sun's radiant heat and cool down by opening doors and windows.
Being mindful of minimising waste by planning materials well and using recycled/repurposed materials.
Supporting the local economy and creating lasting relationships by buying from and using the services of other small local businesses as much as possible.
Sharing knowledge and passion for happy and healthy homes.
3. Design and build a mobile tiny home, that doesn't necessarily feel like a mobile home: I am not over-exaggerating, I literally woke up one morning and decided to build a tiny home. As mentioned in the last diary entry, I had the option of putting the house on Mum's property, but nothing was certain about the future of that property. My tiny house needs to be moveable, so I can take it with me, so I am never homeless again.
4. My life savings to date are $50,000. I reckon I can save another $10,000 over the course of the build…and I decided not to sacrifice quality, but to make do with less if need be. My bottom line for liveability is that the house needs to be warm, have electricity and a running shower. I could build in the rest as I saved the money.
5. I had a number of options but most of them involved co-habitating with three to five other people…and this was no longer an option. Also, winter was only six months away and my caravan isn't insulated!
Together we developed a project specifications agreement laying out expectations of timeframes and cost, and materials to be used. It had a number of caution clauses, such as:
"It is estimated the build should get to this stage with client's budget of $60k. However, material purchases will be completed in collaboration with client as some material choices may push the budget over."
In hindsight, I put a lot of trust in Little Place Ltd. We had agreed that we would work as a team and we agreed on values and had a complimentary vision. I did ask a few people about them and their quality of work and they received a glowing review. But mostly I went on gut instinct; and in the end that is really all you can do.
It was time to get on with it. Next step was finding a trailer and starting to source materials – so exciting!
A self-confessed geek, Ella Lawton's curiosity of society, politics and the planet has provided for a dynamic journey. Ella is a Wanaka local, outdoor enthusiast, local Otago Regional Councillor, tiny home owner and someone who is forever fighting to retain their optimism in this crazy world we live in.
Wanaka Editor's note: the Tiny Home pictured is not Ella Lawton's Tiny Home...that will be revealed in later diary entries!
Read: Ella Lawton's first diary entry
Read: Ella Lawton's second diary entry

---