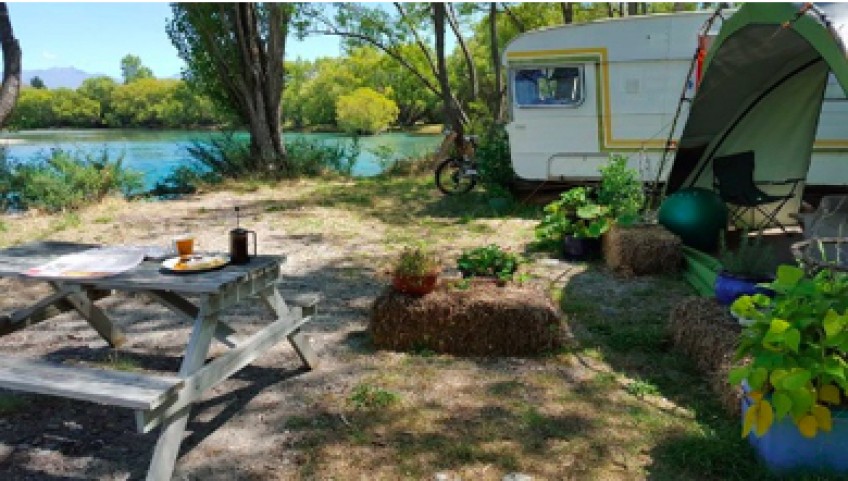 A place fit for a home
by Ella Lawton - Jun 08, 2018
---
After a calamity of life events, Wanaka sustainability expert and Otago Regional Councillor, Ella Lawton, woke up one morning and realised the only logical action was to invest her life-savings into a healthy happy home - a tiny home. Crux is publishing a weekly diary of her journey, with its many upheavals, challenges and successes...
If there is anything I have learnt in the last few years, it is that life is full of surprises and, as a 36-year-old professional (mostly) flying solo, I never know what life might have in store for me. Feeling unsettled, I found myself yearning for stability – as I said in my previous Crux diary entry: "a place to plant my feet, a place to call home". Read Ella's first diary entry here.
The decision to build a tiny house was not totally out of the blue … stories of tiny space living and its benefits had caught my attention previously. But what quickly became clear was that it is not so much the tiny structure that is the issue, but the land on which it should reside. There is a plethora of challenges.
We are all aware of the cost of land in the Queenstown Lakes District at present. As at April 2018, the average property price in the Queenstown Lakes District was $1,130,320. For land in the lifestyle zone (approximately 4000m2), it ranges from $600,000 to $800,000, or about $150-$200/m2.
In the urban areas, it is more variable. In the new Northlake development, a 650m2 section is $560/m2, and a 280m2 section is $982/m2. So, just to state the obvious, a significant challenge is that the less money you have available, the more you pay for land.
But the real clincher is that, if you can afford land, most of it is not available for tiny space living anyway. Using the Hikuwai Development, Sale and Purchase Agreement as an example, it highlights two major barriers.
One is that the sections have a minimum house size (annex 3c): "any dwelling to be constructed shall have a floor area no less than 160 metres square", and two, there are restrictions for placing "relocatable homes" on the site (3.12): "not to construct or place on any servient tenement any pre-used or second-hand building or dwelling, or a building or dwelling that is capable of relocation".
There are still properties out there that do not have these covenants and they are usually the one-off type subdivisions in older urban areas, or in the rural zone.
Of course ownership is only one model. There are many other models for finding a place fit for a home. Your lifestyle (wants), life circumstances (needs), values and connection to a place are what dictates where you live. There is a spectrum of residence/ownership models depending on the "shared model" people might feel comfortable with. They all seem to have their challenges and benefits, in particular security and longevity.
Initially, the inspiration to think about living in tiny spaces came from my brother Robbie and his partner Christine. They wanted to live off-grid and start a market garden business. Robbie and Christine could not afford to buy land at the time (in the Upper Clutha) but also had a philosophy of shared land and collective vision.
They spent six months building their "round-house" dream in which to live on a rural property in the Wanaka area. Unfortunately, only a couple of months into the agreement, the land-owners changed their mind and they were asked to leave the land. The dream was crushed; hearts were broken. Robbie was only "living the dream" for four months before he passed away in October 2014. Agreements between folk wanting to find land on which to put their house can be fraught and soul-destroying if they're not both on the same page, particularly if there has already been a huge amount of investment of time and effort.
There are a number of legal instruments which could make these relationships formal and safe for both parties, such as a long-term lease. I don't know of a lot of examples of this in the Queenstown Lakes District, but it could be worth checking out.
Robbie's vision and passion for living closer to the land and in a tiny space encouraged me to explore the options. A month after Robbie's passing, I stumbled across an advertisement in the Upper Clutha Messenger. A 1974 Zypher caravan for $2000 … how bad could it be? It had previously been used as a Fulton Hogan roadside tea room (and, by what we found under the couch cushions, a few other uses too). The only option was to gut it, use rivets and expanding foam to patch up the monster holes and start again. It was a great distraction and my trusty summer home, Hogan, was realised.
The following summer I got in early to secure a spot at the Albert Town campground, on the shores of the Hawea River. It was an amazing opportunity to take full advantage of indoor-outdoor living in the wonderful Wanaka summer climate. At $7 per night, the Albert Town campground was an awesome host. With my own kitchen, composting toilet and solar shower set-up, I was off-grid and a happy camper. Campground living did mean sharing the space with, at times, noisy neighbours but they also provided some entertainment.
All was well until Contact Energy released the Hawea River at full flow (202 cumecs) at which time my camp spot became an island retreat, accessible only by foot. By then it was April and time to retreat from my uninsulated tiny space to a warmer winter abode.
So I'd had some insight into tiny space living but wasn't yet in a position to buy something on my own. Then in April 2017, I lost Mum to a four-month battle with cancer. Her home, the place I had shared with her over the past few years, was a place that I wanted to remain my home. However, the future of Mum's house and property was still up in the air as the family worked through the estate matters.
So I worked through hundreds of scenarios, finally settling on the most flexible affordable house I could come up with: a tiny house on wheels. The problem was, I had no idea where to start…


---