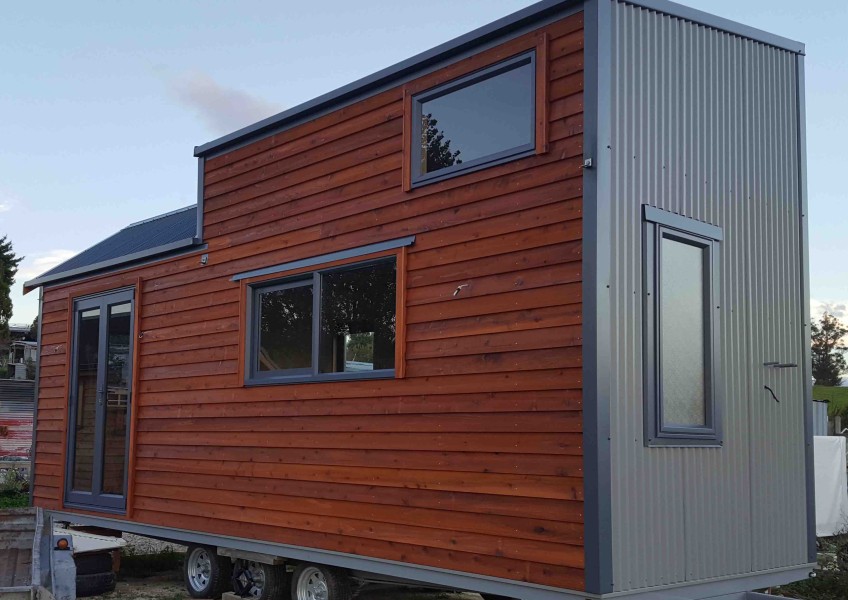 Making a Tiny House mobile
by Ella Lawton - Jul 03, 2018
---
After a calamity of life events, Wanaka sustainability expert and Otago Regional Councillor, Ella Lawton, woke up one morning and realised the only logical action was to invest her life-savings into a healthy, happy home - a tiny home. Crux is publishing a diary of her journey, with its many upheavals, challenges and successes...
Chapter 4: Making it mobile...finding a trailer:
One of my design criteria was mobility, for flexibility. So it made sense that my tiny house would be built on a trailer.
There are two options for trailers - either buy a ready-built one, which would influence the design of the house, or get one made, for which it would be helpful to know the dimensions of the house. Given the next chapter of this tiny house diary will be about the house design, it's fair to say I hadn't quite worked that bit out.
A couple of second-hand "low loader truck trailers" were explored as an option. They were slightly cheaper at around $8500, well made and durable. Unfortunately, very few were close to where Dem The Builder could look at them, and they were snapped up quickly.
Plan B was to build a trailer - the advantage of this being that you can choose the dimensions of the trailer. Well, it is more of an advantage if you know what size house you want to build. I didn't, so I instead reverted to what was going to be most straight forward i.e. the ability to move it around hassle-free.
I found that staying within the dimensions for a "light trailer" would mean the towing vehicle could be a large ute and the driver would only need their class 1 (normal car) license.
The alternative is to go wider, longer or higher, all of which would likely need bigger tow vehicles, pilot vehicles and prior discussions with the various owners of the roads that would be travelled on.
As explained by the New Zealand Transport Agency, the legal maximum dimensions for a "light trailer"[1] are 8.5 metres in length (including the draw bar), by 2.55 metres wide and 4.3 metres high. And, importantly, including the load, the trailer must not exceed 3500 kilograms. Typically for me, I decided to go for maximum dimensions, without making it complicated to move the trailer around.
I felt finding the right trailer builder was a reasonably important step. I imagined this cartoon sequence of my "maiden voyage" - a runaway house and then the wheels fall off. I don't want to be "that girl". I considered a few trailer builders throughout New Zealand, which made me realise the variety of options available, including a number of specific tiny house "experts", many of whom had a personal signature design.
The most important feature seemed to be whether or not the trailer was a platform (flat-deck) trailer, or the type where there are bigger wheels inset into the trailer. I call them "wheel hollows" but, when Googled, that was obviously not the technical term. I must admit I didn't spend much time researching it. According to Dem The Builder, a flat-deck is much easier to work with, as there is no need to work around the wheels that stick up through the floor. Given my aforementioned cartoon image, the need for independent electric brakes also seemed responsible. Lastly, to jazz it up a bit, the option for a "detachable dolly". Perhaps a little OTT but, for maximum flexibility of use, this gives me the option to detach the house (which sits on the dolly) from the trailer. My dream is to one day build a second smaller dwelling, on its own dolly, and use the same trailer to transport it.
We settled on using Greg Anderson from Tiny House Trailers – NZ. The trailer specifications:
"Tiny House Trailer with removable wheel dolly, triple axle, 7.2 x 2.4m frame, two axles will have electric brakes. 12 months rego and with a new 3 year Wof. Trailer to come with a 19 mm treated plywood floor."
And, importantly, he could deliver it by the end of year. It literally turned up on New Year's Eve. Now it was real. The first investment had been made - $12,500 in exchange for a trailer!
Next up, house designs...
A self-confessed geek, Ella Lawton's curiosity of society, politics and the planet has provided for a dynamic journey. Ella is a Wanaka local, outdoor enthusiast, local Otago Regional Councillor, tiny home owner and someone who is forever fighting to retain their optimism in this crazy world we live in.
Main image: Ella Lawton's tiny house.

---