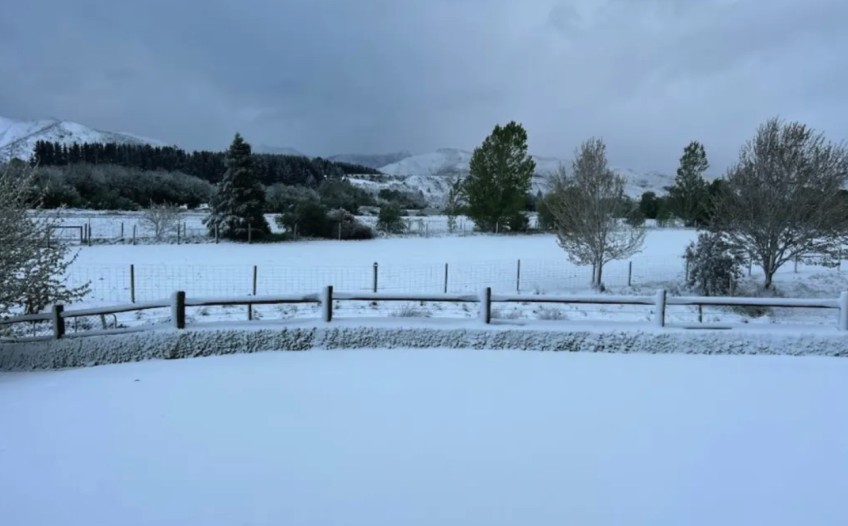 Wintry weather for district as cold blast hits
Oct 27, 2023
---
Residents of Southland and Otago are waking up to snow this morning after a night of freezing temperatures.
However, MetService cancelled all wind, rain and snow watches on Friday morning. The only ones that remain are the road snowfall warnings, mainly in the mountain roads.
Meteorologist John Law told Morning Report there was snow in parts of Southland and Otago, including Queenstown and the hills of Dunedin, down to 100 or 200 metres in some areas.
"It is going to be a cold feeling day for pretty much everyone across the South Island."
Temperatures fell to near freezing in some areas, including Tekapo, while Gore was below 1C on Thursday night, Law said.
Law said the cold weather could linger, but should clear up by early next week.
"I think we will find the temperatures start to pick up," he said.
"It's going to be a cool weekend but the good news is that I think we'll find the risk of snowfall starts to clear away."
Snow was expected to near sea level in Southland, Clutha, Dunedin, Central Otago and Queenstown Lakes, MetService said.
The forecaster issued road snowfall warnings for the South Island alpine passes, the Milford Road and Dunedin to Waitati Highway (SH1).
State Highway 94 was closed overnight between East Gate (Hollyford) and Donne River (Westgate) due to forecast snow.
The road was expected to open by mid-morning on Friday, depending on the extent of the overnight snowfall.
Federated Farmers Southland provincial president Chris Dillon said the cold blast was arriving at a bad time.
"You do get a lot more damage to trees because all the leaves are out at this time of year, so you get a lot of branches breaking off," he said.
"That's probably the biggest risk at the moment because it can potentially knock the power out."
Culverden sheep farmer Graham Reed said the heavy winds could disorient the lambs.
"They aren't going to hear much, they're moving around a bit," he said. "It's quite hard for them all to keep connected"
The South and lower central North islands were hammered by high winds and heavy rain on Thursday.
Winds reached 140km/h in the region on Thursday morning. Strong wind warnings were also in place for Wairarapa and Wellington.
In North Canterbury, a truck overturned in high winds, and more than 2000 homes lost electricity. Power had been restored by Thursday evening. State Highway 1 north of Kaikōura reopened on Thursday evening.
Main Image: Athol dairy farmer Robert Durling says he has 7cm of snow and describes a "biting" southerly wind. Photo: Supplied / Robert Durling


---