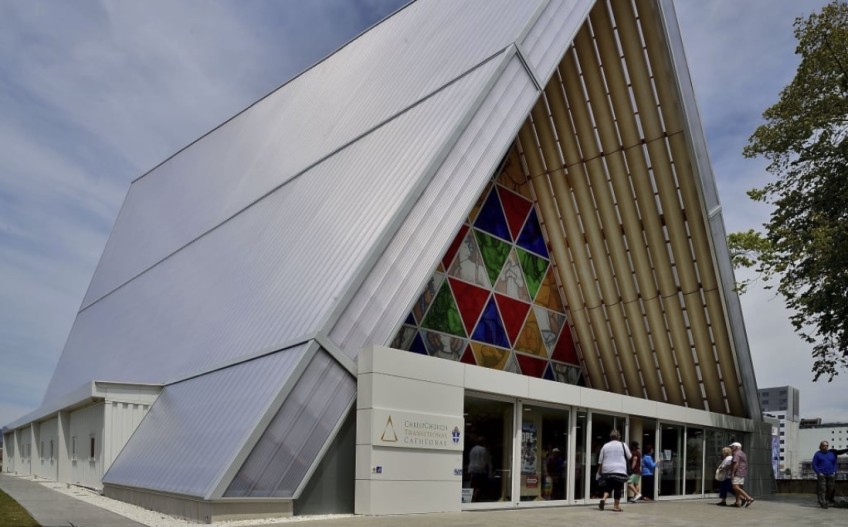 Fears Christchurch's Cardboard Cathedral could be turned into a pub if sold
Sep 09, 2023
---
A former spokesperson for Christchurch's Cardboard Cathedral says he is saddened by the prospect the building could be sold.
The Anglican Diocese of Christchurch was meeting on Friday and Saturday to consider future options for the site.
The Transitional Cathedral- as it is formally known - opened in 2013 in the central city after the 22 February earthquake caused severe damage to the 150-year-old ChristChurch Cathedral.
Former Cardboard Cathedral project lead, Reverend Craig Dixon, told Midday Report Anglican leaders appeared to be looking for a quick cash grab.
"It seems to be a quick way to grab some cash to throw at the cathedral at the square. I think that's an unfortunate response.
"It's a publicly significant building for Christchurch and for New Zealand and was the first public building to be constructed post-earthquakes."
The Cardboard Cathedral opened opposite Latimer Square in 2013 as a temporary place of worship, but it soon became popular with tourists too.
The cardboard cathedral was designed by award-winning Japanese architect Shigeru Ban and won the Pritzker Architecture Prize, the most prestigious prize in modern architecture, in 2014.
Dixon said the Cardboard Cathedral would be the only building of such calibre that the country would ever have.
"I think they need to think very carefully about what they do with that structure and not just flick it on to get some money because they've blown out the budget on the cathedral in the square."
A fundraising campaign was launched last year to fill a $50 million gap in the ChristChurch Cathedral restoration, estimated at about $160m.
The Press reported a potential sale of the cardboard cathedral building, valued at $11.6 million, was being proposed during discussions between the Anglican church's governing body, the synod.
An executive assistant to Bishop Peter Carrell told RNZ the cardboard cathedral would not be discussed until Saturday.
Dixon said he had concerns of what would happen if they sold it to "any old person".
"It could be a pub for example… who knows?
The building sits beside the CTV site where a number of Japanese were killed. It's a memorial for people internationally who come to visit that structure and remember the people who died,
"It would be a shame if it was flicked on, where it became whatever."
He also described the possibility the building would be dismantled as "absolutely crazy".
"There are all sorts of wonderful uses that building could have."
'Prime' real estate for the right buyer
Christchurch Harcourts real estate agent Mark O'Loughlin had spent time at the cathedral doing fundraising work. He said it was a "beautiful corner site", one of many "pretty prime pieces of real estate" the Anglican Church had when it first began building churches in New Zealand.
"That site there is 4000 square metres of land, or a good old-fashioned four acres. That sort of land… could sell for between $1500 to possibly $1800 a square metre or more. It is a very special site that faces northwest and of course, it's right beside our magnificent new stadium that's being built, so there's a lot of upside to the site."
Despite being an "amazing piece of architecture", the "commercial reality" meant it was "screaming out for someone to do a multi commercial mixed residential or some sort of hospitality business, with the stadium beside it and that beautiful northwest aspect…
"But the building itself, I suppose what would happen with it - unfortunately it probably will be disassembled."
Parts of the cathedral could be sold to raise money, he added.
The land alone was worth about $7m, O'Loughlin said, and had a valuation of about $12m with improvements.
"It's a one-off, and that provides opportunity for the right investor or developer who wants to buy it."
The ChristChurch Cathedral rebuild was in its second phase, which included strengthening and reinstatement of the cathedral's main building and tower.
The final phase of the project, including the construction of a new cathedral centre and visitors centre, will begin in 2025.
The cathedral is due to be completed by 2027.


---