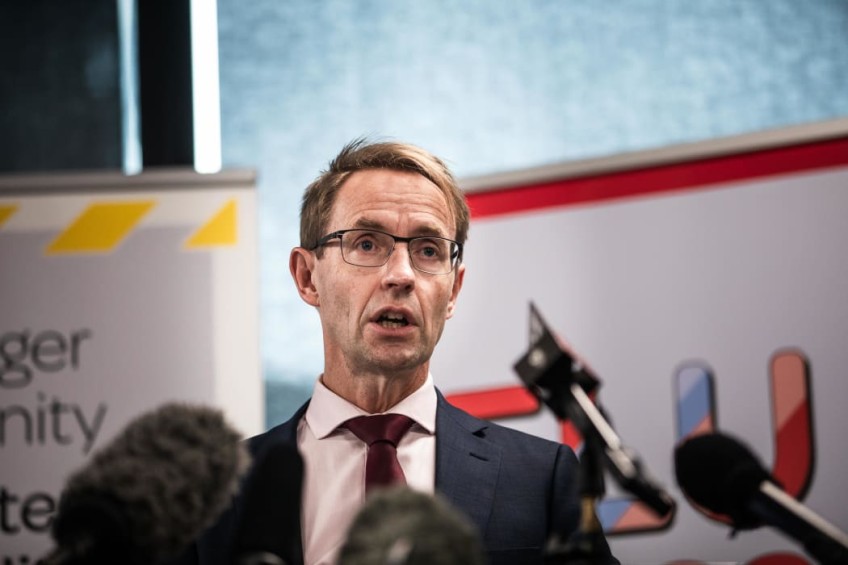 Covid-19: Health leaders give update, reveal change to the way deaths are reported
Jul 19, 2022
---
Director-General of Health Ashley Bloomfield and his deputy Andrew Old spoke to media about New Zealand's Covid-19 response.
Dr Bloomfield says there are 10,424 new community cases today, with 788 hospitalisations and 21 deaths to report.
He says case rates have increased about 4.5 percent in the past week, but the rate of increase has slowed and compares to a 33 percent increase the previous week.
"Our case rates and wastewater results do show that the cases are increasing across all regions around New Zealand," he says.
"Our hospitalisation rate for the week to 17 July increased by 28 percent, so that's quite a significant increase."
He says while the initial Omicron outbreak was largely focused around younger age groups, rates are now higher in older folk - particularly those aged over 65.
The number of cases in aged residential care has increased from 729 to 793, he says.
"That was a significant increase but again it was slower, quite a bit slower, than again the previous week."
He says the figures reinforce that the surge is being driven in particular by the BA.5 subvariant, and "we're fully expecting that will have increased and will continue to do so".
It is consistent with experiences overseas including Australia but also countries in the northern hemisphere now experiencing heatwaves in summer, he says.
Two community cases of the BA.2.75 subvariant have been found in Auckland, he says. They are the first community cases of the subvariant - but both are linked to known cases at the border and are isolating at home. This adds to the previous six cases of the subvariant found at the border.
"At this stage we don't see anything which would indicate the need to change our public health settings, that's the conclusion other countries are drawing as well around BA.2.75."
He says it has some characteristics which enable it to evade immunity but there's no current evidence it leads to more severe disease.
He says the burden on the health system is not unexpected but has appeared earlier in the winter season compared to previous years, particularly with the early flu peak.
"I can assure you ... that all parts of the system are working together on a daily basis to make sure that we respond to those pressures and the public can be confident that if they or their loved ones need urgent, hospital-level care, they will receive it and it will be delivered professionally."
Last week, the government introduced increased access to masks, tests, and antiviral medications, but Bloomfield is calling on everyone to "once again assiduously take the simple steps that will lower the impact of Covid-19 and other respiratory illnesses this winter".
"Vaccination, mask wearing, staying at home if unwell regardless of your test result, uploading your test result into the web, and waiting until you are very well - completely well - before visiting the elderly or vulnerable."
He says even relatively simple steps like opening windows at different ends of a room - for example when a room is not in use - for a short period really improves ventilation and helps reduce the risk of infection. Kitchen and bathroom fans can also help, he says.
He says as well as flu and Covid-19, meningococcal rates increase during winter because people are spending more time indoors. At this stage it's not classified as an outbreak and case numbers are consistent with previous years, but it can lead to serious illness and death and it's important for whānau to be aware of the symptoms: sudden onset of fever, headache and stiff neck. Other symptoms include nausea, joint and muscle pain, vomiting and increased sensitivity to light and/or confusion.
Infants may show different symptoms like inactivity, irritability, and vomiting.
He says people showing these symptoms and not showing flu-like symptoms of a sore throat or runny nose should contact their doctor immediately or call Healthline at any time of the day or night.
Ministry reveals changes to the way deaths with Covid-19 are reported
Bloomfield says Dr Andrew Old, who has taken on the role of Deputy Director-General in charge of the new health agency, will be fronting the Covid-19 media briefings on behalf of the ministry after Bloomfield's departure at the end of this week.
Dr Old says Covid-19 deaths reporting will be done differently from now on. He says improvements in information gathering about Covid-19 hospitalisations mean the ministry can now start reporting on people hospitalised where the main reason they're in hospital is due to Covid-19 or with Covid-19 as a contributor.
They will be making a similar change to deaths reporting, away from all people who have died within 28 days of a Covid-19 infection to people who have died because of a Covid-19 infection or where it was a contributing factor.
"So these are deaths that can be wholly or partly attributed as a better measure of the burden of disease on the community."
He says as of 19 July, 1252 deaths have been caused by Covid-19, or where the virus was a contributing factor.
"This number may of course rise over time as more Covid-19 deaths are assessed and classified."
This approach is the same as used in the UK, the US, and Australia, and "therefore more accurately reflects the contribution of Covid-19 to death numbers and overall rates".
The new reporting system will be used from Friday this week.
Old says whether counting deaths from or with Covid-19, New Zealand still has a lower cumulative Covid-19 mortality rate than many other countries. In the UK, the rate is 2648 deaths per million, in the US it is 3057 per million.
"If New Zealand had had the same total rate of death as the UK, we would now be reporting over 13,500 deaths from Covid-19 and if we had the same rate as the USA we would now be reporting over 15,000 deaths compared to the 1252 that I mentioned just earlier."
He says the ministry is now reporting an additional 69 deaths of people within 28 days of being reported as a case - people who have been previously reported as a case but did not have their deaths recorded at the time, and most are now being included as a result of changes to the reinfection guidance issued last month.
Of the 69 people, 40 died within 28 days of getting reinfected, while 29 with Covid-19 were reported as cases but their deaths were not initially uploaded into the database at the time. He says this reflects changes in reporting practice, not the level of care they received.
Bloomfield says the systems are now in place to code deaths within a few days, compared to the two or three months which is the usual system and is still the delay many other countries have.
He says the system enabling the reporting deaths change has been in place for some time, but the change is partly because the World Health Organisation has requested the change.
He says the number of all deaths with Covid-19 will still be reported on the website.
On gatherings, Bloomfield says his advice for those organising events is to think very carefully about measures they can put in place to protect people, and put pressure on people not to attend if unwell.
Bloomfield has a formal farewell tonight and says while it had been planned as "quite a large event" but now it will be smaller, more modest, with everyone wearing masks and many of those invited will be asked to attend via teleconferencing rather than in person.
Bloomfield says we're still "seeing the development of these ever-more transmissible variants ... there could become a time when one of those is perhaps more severe than ... Omicron is".
He says Covid-19 is a significant contributor to the pressure on the health system, and "we need to keep doing what we have been doing, we're nowhere near out of the woods yet on this".
He feels "absolutely confident" that the health system is in good hands ahead of his departure.
Hospitalisation numbers have been nearing 800 as newer variants like BA.5 increase reinfection rates and staffing levels reach record "catastrophe" low levels.
Bloomfield last week, alongside Covid-19 Response Minister Ayesha Verrall, warned hospitalisations could top 1200 - higher than previous peaks - but with more emphasis on public health measures that could be kept below 1000.
The government has touted the record investment put into the health system, and staff recruitment of 5500 nurses and doctors over the past five years, but has been under heavy pressure to do more and acknowledge what has for some time been increasingly labelled a health crisis.

---