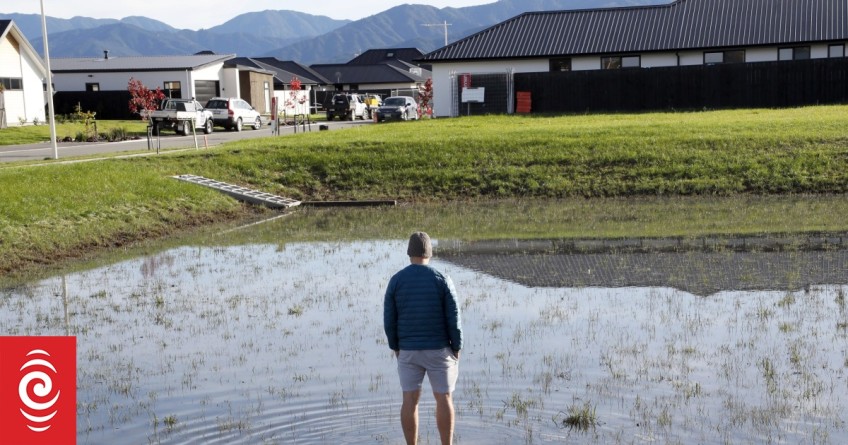 Council won't fence 'super dangerous' stormwater ponds
Aug 07, 2023
---
Maria Hart of Local Democracy Reporting RNZ
A "super dangerous" stormwater pond in a new subdivision in Blenheim will not be fenced despite ongoing calls from concerned residents.
A Rose Manor resident first contacted the Marlborough District Council about the subdivision's two stormwater ponds in December 2022. The resident, who likened the ponds to swimming pools, was told the council had to seek legal advice before deciding whether they needed fencing.
Children had since been seen snorkelling in one of the ponds, and one resident said she had an extra lock on her front door "consciously, because of (the pond) over the road".
Council chief executive Mark Wheeler on Friday confirmed the ponds would not be fenced, saying it was not a "straight forward decision and there could be ramifications for other water facilities in Marlborough if this one was to be fenced".
However, the council was going to excavate the pond base "quite soon" and put a new filter on the bottom that should help water drain away more quickly, Wheeler said.
The ponds were not supposed to hold water for long and may have become partially blocked due to soil run-off from the ongoing development at Rose Manor, he said.
Rose Manor resident Ellie Vincent said she was worried about the ponds when she first moved in, but was told they were dry "95 percent of the time".
Vincent had seen children snorkelling in the water and other kids "biked through them like it was a park".
"We've got a 5-year-old and a 15-month-old ... we initially looked at fencing this entranceway in, because we were worried about it," she said.
"What we've done is we've got double locks, consciously, because of (the pond) over the road."
She said she wanted to see something done to make it safer.
"I appreciate that it probably wouldn't look as good to have some fencing around it. But to me the safety aspect about it, I would prefer to have it fenced," she said.
"We've got a swimming pool here (at home). What we had to go through to get compliance for a swimming pool when you've got open water just across the road, I found it quite contradictory."
Under the Building Act, any pool capable of holding 400 millimetres of water had to be fenced. This included temporary inflatable pools.
Vincent's neighbour, Serina Esposito, said the neighbourhood was an area where kids often played outside together.
"It's hard to monitor," Esposito said.
"They're on their bikes and scooters all the time, they're always out playing. But it is quite scary, because we're right next door to it.
"Our kids have got quite strict rules. But it floods, and I see the neighbours' kids over there playing. It's super dangerous."
She and her partner had wondered why nothing had been done to address safety.
"We got a letter in the mailbox because we had a boat parked out the front, and it was an 'eyesore'," she said.
But Esposito thought that should be the least of people's worries.
"[There's] a safety hazard just down the road in an area that's predominantly families," she said.
"There are a lot of rules in place around how everything looks around here. We're like, 'well, can we address that [pond] first?'"
Wheeler said the ponds brought up an "important principle about parental responsibility in watching small children".
However, the general design principal with water infrastructure, such as the ponds, was to ensure the banks were not too steep, so a child or adult could get out if they fell in.
"We believe that is the case with this structure - it has shallow slopes," Wheeler said.
He added no natural watercourses were fenced, including the Taylor River and the stream running through Rose Manor.
But monitoring equipment would be installed to alert the council when the ponds were filling up with water and that could be shared with residents, he said.
Local Democracy Reporting is Public Interest Journalism funded through NZ On Air
Main image (Stuff/Anthony Phelps): A Blenheim man who lives in the Rose Manor subdivision has asked the council to fence a stormwater holding pond.


---