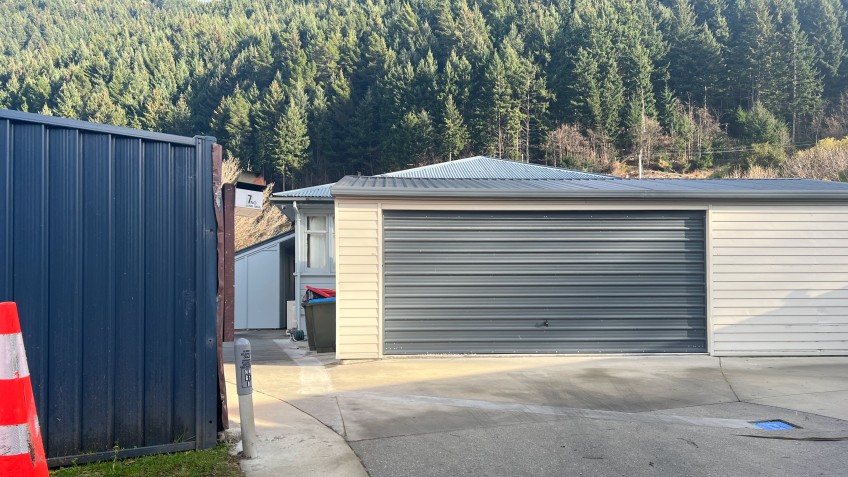 Truong Queenstown slum property: tenants leave, 'court action due'
---
There have been a number of developments today in the case of the rental property where as many as 30 Queenstown tenants were charged up to $490 a week for one small room.
Owner and landlord James Truong is now camped inside the house in an apparent attempt to stop any remaining tenants allowing media access. Five people paying more than $1,100 to rent an external garage were unlawfully evicted last week.
Crux has discovered that Shai Hung Tan, who is a principal owner of properties and businesses linked to James (Oai Phuoc) Truong is in fact his estranged girlfriend. Ms Tan's sister, Be Hung Tan, is also a part owner of at least one of Mr Truong's businesses. This relationship split could put Mr Truong in a difficult position regarding future funding and management of numerous rental properties throughout the South Island if Ms Tan wants or needs to withdraw her share of the properties and any cash resources. Crux has not been able to independently verify the relationship between Mr Truong and Ms Tan, and Mr Truong himself, speaking from inside the front door of the house, again refused to answer Crux questions on this, or any other, subject.
Outside the Johnson Place property today Crux reporters saw a steady stream of tenants either vacating the property permanently or getting ready to leave due to what they described as the mental stress of Mr Truong now living at the property and putting pressure on them to sign written statements declaring their "satisfaction" with the crowded property and sky-high rents.
Many tenants have refused to sign Mr Truong's documents.
One tenant who Crux spoke with today says he is moving to Australia following a 48 percent rent increase from Mr Truong.
He also contacted Tenancy Services regarding the property and was told there will be a court case centred on Mr Truong and the overcrowded house. Tenants are being assured that they can give evidence in the upcoming court case without their names being published.
The demand by Mr Truong for testimonials declaring "no problems" was the last straw for the tenant, who Crux has agreed not to name.
In an audio recording of this conversation provided to Crux by the tenant, the tenant questions Mr Truong on the purpose of the written statement, saying this information was all in their tenancy agreement.
Mr Truong said there was information being written about him (by Crux and other media) that was not correct.
"I just want you to write that down to make sure that everything is all legit, and what the situation is. I don't want any others, you know, to say rubbishing stuff about me.
"This is just a guide of what it is (the written statement); you rent a room, you share the facilities, you share the kitchen, you share the bathroom, you pay your rent on time, you're happy with the room."
He told the tenant that "everybody had written one".
However, that is not the case, as Crux has heard from others at the property, who were asked by Mr Truong to write a statement, but who have refused.
This tenant moved in to the property in January 2022, originally paying $230 a week rent before it jumped to $330 in December 2022.
His tenancy agreement finishes at the end of June, and Mr Truong informed him last month the rent would go up to $490.
The tenant says he "loves Queenstown" but doesn't think he'll find another place, so prefers to head home to Whangamatā.
After this, he plans to go and live in Australia.
He estimates that around eight people were living on the property when he first moved in, but the number of tenants started dramatically increasing this year.
The two sheds outside at the back of the house were used for storage, but now they're rented out to tenants for $250 per person per week.
Another former tenant, who Crux met on Friday, was one of the people who rented out a shed.
On Tuesday last week when he came home from work, the heater in his room had been turned off. When he questioned Mr Truong about it in the audio recording, Mr Truong told the tenant that it had been "the reporters".
Crux did not turn off any heaters when we visited the property on two occasions last week.
The tenant believes Mr Truong has not lived at the property while he has been there.
The property was the subject of a joint raid, using bodycams, by MBIE and the Queenstown Lakes District Council in December 2019. A subsequent 'notice to fix' was produced demanding multiple actions from Mr Truong, detailing a potential fine of $200,000 and an extra $20,000 per day for non-compliance. However council documents suggest QLDC staff were satisfied fixes had been made and Mr Truong was only charged $250 for the cost of the notice.
A Christchurch firm of accountants, Young and Success Ltd, which acts for Mr Truong, issued a brief statement to Crux today saying the owner of the accountancy practice, Wendy Lu, could not be contacted today. The practice manager told Crux that Ms Lu was in "high level meetings" all day.
"At this point, in the interest of our firm and to protect the integrity of the firm as well as the fact that we are not professionally aware of his (Truong's) activities as mentioned in your articles, our stance would be no comment. We are also bound by the Privacy Act, which does prevent us from making comment."
Crux has also approached the QLDC to ask why property records relating to Johnson Place and Highview Terrace, another Truong-related property, disappeared from the council's online database this weekend – only to seemingly re-appear this morning.
By the close of business today the council said it was still waiting to hear back from its own Records Management and Legal teams on the issue. The QLDC also was today also unable to respond to a request by Crux for comment on the situation at Johnson Place as well as the status of its current investigation that was launched after Crux first published our findings seven days ago.
Read more: Ex-slumlord tenant speaks up about 'rats nest' exploitation
Truong slumlord case: Who is Shai Hung Tan?
Queenstown tenants illegally evicted from slumlord's garage
Queenstown tenants living in $7,500-a-week ghetto house tell their story
'Slumlord' denies breaking any law, says tenants are 'family'


---