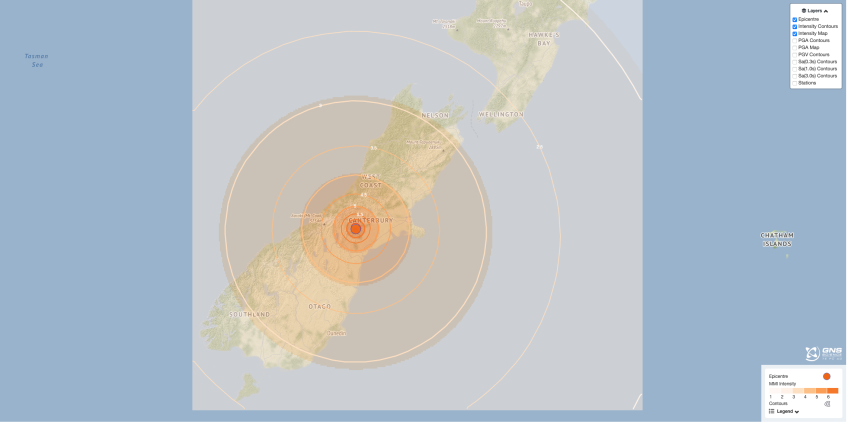 Strong earthquake shakes central South Island
---
A strong magnitude 6 earthquake has struck the South Island this morning, southwest of Christchurch.
GeoNet says the earthquake happened a little before 9.15am this morning, was just 10 kilometres deep and was centred 45 kilometres north of Geraldine.
There are more than 14,300 reports on GeoNet of people feeling it, including in the North Island, with many taking to social media to describe the shaking.
Former Green Party MP Mojo Mathers tweeted, "That was way too close for comfort".
"Peel Forest pretty close to epicentre - whole house shook, cupboard doors swung open, flashbacks to the ChCh quakes."
Another Facebook commenter described the shaking as "going on and on".
Geraldine Primary school popped this message up on its Facebook page, "Just a quick message to say we are all safe here at Geraldine Primary after the earthquake. Students are all back in class and happy", while Geraldine High School reported its students "followed procedures and quickly dropped, covered and held under their desks".
There are no immediate reports of damage.
The National Emergency Management Agency says there is no tsunami risk to New Zealand.
The quake was initially reported as magnitude 5.8, then magnitude 6.2, but has since been revised to magnitude 6.
It is the strongest earthquake recorded in New Zealand this year.
Main image: GeoNet


---