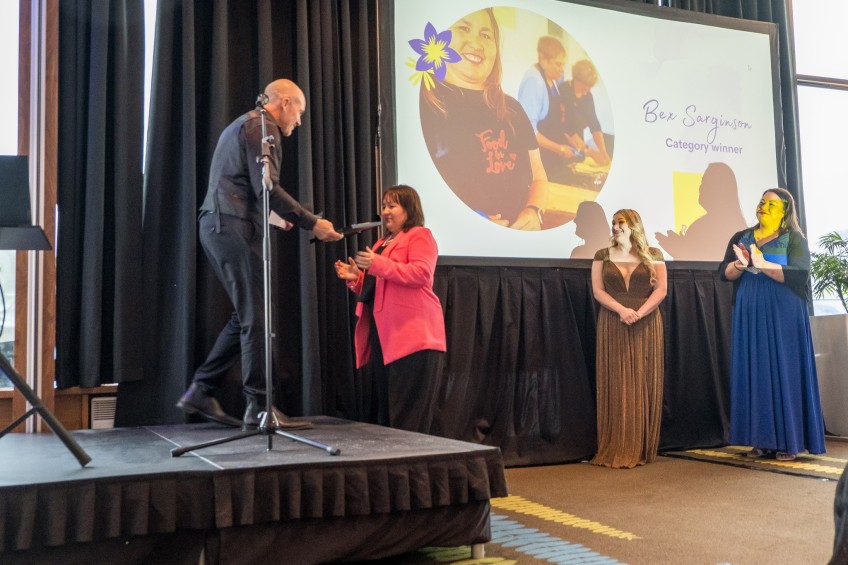 Wānaka women doing good honoured in inaugural awards
Nov 23, 2022
---
Two Wānaka women have received recognition for their work helping to support people in need on different sides of the globe.
Cassandra Treadwell and Rebecca (Bex) Sarginson are two of four regional winners in the Inspirational Women Awards, presented at the Awards and Gala for Women's Refuge Services on Saturday night.
Ms Sarginson co-founded Wānaka charitable trust Food For Love, which provides home-cooked meals to families and individuals that need a little bit of help.
Since 2020, it's also supplied school lunches daily to kids otherwise going without.
Ms Sarginson has led the initiative for six years, working with 186 volunteers who provide "home-cooked meals, made with love" for those in need.
Meanwhile, Ms Treadwell's work has had an impact half a world away, in Africa.
She's the co-founder of So They Can, an international non-profit focused on educating children living in East Africa, so they can go on to break the cycle of poverty.
So far the organisation has empowered more than 24,000 children in Kenya and Tanzania through 37 schools, plus its helped 474 teachers graduate from its Tanzanian Teachers' College.
Event organiser Julia Strelou says the work the award winners are doing has real impact.
"They are the ones making our community a better place and they deserve to be recognised. It feels incredibly special to have been a part of that."
The awards and gala night was the first of what is set to become an annual event.
More than $25,000 has been raised so far from Saturday's inaugural event, and all funds will be put towards The Women's Refuge Otago and Central-Lakes Family Services.
"Words can't describe what I am feeling right now. I am so overwhelmed by the communities support and by the empowering and supportive atmosphere we managed to foster at the event. It became something truly magical," Ms Strelou says.
A police report in 2021 says one in three New Zealand women experience domestic abuse in their life - police respond to a domestic violence call every three minutes.
In Otago, there is no safe house for women seeking to leave an unsafe situation, and funds are being raised to get one.
The date for the next Awards and Gala for Women's Refuge services has been set for November next year, and fresh nominations for the Inspirational Women Awards will be sought.
The four women recognised in the awards ceremony on Saturday were:
Cassandra Treadwell with the Woman's Touch Inspirational Woman Award.

Rebecca Sarginson with the Ray White Community Recognition Award.

Pauline Blomfield, of Dunedin, with the Fowler Homes Entrepreneurial Woman Award, for the K9 Medical Detection charitable trust, New Zealand's only canine medical detection training centre. Ms Blomfield has succeeded in gaining significant approval from both medical governing bodies and medical specialists throughout New Zealand to begin stage two of the 'Diagnostic Test Accuracy' using patient urine samples and her work has been internationally recognised.

Juanita Willems, of Roxborough, the recipient of the Mountain Scene Resilience Award was made blind as a result of child abuse, and she now coordinates Foster Hope Otago which is a 100 percent volunteer-based charity that provides backpacks filled with essential items to children as they enter into the foster care system. In 2021, they provided 14,00 foster children with packs and over 1000 Christmas presents.
Main image (Facebook): Rebecca (Bex) Sarginson, the co-founder of Wānaka charitable trust Food For Love, receives an award for her work harnessing the kitchen skills of almost two hundred local volunteers to provide home-cooked meals to people in need.

---