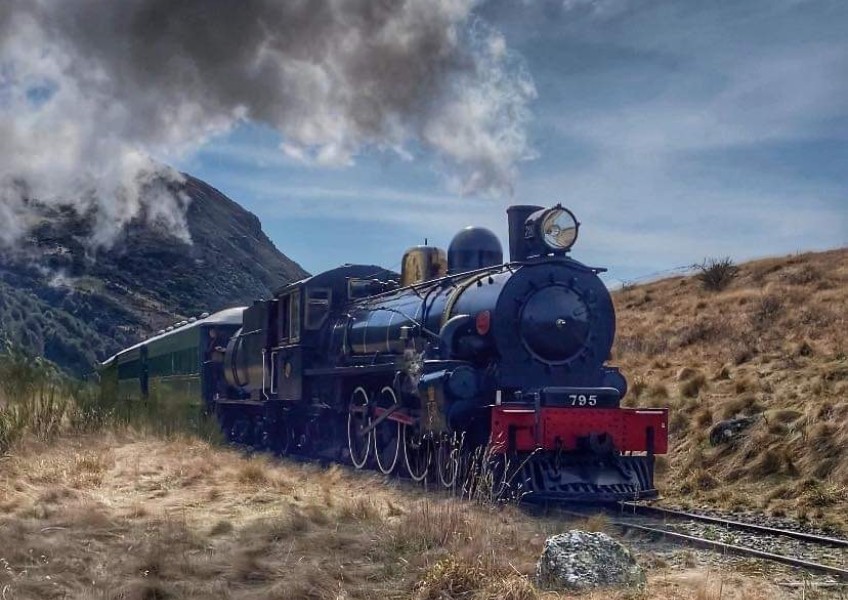 Kingston Flyer back on track after decade's break
---
After close to a decade off the tracks, the Kingston Flyer steam train rolled out of Kingston station on Sunday headed for Fairlight.
Approximately 150 passengers jumped aboard carriages on the coal-powered train for the one-and-a-half-hour journey there and back.
For those onboard, the train trip provided a step back in time, organisers told Crux.
"When travelling on a steam train there is a sense of history, as if you have travelled back through time to an era where people weren't in such a hurry and times were simpler."
A trip on the train is both "relaxing and exciting" at the same time.
"The steam train is surprisingly quiet, the gentle rocking of the train as it makes its way down the tracks brings a sense of calm, and the views are spectacular.
"The Flyer has a sense of nostalgia for many local families from around Southland as for many, their parents or grandparents worked on the train or used its service regularly.
"There is something very special about it."
The restoration of the Kingston Flyer has been headed by Neville Simpson.
He had an important job on Sunday: driving the train.
Beside him, a locomotive assistant, in charge of loading the coal that makes the steam that powers the engine.
"Steam locomotives are completely manually operated and maintained, which demands a unique set of skills. This requires a hands-on relationship between the locomotive and the crew."
Mr Simpson has been a long-time advocate for the steam train - he's headed its restoration, and the restoration of the train track it travels on.
The line first opened in 1878, and connected with steam boats on Lake Whakatipu.
The connection allowed for the movement of freight and passengers from Queenstown to Invercargill and Dunedin.
Between 1890 and 1957 the Kingston Flyer was owned and operated by NZ Railways as an express passenger service between Kingston, Gore, Invercargill and Dunedin.
"This was the main route for freight and passengers to and from Queenstown until 1936 when the first road was opened between Kingston and Queenstown, now known as 'the devils staircase'.
"Rail passenger services began to dwindle until all regular rail passenger services ceased in 1957. Freight services continued until 1971. The present Kingston flyer was introduced as a tourist attraction in 1971 by the NZ Railways."
In 2003 it was sold to a private operator, and the heritage steam train became a tourist attraction, with trips available on and off until 2013.
It was purchased by a group of Auckland-based investors in 2017.
The Kingston Flyer is now taking passengers every Sunday until December 18. It's also available for private charters.
Main image (Supplied/Lorena Marshall): The Kingston Flyer rolls alongside the Around the Mountains Cycle Trail on its first journey with passengers in close to 10 years, Sunday, September 19, 2022.


---