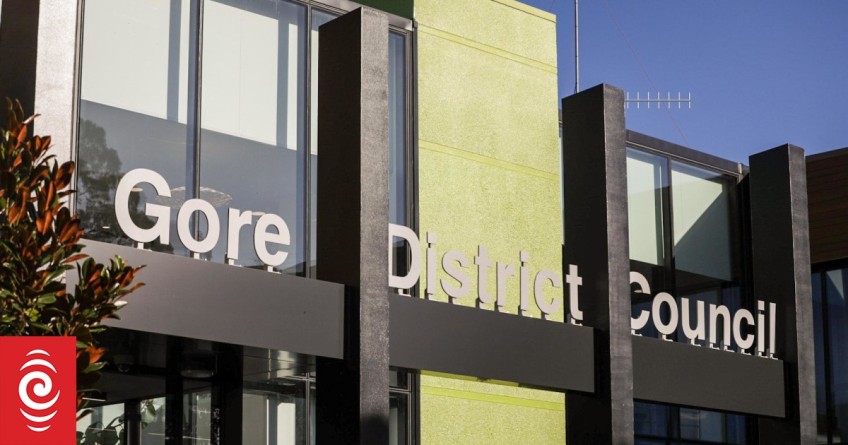 Call for Gore council chief executive to go 'vindictive'
Nov 22, 2023
---
A petition calling for Gore District Council chief executive Stephen Parry to go has been labelled malicious, vindictive and based on falsehoods by councillors who rejected it.
The 313-signature petition was to be presented by organiser Hayden McIntyre at Tuesday's council meeting.
However, most councillors voted to prevent McIntyre speaking at the meeting and then to reject the petition altogether.
It was the second time in six months a Gore resident attempted to put a petition before the council calling for Parry to go.
The former chief executive had butted heads with Gore Mayor Ben Bell since the then-23-year-old ousted long-time incumbent Tracy Hicks in October last year.
Only a month after Bell put on the mayoral chains, the pair were in mediation and no longer speaking.
The fallout from their fractured relationship led to a group of rogue councillors calling on Bell to quit, an aborted vote of no confidence in the young mayor and the petition from the public calling for Parry to resign in response, as well as a protest outside a council meeting.
A mediation process took place in June which resulted in a surprise apology from Bell and his councillors to Parry.
Parry then announced his intention to resign in September after more than two decades in the role.
RNZ understands that was as a result of the mediation agreement.
But last month, a majority of councillors appointed Parry to take on an interim chief executive's role until a replacement was found.
Bell was not among those in favour.
That call resulted in McIntyre's petition against Parry, which called for the council to revoke its decision to appoint him interim chief executive.
As Bell invited McIntyre to make his case to the meeting, Councillor Glenys Dickson intervened.
Dickson said it was not appropriate for McIntyre to speak to his petition as it was an employment matter and then offered Standing Orders to back up her argument.
"[Standing Order] 17.2 says the petitioner may speak unless the meeting resolve otherwise," she said.
Councillors rejected the first petition back in May on the basis it was unclear who actually signed it.
However, there was no such problem this time as the hand-signed petition contained the signatures of 295 Gore residents (of the 313 who signed).
Bell was clearly blindsided by Dickson's intervention.
He called for debate on the matter and after 15 seconds of stunned silence, deputy mayor Keith Hovell called for a vote.
"This has caught me off guard," Bell said, with an exasperated sigh.
But Councillor Robert McKenzie, an ally of the mayor, said members of the public should be allowed a voice.
"I just ask one question - why in this particular case, when other people can speak to petitions? There needs to be a reason."
Councillor Dickson emphasised it was an employment matter.
But McKenzie said that was no reason to prevent the public having their say.
"We probably all know what the result will be, but I do believe that people have the right to speak," he said.
Bell agreed, but the council voted nine to three not to allow McIntyre to speak.
Councillor Neville Phillips then immediately moved to reject the petition, with the backing of the deputy mayor, who described the petition as divisive.
Hovell then read an email he received from McIntyre's mother last week.
"Dear Councillors Hovell, Dickson and McPhail.
"One wonders when you will wake up to your pathetic actions. Why do you keep on digging yourselves in a hole. For the sake of our district, your resignations will be much appreciated as it's very clear you're not up to the job.
"Fed up ratepayer, Sally McIntyre."
The deputy mayor said if he continued to be bombarded by such emails he would be asking the council's IT manager to block them.
Councillor Bronwyn Reid added: "Some of these proceedings have been malicious in intent and caused stress to staff and elected members".
Dickson said the petition was based on a falsehood.
"Stated in petition it says the willingness to work with elected members, that's the CEO's unwillingness - that's not a correct statement. That's a false statement."
Councillor Paul McPhail supported the words of Hovell.
"I've never witnessed a more vindictive, revengeful, unrelenting, bitter campaign in my life. It saddens me to be part of this community," McPhail said.
The vast majority of councillors voted to reject the petition.
McIntyre and his supporters walked out of the meeting with one giving councillors the finger.
Outside the meeting, McIntyre said he was not surprised by what occurred.
However, he was not convinced the interim chief executive would really leave.
"From what I believe, there's the potential for this just to be a knock-on effect of interim CEO for three months; six months; a year; two years. Where does it all go?"
The group shared a heated exchange with members of Parry's family.
Meanwhile, inside the meeting, Parry might have inadvertently fed the belief he was not going anywhere, during a discussion on the upcoming long-term plan process.
"If we get to the end of June and I'm still around here and you've got a recommendation to adopt an LTP, I'll be begging you to adopt it."
The council had engaged a recruitment agency in the hunt for its next permanent chief executive.
When asked by RNZ last week if he intended on applying for the role, Parry was coy.
"I haven't even thought about that," he offered.
"And even if I was, I wouldn't be telling you."


---