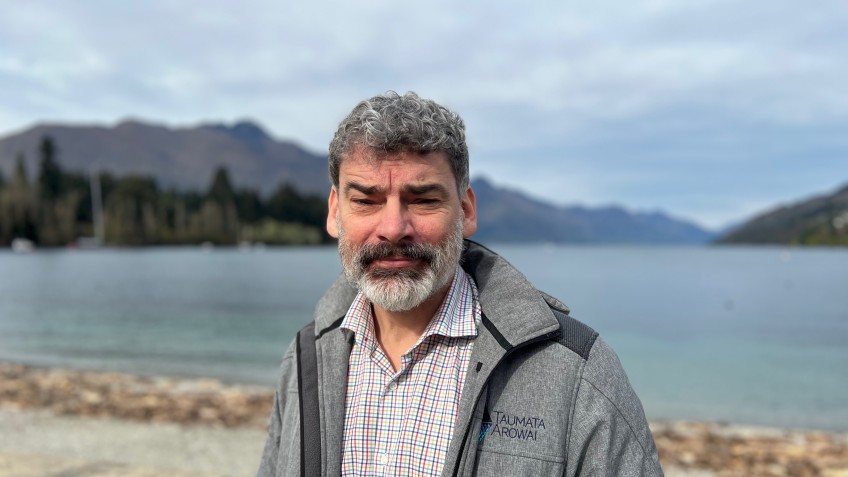 Water regulator in town, won't rule out sanctions for QLDC inaction
---
The country's new water regulator will not be drawn on whether the Queenstown Lakes District Council will face additional financial consequences for not following rules in place to keep water safe.
The regulatory boss of Taumata Arowai is in Queenstown, working with the council as it scrambles to bring its water treatment plants up to standard as the town is hit by an outbreak of cryptosporidium infection.
Crux has asked Steve Taylor if it was irresponsible for QLDC decision makers to defer planned three water upgrades necessary to ensure infrastructure was not breaking the rules.
He says as his organisation considers any potential consequences "we'll need to contemplate and consider questions like that because that will have a bearing on the sort of regulatory action we'll take".
"We are expecting councils and suppliers to do the work that's required to become compliant and if they don't, yes, we are a regulator."
There have been expectations on water suppliers to safegaurd against potentially harmful protozoa like cryptosporidum for close to a decade, and new rules in November last year made them super clear.
As far as Mr Taylor is concerned the two-year-old regulator has never suggested to councils there is any wriggle room when it comes to complying with them.
Yet the QLDC chose to defer planned upgrades to its Two Mile water treatment plant - the facility at the centre of the current crisis - that would have made it compliant.
Why? Well, Mr Taylor says that is a good question and one only the council can answer.
Part of the answer no doubt lies in the cost of compliance - the top-notch protozoa barrier missing from the Two Mile plant comes with a ballpark price tag of $30 million.
In recent weeks Taumata Arowai has come under fire from some, including the Queenstown Lakes District mayor, for its seemingly knee-jerk reaction to the evolving situation in regards to the safety, or not, of Queenstown's water supply.
While the new regulator is continuing to find its feet, Mr Taylor says it had been proactively working on compliance with councils, but the crypotsporidium outbreak in Queenstown has forced it to demand urgent action.
"It was always anticipated that councils and suppliers around the country would have expectations set this year around timeframes for compliance."
He says in a letter in June Taumata Arowai communicated regulatory expectations to councils, particularly those with source water considered more at risk of contaimination, like lakes, rivers and shallow bores, as is the case in Queenstown Lakes.
"We recognise that this is an important year for many councils in that it is the LTP (Long Term Plan) year, which is setting investment over the next three years and why we had intended to have this converstion...to ensure that investment was locked in."
The regulator has also been assessing drinking water safety plans and found many to be "undercooked", including some of the QLDC's, which have since been reworked.
Mr Taylor says this process was interupted by the Queenstown crisis.
Around two weeks ago Taumata Arowai slapped a compliance order on the QLDC in response to a confirmed outbreak of cryptosporodium infection in the community.
The order is the first of its kind - and it applies to the council's Two Mile and Kelvin Heights water treatment plants, although the council has confirmed more than half of its water supplies do not meet national water safety rules.
Mayor Gyn Lewers has claimed the regulator is flexing its regulatory muscle, and his district has become something of a test case for a new and inexperienced government entity.
But Mr Taylor denies this, warning similar action may follow for other councils and suppliers, and he makes no apology for that.
"There's a clear legal requirement for protozoa barriers to be installed.
"Those barriers are there for a reason, and it's to prevent things like cryptosporidium from getting into the drinking water and causing people to become sick.
"We are ensuring that suppliers are operating within the rules. And, again, the rules are there to keep people safe."
Te Whatu Ora's official tally of cryptosporidium infection in the town has sat at close to 60 for several days now, although hundreds more people are reported sick in the community.
Despite continual testing by the council, the town's water supply can not be ruled out as a source of the problem parasite.
However Mr Taylor says, "Just because we've found nothing yet doesn't mean that it's safe".
Yesterday, Mr Taylor was able to give green light on the lifting of a weeks long boil water notice applied to the council's Kelvin Heights water treatment facility, which already has protozoa protection, although there were questions around its effective operation that needed to be sorted.
So, while it is good news for residents and visitors in Frankton, Hanley's Farm, Quail Rise and Tucker Beach Rd, there is still no relief for businesses and households connected to the Two Mile water supply, where an interim solution to meet compliance is not expected to be in place until December.
Mr Taylor says unless an alternative source for the cryptosporidium outbreak is confirmed, it is unlikely the boil water notice will be fully lifted before then.
"The priority at this stage is ensuring safe drinking water."
Mayor Lewers had suggested the regulator was overzealous in its policing of the Kelvin Heights water supply, which the mayor earlier indicated he wanted to provide the all-clear for weeks ago, after isolating it off from the Two Mile supply, which it usually mingles with.
But, again, Mr Taylor challenges that view, saying he needed to be confident everything had been done to make the water safe, including evidence of a good flushing of the whole system to ensure movement of water in otherwise "dead spots".
A worse case scenario for Taumata Arowai is allowing the early lifting of a boil water notice only to have people get sick again.
"That's the last thing we would want," Mr Taylor says.
"I'm reluctant to get drawn into a conversation of what's the end point because it really depends on what is uncovered over the coming days through the sampling and testing...QLDC is doing the right work at this point to identify the source."
Crux has approached Mayor Lewers for comment, but he had not responded by time of publication.
Main image: Steve Taylor, the head of regulatory at Taumata Arowai, is in Queenstown this week, after issuing a compliance notice to the district council two weeks ago.
Read more: Tap water is back for thousands of Queenstowners
QLDC one of 27 councils breaking protozoa barrier rules


---