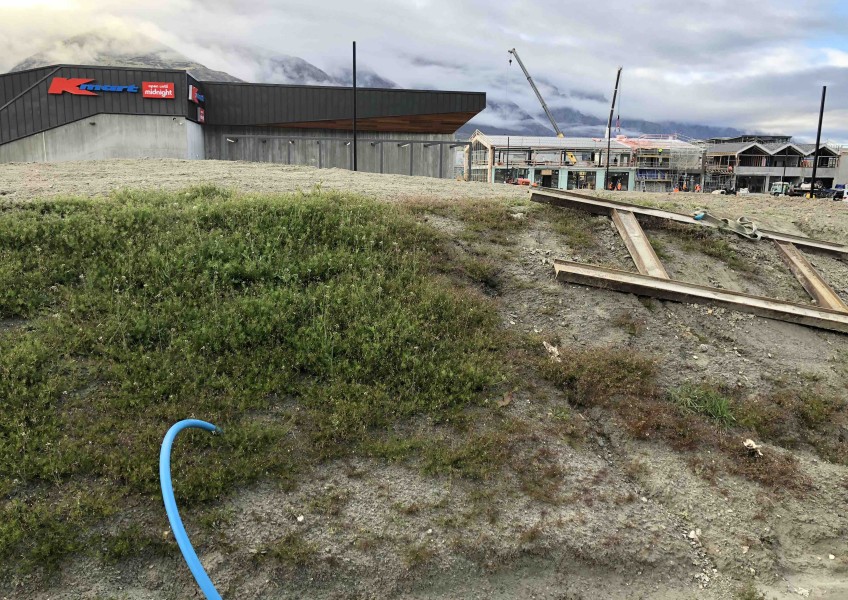 Qtown Central construction company denies new safety and cashflow claims
---
Crux has discovered more evidence behind the Kmart building structural issues, suggesting that parts of Queenstown Central development may not be safe. We also have credible reports of contractors or sub-contractors not being paid and getting ready to walk off the job.
These claims are denied by Dominion Constructors who say everything is safe, financially sound and on track to open on October 18th.
A senior construction industry source has revealed to Crux that serious structural issues at the Kmart site were only discovered by QLDC when a contractor "who could not sleep at night" sent photos to council building inspectors. This is in spite of QLDC being responsible for signing off construction quality and safety at various key stages.
Documents accessed by Crux also show that the problems are far more extensive than previously revealed and the repair process is extremely technical and challenging, in spite of Russell Group boss Brett Russell telling us on Wednesday that repairs were "not too complex."
Our sources say that some workers on the site are too inexperienced for a project of this size.
Dominion Constructors is the main contractor for the $100 million Queenstown Central retail complex. The development manager for the Queenstown Central project Simon Holloway has been quoted in local media as saying construction problems were limited to "a panel junction to a localised area." Mr Holloway has not returned calls from Crux this week.
Here's what external engineers discovered when they responded to the whistle blower contractor tip-off - in a defect report numbered 77. To a non-expert this looks like a virtual re-build, confirming social media reports that a partial or complete demolition of the Kmart building was actively considered. How did virtually all - seven out of eight - vital steel foundation to wall panel connectors get cut?
In another defect report, numbered 62 but at a later date, the engineers refer to new problems involving a 50mm shift in wall panel connectors described as "defective from a structural perspective."
Even more alarmingly the remedial work looks extremely complex involving multiple technical solutions and completely new foundation beams.
Here's just part of the detailed work required to restore the structural integrity of the Kmart building - before it opens to the public.
In addition to the technical size and scope of the current structural problems is what a senior industry source has told Crux about earlier problems on the site.
He told Crux that a Queenstown Central construction worker had said to him many months ago "nothing lined up, so they would just drill new holes, concrete was too high or low in places and you just had to make things fit." Another source contacted Crux this morning to say that serious project management problems were evident throughout the project with many contractors not being paid and getting ready to walk off the job. The same contact said that there was no way, in his view, that the project should be opened to the public. All of these claims are denied by Dominion Constructors.
Crux has also discovered that Dominion Constructors had asked QLDC for clearance to fix serious structural problems as a "minor variation" to their building consent. But the rules state that this minor variation mechanism can only be used for "minor wall bracing changes" and similar small scale fixes.
All of this leaves serious questions about both the safety and financial status of the Queenstown Central project.
Speaking to Crux this morning, Grant Thomas, South Island Construction Director for Dominion, said everything was going well and the project would open to the public, as scheduled, on October 18th.
Mr Thomas said that Dominion had fully cooperated with the QLDC and that the necessary repairs were going well. When asked if the repairs were minor, Mr Thomas described the work. "Basically it is relatively minor. A concrete overlay in some isolated areas."
Mr Thomas said that the project was proceeding well in line with the contract and everyone was being paid. He said there had been some weather related delays. He also refused to speculate on the reason for persistent rumours in Queenstown that the project was experiencing major problems, deferring to group owner Brett Russell who spoke with Crux earlier this week. Mr Thomas said he was not able to explain how so many vital steel connections had been cut on the Kmart site without site managers becoming aware of the problem.
QLDC has refused Crux access to senior building managers, instead issuing a statement on Wednesday revealing some basic details about the Kmart structural problems. QLDC has also refused to release a copy of the Fix Notice issued to Dominion Constructors.
It's been reported by the Otago Daily Times today that commercial tenants wanting to move into new Queenstown Central premises have faced "complete silence" over final dates and delays. The retail complex was originally supposed to open yesterday, October 4th.
Crux visited the site today and it was very much incomplete. An October the 18th opening date looks optimistic at this stage.
Main Image: Queenstown Central today - not looking likely for an October 18th opening.
Read: The main Crux story earlier this week documenting Queenstown Central construction issues and the response from Brett Russell.


---