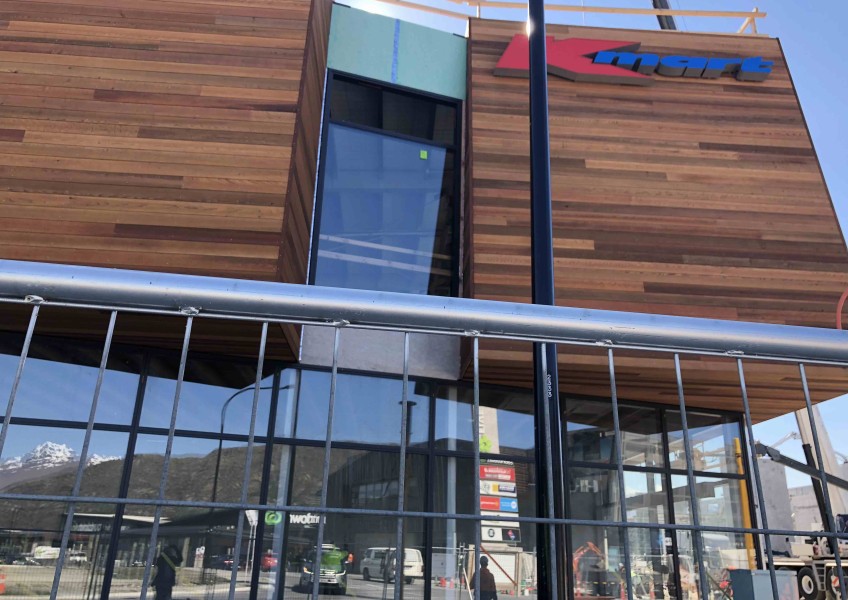 What's going on with the Kmart building?
---
For weeks there has been talk in Queenstown of serious problems with the construction of the new Kmart building at Five Mile near Frankton.
The situation escalated last night with a social media post that made a number of very serious allegations not only about the building but the company responsible for the construction project - Dominion Constructors.
Crux has been in touch with QLDC this morning, and in spite of a direct approach to senior building compliance managers our request was instead answered by the council's communications team.
Their media release is published below, but basically the council says that problems with steel reinforcing bars between wall panels and the foundations were being fixed. The council statement was attributed to Jonathan Shaw who leads the Building Control Inspections team at the council.
The statement says that Mr Shaw needed to get external consulting advice on the issue.
Crux has also approached the ultimate owners of Dominion Constructors - the Russell Group.
Previously Dominion have shown a marked reluctance to comment on the reported Kmart problems. We have been promised a response from Brett Russell who is the majority 60% shareholder in the Russell Group that owns Dominion as well as numerous other large construction and property related businesses.
Mr Russell is reported by his office to be overseas at the moment - but at a location with only a one hour time difference to NZ, suggesting we should get a response soon.
The QLDC response has been coy to say the least, previously refusing to define the nature of problems that needed to be fixed.
Social media posts suggested that the problems were so serious that at one stage the complete or partial demolition of the Kmart building was actively considered. These claims have been put to Mr Russell and we will publish his response as soon as it is received. Likewise we shared details of the claims with QLDC but their response did not directly address this or other points raised on social media last night.
Visiting the KMart building this morning Crux spoke to an event organiser who was planning a Grand Opening for the building on October 18th - he knew nothing about reported problems with the building. Work seems to be proceeding as normal with large windows being installed.
On a previous visit, Crux photographed significant distortion in the road surface next to the Kmart building. This distortion in the road has since been dug up and repaired.
If you or anyone you know has more information on this story please email Crux in complete confidence to editor@crux.org.nz
Here's this morning's council statement in full. Crux has not been able to contact either of the two people named at the end of the media release (details removed).
"QLDC Building Control Inspections Team Leader Jonathan Shaw confirmed today that remedial works are underway at the Kmart construction site.

QLDC issued a Notice to Fix to Dominion Constructors Ltd and Queenstown Central on 21 August. This Notice related to repairing cut steel reinforcing bars between the pre-cast concrete panel walls and the foundations.

"The QLDC Building Services team investigated and then issued the Notice as soon as we were made aware of these construction issues," said Mr Shaw.

Once identified, Dominion Constructors Ltd and Queenstown Central have both cooperated fully with QLDC to remedy the issue. Approval for remedial work to commence was granted on 21 September.
Mr Shaw advised that QLDC has engaged its own independent engineering advice and has been closely monitoring the remedial engineering design and work.

"Something like this is of obvious concern and we will not provide any approvals allowing for public use until we are satisfied that the issues have been fully rectified," said Mr Shaw.

"QLDC is confident that once these works are completed and approved that the building will be compliant and therefore safe for the public and the businesses operating from those premises".


"For more details surrounding the Kmart development, please contact Dominion Constructors Ltd or Queenstown Central (Crux - names and number removed)"

---