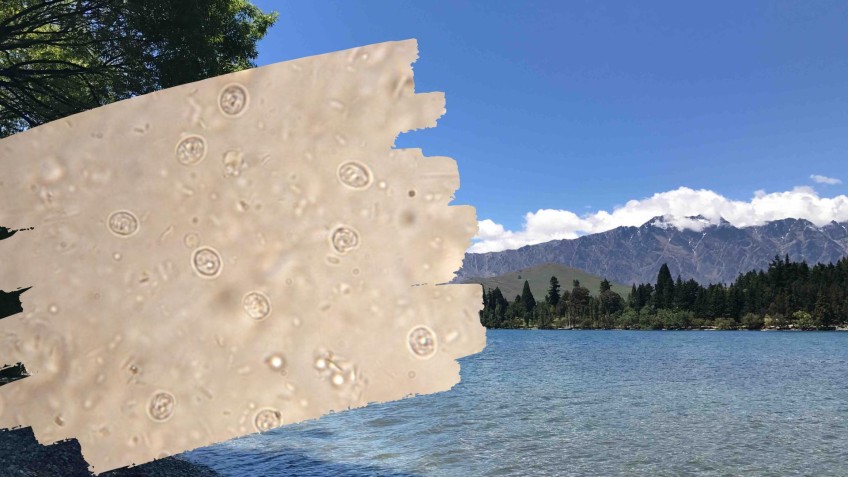 QLDC scrambling to provide fix as water regulator issues compliance order
---
The country's new water regulator has told the Queenstown Lakes District Council it must upgrade at least one of its water treatment plants to include a protozoa barrier and, until it does, or switches to an alternative supply, the town's boil water notice is going nowhere.
Taumata Arowai issued the council with a compliance order at 5.30pm (Wednesday night), before the council provided a written statement to media just after 9pm detailing the action.
It comes two days after the council issued a boil water notice to central Queenstown suburbs, stretching from Sunshine Bay and Fernhill to Frankton, Kelvin Heights, Hanley's Farm, and Quail Rise and Tucker Beach Road, in response to confirmed cases of cryptosporidium infections in the area.
Taumata Arowai regulatory boss Steve Taylor, in a written statement to media tonight, says the situation in Queenstown is complex.
"The source of the outbreak is still unconfirmed, but on the information available at the moment there is a material risk as it relates to drinking water. We also know that the Two Mile water treatment plant is non-compliant, creating a risk of contamination that is not being appropriately managed.
"We are working constructively, and with urgency, with the Queenstown Lakes District Council to resolve this issue and give confidence to communities that their drinking water is safe.
"The lack of a protozoa barrier at the Two Mile water treatment plant creates a serious risk to public health, demonstrated by confirmed cases of cryptosporidiosis affecting consumers in the Queenstown drinking water supply distribution zone served by the plant."
The water regulator also says it has concerns about the Kelvin Heights water treatment plant. Although it has a protozoa barrier information recently provided to it by the council has raised some doubts about whether this barrier is working.
Between them, the Two Mile and Kelvin Heights water treatment plants supply approximately 44,700 people with drinking water sourced from Lake Wakatipu.
In the council's own statement tonight, QLDC property and infrastructure general manager Tony Avery says the boil water notice is the "primary requirement of the compliance order".
However, the order also requires the boil water notice to remain in place until the council is able to screen for protozoa - a requirement under the Drinking Water Quality Assurance Rules.
"Council has been and will continue to investigate with urgency how that will be achieved," Mr Avery says.
So, it appears the council is now scrambling to provide a fix.
Cryptosporidium is a type of protozoa - as is giardia.
Last night, in response to questions from Crux about which of the district's council-owned water schemes did and did not have protozoa barriers and how much they would cost to buy and install, Mr Avery said six - more than half - needed them, no funding had been made available to date, and he was unable to say how much they would cost.
The council's water schemes in Wānaka, Luggate, Glenorchy, Wānaka Airport, and Corbridge, in addition to the Queenstown town scheme, all do not have protozoa barriers.
Mr Avery and district Mayor Glyn Lewers are holding a media stand up tomorrow (Thursday) at 10.30am.
"In the meantime, council officers will be working hard to understand the detail and full implications of the order," Mr Avery says.
"The first condition of the order is to prepare a community engagement plan and provide a copy to Taumata Arowai for review and approval by 5pm tomorrow.
"Much of this work has been underway since Monday in terms of ensuring 'affected consumers – including temporary visitors to Queenstown – are aware of the boil water advice in relation to each distribution zone', but we will of course review and build on our efforts over the past two days.
"We will also be working closely with our tourism and hospitality partners, including Destination Queenstown and the Chamber of Commerce, to reassure domestic and international visitors. Whilst it's clearly not business as usual, the simple step of boiling water and practicing good hygiene is effective protection against cryptosporidium.
"To this end, council's environmental health team has contacted approximately 170 food operators – the majority in person – yesterday and today. We have also today published a dedicated page on the council website for individuals and businesses that includes frequently asked questions and downloadable resources as well as news and updates."
"I would like to emphasise that neither the source of the 17 cases confirmed to date by NPHS Southern, nor a link between them, has been identified. However, we recognise the potential for a council-managed water supply to be the source. That is why we issued the boil water notice on Monday in line with advice from Taumata Arowai and NPHS Southern, and why we will be complying with the former's compliance order."
Earlier today Crux revealed an initial email from public health services staff to the council alerting them to the confirmed cryptosporidium outbreak was missed over the weekend and only picked up on Monday morning when council staff returned to work.
By this afternoon Public Health Services Southern had confirmed two fresh cases of cryptosporidium in the Queenstown area, bringing the total number of infections to 17, but it is likely the bug has spread much more widely through the community, with official figures potentially just the tip of the iceberg.
Read more:
Official crypto cases rise to 17 whilst hundreds more report gastro illness
Public health's crypto cases warning lost in QLDC's weekend lull
Queenstown scrambles after water warning
Plans for water filters but no funds as Queenstown chases cause of illness
QLDC clears water supply as Fernhill gets slammed by gastro bug


---