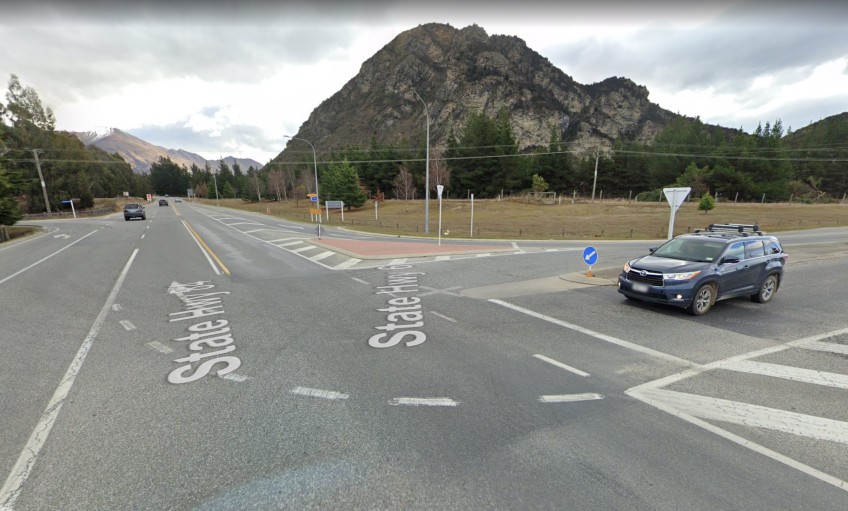 Contractor awarded $5m Wānaka roundabout after Cromwell mistakes
---
The same contractor behind Cromwell's faulty roundabout is set to start work on a similar project in Wānaka.
The intersection of State Highways 6 and 84 at Mt Iron's being given a $5 million revamp, and Waka Kotahi's awarded Fulton Hogan the contract.
Construction's set to start at the busy intersection, where traffic from Wānaka's lakefront, Luggate, Albert Town and Hāwea, and Riverbank Road converge.
It's expected the build will take at least a year to complete.
Down the road in Cromwell, drivers have just come to the end of months of detours and delays as Fulton Hogan built two new roundabouts on state highways on the edge of the town.
One of them, at the junction of State Highways 6 and 8B, had to be partially ripped up and relaid after an eleventh-hour fault with the new road's camber was picked up by early users.
In response to questions from Crux at the time, a Waka Kotahi spokesperson said the flaw was missed by the contractor during construction, despite "quality assurance checks" having been undertaken.
It was fixed "largely" at the contractor's cost, with the public picking up approximately "$20,000 to $30,000" of the bill.
Fulton Hogan did not respond to Crux's request for an interview on what went wrong.
Meanwhile, Waka Kotahi director of regional relationships James Caygill reckons the announcement of the latest build, a 40 metre-diameter, single-lane, five leg roundabout, will be "welcome news" for locals.

"We know this intersection is a busy one particularly over the summer period when congestion is at its peak.
"The nature of the existing staggered T junction makes it challenging and has resulted in multiple crashes in recent years."
The project's part of Waka Kotahi's Road to Zero Safe Infrastructure Programme, being delivered across the country.
"Its construction will reduce the likelihood of crashes and increase safety for all those who use it," Mr Caygill says.
Road users can expect some disruptions.
However, principal project manager Brendon French says a significant portion of the roundabout can be built off-line, near the site.

"This will lessen the impact on road users and allows us to limit delays where possible.
"The design of the roundabout shifts the intersection to the north slightly, which means most of the roundabout can be constructed off-line.
"However, disruption will be unavoidable as each leg into the roundabout will need to be realigned.

"While we estimate this will take a year to complete this is also dependent on labour and material availability in addition to weather conditions."
Waka Kotahi says there's limitations to what roadworks can happen over winter.

"The intention is to have the bulk of the roundabout construction complete prior to winter and complete the tie in legs and surfacing in the spring," it says in a statement today.

"Winter means challenging conditions, particularly for pavement and surfacing activities, so while there will likely still be activity on site it will be limited to activities on the peripheries, such as footpaths and lighting."
The "fifth leg" of the new roundabout will future proof it for proposed development in the area, it says.
Between 2011 and 2020 there's been 21 crashes recorded at the intersection, with one person seriously injured and 18 people suffering minor injuries, according to accident records.
Read more:
Cromwell's expensive new roundabout to be ripped up due to fault
Mystery over Cromwell's very expensive roundabout
Main image (Google street view): Wānaka's difficult 'Mt Iron' intersection is set for a roundabout.

---