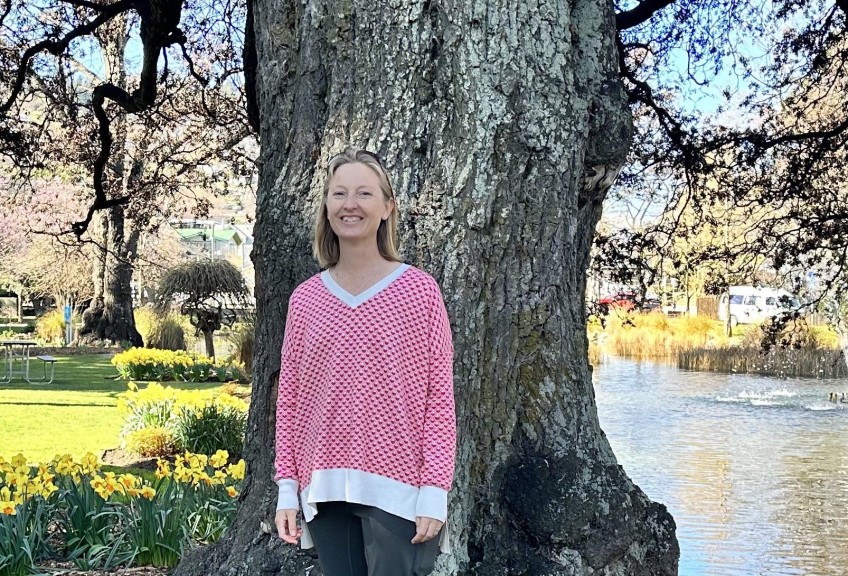 Debbie visits: Chenin Madden
---
Crux sales manager Debbie Knowles is regularly out and about visiting businesses big and small for work - she meets people with passion who help make our district special. Got a suggestion for a sweet spot for Debbie to stop? Get in touch and let her know!
This afternoon I had the pleasure of going for a leisurely stroll with Chenin Madden, of Cre8ing Balance, around Queenstown Gardens. Whilst we differ in our cuppa tea preferences - Chenin's being fruit tea, and Yorkshire for me - I hold no bias as a brisk walk with Chenin in the spring sunshine is time well spent!
If you aren't already aware, Chenin has been nominated for The Resilient Women award the at the Otago Inspirational Women 2023 event being held on Saturday 25th November at Rydges here in Queenstown and after spending time with Chenin and delving into Cre8ing Balance, it's clear she's a worthy nominee!
Chenin, as a former EMT in Auckland, learnt the importance of, and difference in, communication and energy around grief and loss and Cre8ing Balance was formed in Queenstown in 2016 with a mission to empower individuals to take charge of their wellbeing.
One of Cre8ing Balance's core offerings is workplace wellbeing support, providing the opportunity for employees to have confidential conversations, providing a safe space to discuss their concerns, whether work-related, personal life, or general wellbeing. These conversations can lead to recommendations for community services, books, online courses, and various resources that individuals may not be aware of but which can significantly enhance their wellbeing.
In addition, local workplace wellbeing support offers one-on-one support sessions to help individuals navigate their wellbeing journey. Whether it's coaching through challenging life transitions or connecting individuals to suitable community resources, Chenin can provide guidance and support.
Another of Chenin's services is the Wellbeing Directory, which is a one-stop resource where individuals in Queenstown can explore a wide range of holistic wellbeing options beyond traditional medical services. From doctors and physiotherapists to yoga, meditation, and more - the directory connects people with choices that resonate with their unique needs - all in one place, and it's completely free to access.
But Cre8ing Balance is more than just a service (or three) - it's a community-driven initiative, and Chenin is holding two events, among a collection of others, during Mental Health Awareness Week, which is taking place from Monday 18th September to Sunday 24th September.
Saturday 23rd September
3:30 – 4:30pm
Frankton Library
Walk for the World – Queenstown
Saturday 23rd September
5:30pm
Queenstown Gardens
Other events also being held during Mental Health Awareness Week are below, with further information on other local events here:
Spiritual Wellbeing with HEIDI
Monday 18th September
9:30 – 10:15am
Zoom
Control vs. Joy: Food, Mood, and Mental Health
Monday 18th September
1pm – 1:45pm
Zoom
Business Wellbeing with Human Design
Monday 18th September
2pm – 3pm
Zoom
Monday 18th September
3pm – 3:45pm
Zoom
All of these events are free of charge with optional donations, and all profits will be donated to local charities in Queenstown.
Chenin hopes that people see these events not just as informative experiences, but as a chance to share knowledge on professional and personal experiences, in a hope that it will resonate and be used for the benefit of other individual's wellbeing moving forward. Cre8ing Balance is about helping others find what brings them joy and finding that connection – making yourself a priority.
It's time to put yourself first and with Mental Health Awareness Week just around the corner, there's no better time to do it. You can find more information on Cre8ing Balance's services here.


---