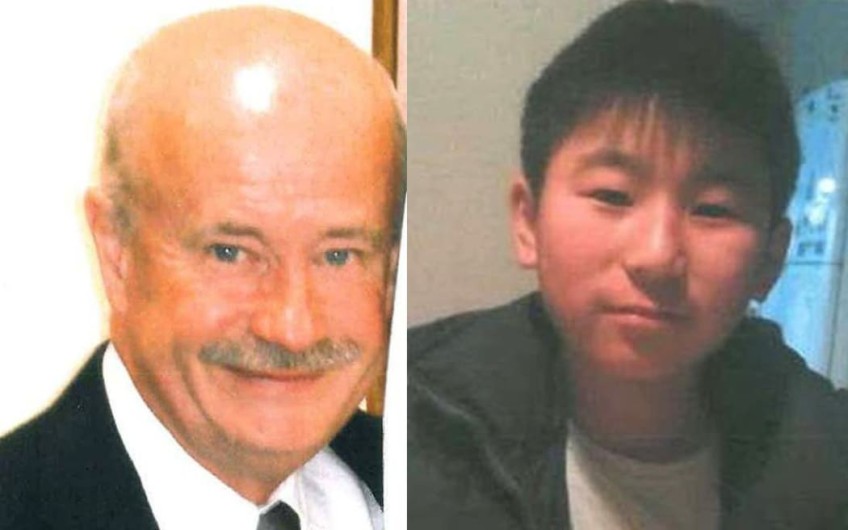 Beckenridge disappearance: Clothes found washed up with names written on
May 26, 2023
---
Mike Beckenridge's name was written on labels of clothing that washed up near Southland's Curio Bay following the disappearance of the 11-year-old and his stepfather John Beckenridge, a coroner has heard.
Police officers examining the scene also found two sticks lashed together like a marker at the cliff edge from which John Beckenridge's 4WD plunged almost 80 metres into the sea in March 2015.
At a hearing to determine whether the missing pair is likely dead or alive, detective Dougall Henderson said members of the public found clothing and vehicle debris washing ashore in Porpoise Bay on 22 March, just over a week after they vanished.
He told the court police had to work fast to collect the evidence because of the tide.
"It was in my mind critical that we secured them before we lost them to the tide. The tide was coming in, or almost in, so it was going to start retreating and we didn't want to run the risk of losing any vital evidence that might help identify where Mike and John were," he said.
A pair of black shorts with "Mike" written on the tag, a grey school shirt with "Mike B" on the label, a named t-shirt, black school shoes and a laminated card with Mike Beckenridge's contact details were among the items recovered from the sea.
Up on the cliff-top, Henderson said police found a set of tyre marks and two sticks lashed together near the edge.
He said it was hard to see where the cliff dropped off from further back in the paddock.
"You'd need to have something up close or have a marker to say this is what I need to line up with to have the best trajectory... where someone might want to put a vehicle over that cliff," he said.
John Beckenridge broke a court order and picked up his 11-year-old stepson from his Invercargill school on 13 March 2015.
Mike's mother Fiona Lu is convinced he is alive and John Beckenridge staged their death after she moved her son from his Queenstown home to Invercargill with her new partner Peter Russell.
Private investigator Mark Templeman, who is assisting Lu and Russell, questioned Dougall Henderson about another marker theory.
"Would you also accept that it's also possibly used to indicate where someone could jump from the vehicle?" he asked.
"That's something I hadn't turned my mind to," he replied.
"Well I'm asking you to now," Templeman said.
"I'm unsure from the evidence I've given how close that stick is to the edge now in metres, so I'm unsure," Henderson said.
Templeman said the stick could have served a dual purpose, by indicating where to point the car and where to jump out, while counsel for police Deirdre Elsmore said it could have been used to land the car in the sea rather than a rocky outcrop below.
The court heard a toothbrush and two used teabags were found in the paddock where the car went off the cliff.
A farmer earlier reported seeing Beckenridge's car near his property, where Senior Constable Rob Camden found the remains of an apparent camp site.
"There were recent eggshells from hard-boiled eggs discarded nearby, a Royal Gala apple sticker in the grass and a small piece of lettuce discarded in the grass. The lettuce leaf had not browned at the edges, it was still bright green," he said.
Sergeant Ian Martin told the court a police dive squad member found the wreckage of John Beckenridge's car on 29 March but there was no evidence of human remains.
Deirdre Elsmore asked Martin how difficult it would have been for Mike and John Beckenridge to leave the area if they did not go over the cliff, given the terrain and number of people searching for them.
"It could be done, maybe at night, if there was enough planning put into it. It is a large area, there are a lot of roads that would make it difficult to track, I suppose," he said.
"It would be a physically demanding exercise to walk across paddocks, across the swamps, estuaries, definitely around the coastline, it would be difficult."
Templeman said Mike Beckenridge's family did not believe anyone was in the car when it went over the cliff.
Asked whether police were deployed to search for the pair above the cliff once the tyre marks had been found in the paddock, Martin said he would have to check what helicopter and ground crews were asked to do.
"So you have no recollection of staff being specifically deployed to keep searching for the Beckenridges on the assumption they were alive?" Templeman asked.
"We didn't know where they were so there was a possibility they were still alive," Martin said.
Templeman said the family believed Mike and John Beckenridge were picked up on the road and left the area.
"There is nothing to stop a vehicle leaving that area with the Beckenridges in it, is there?" he said.
"They could have vacated the area by vehicle, it's a possibility," Martin said.
The hearing before coroner Marcus Elliott continues.
Read more: Boy sent emails to step-dad begging for help
Main image (Supplied): John Beckenridge, left, and Mike Zhao-Beckenridge.


---