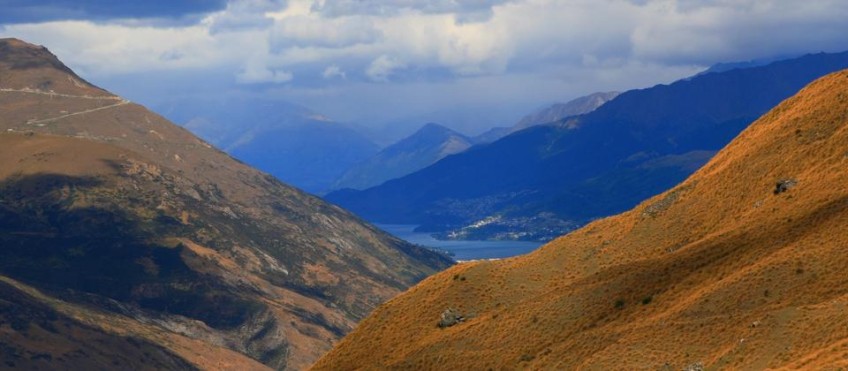 Wanaka vs Queenstown: bridging the great divide
by Celia Crosbie - Apr 29, 2018
---
If there's ever a time when you'd want to shut the proverbial gates to Wanaka, it's when you're fighting to buy groceries during rush hour at the town's only supermarket.
Queues stretch up the aisles and shoppers (carefree holidaymakers, grimacing locals) reach for food by squeezing in between stationary customers with trolleys, waiting to be served.
Christmas, New Year and Easter are even worse – you could be standing in a queue at the other end of the building, waiting in line for 45 minutes to pay for your groceries. At any time of the day.
Wanaka isn't what it used to be 13 years ago when I arrived in town to work as a journalist for the Otago Daily Times. Back then, town was changing – there was a property boom, population growth and some important connecting roads were being converted from gravel to tarseal. The town's growth was nothing compared to what we're experiencing now, or what's in store over the next 10-20 years.
But, despite the changes, one sentiment that I've heard countless times over the years is that "Wanaka does not want to be another Queenstown". Opposing submissions to various council plan changes or resource consent hearings for new developments would often be from wealthy expats who moved here to retire and didn't want to see their new place of residence change, progress, or heaven forbid – become like "that place over the hill".
The "shut the gates" mentality has never washed with me. Neither has the "them and us" attitude towards our neighbours over the Crown Range, Queenstown.
You see, whether we like it or not, Wanaka is going to get busier and more "like Queenstown".
Supermarket frustrations, parking hassles and busier roads are all part of the growing pains we're experiencing as a town, and as a district. It's like Wanaka's entering adolescence and Queenstown is emerging through the other side.
"In a family analogy, I would liken it to two brothers, one older with a bit of a swagger in his step and maybe with a bit too much lip, with the younger brother keen to show him that he knows a thing or two and can be just as good, if not better," explains Queenstown Lakes District mayor Jim Boult.
So where does this sibling rivalry come from? Does it still exist?
Perhaps, like every relationship, the reasons can be traced back to our past.
From early European settlement days, both started off as small towns built on a lake edge that shot to international fame during the Central Otago gold rush of the 1860s. Queenstown became the first mover in the area's tourism scene, pioneering activities like the South Island's first commercial ski area, Coronet Peak, in 1947, the world's first commercial jet boat operator KJet (1958), Skyline Queenstown Gondola (1967), commercial bungy jumping in 1988 and many more ventures that now collectively attract approximately 2.8 million individual visitors each year, made possible largely by the progressive and forward-thinking Queenstown International Airport.
Wanaka quietly followed suit, introducing world-class activities of its own but attracting a different type of visitor. Tourists come to Wanaka to experience the less "commercial", more personable and laid-back lifestyle and environment that the town's residents cherish.
In recent years, different types of residents have come here to live in Wanaka, too. There are more retirees here – according to the 2013 Census, 16.7% of people in Wanaka are over 65, compared with 10.7% of the total Queenstown Lakes District population. We're also attracting Kiwi entrepreneurs who come for the lifestyle while building new business opportunities – diversifying from the tourism industry.
"Wanaka is always known as Queenstown without the wankers. But they're coming to Wanaka," someone cheerfully told me on Facebook the other day.
To which another person replied: "The above sums up Wanaka – a question about the two and little-shadow-town syndrome kicks in where they go right into slating Queenstown rather than point out the positives of the place! (And there are many about both.)"
I spent five-and-a-half years of my career in journalism commuting to work in Queenstown while living in Wanaka. I can attest that Wanaka definitely has the chip on its shoulder, while Queenstown isn't really fazed about what Wanaka, or anyone else, thinks. It's a bit like Auckland versus the rest of New Zealand. Queenstown will just carry on doing what it does best, never mind the opinions of others.
In 2013, a group of Wanaka locals suggested that the town should break away from Queenstown and form its own council. That sentiment still exists – one businessman told me recently: "We have a ratepayer base of a normal town now so I think it [a separate council] is sustainable. Working together is now not the answer – we are different towns with different needs."
I'm pretty certain that Wanaka would reject the level of rate increases that would be required to fund a separate council. An estimate from within the Queenstown Lakes District Council suggests that it could add at least $5 million in overheads. Divide that by approximately 6000 ratepayers and that's an extra $833 per property per annum. And what difference would it make?
Wanaka has arguably more representation than Queenstown per capita – with three elected Wanaka councillors and the Wanaka Community Board (four elected members plus three councillors) serving a population of 6471 (2013 Census figures), compared to six Wakatipu ward councillors and one Arrowtown ward councillor for 28,224 people.
And while Queenstown's infrastructure needs are greater and more urgent as it copes with its population boom, Wanaka doesn't miss out on ratepayer-funded capex projects. Since the 2015/16 financial year, $51,644,009 has been spent on capital works in Wanaka while $1.4 billion was spent in the Wakatipu during the same period.
But enough of the "them and us" attitude. We can't dwell on the past and we have to accept our towns are changing. We must work together to ensure a strong future that reflects and respects our communities' similarities and differences.
"I, for one, am whole-heartedly sick of the line 'the other side of the hill'," Boult says. "We are one district and it is ridiculous for us to continue to consider Wanaka and Queenstown as separate entities – they are simply different parts of a thriving district. By working together we will unlock better social and financial outcomes for the entire district."
Queenstown Airport Corporation is already paving the way by developing both Queenstown and Wanaka airports in conjunction with each other.
QLDC will this year be initiating a spatial planning exercise that attempts to envisage what the district may look like in 2050. "This will include how we travel, where we live, what industries will have developed to supplement the tourism industry and to address the very important topics of whether there is a finite number of visitors and residents that the district can cope with, without impacting our lifestyle or the quality of a visit to the district," Boult explains.
Discussions are already underway between the Queenstown and Wanaka Chambers of Commerce about a more collaborative relationship.
Queenstown Chamber chief executive Ann Lockhart says the two chambers already enjoy a supportive relationship as part of the national chamber network, but there's an opportunity to work even more closely.
"We see the possibilities that can occur from a lobbying, advocacy, project and major events perspective. The chambers will keep their own identities but between the two towns, a combined membership of 900 offers us strength in numbers. We want to leverage that at both a local and central government level," Lockhart says.
It would be a logical step for the towns' two regional tourism organisations (RTO), Destination Queenstown and Lake Wanaka Tourism, to work together too.
A combined RTO that understands our communities' wants, needs and subscribes to a united strategic direction for the region makes sense to Ignite Wanaka Chamber of Commerce chairperson Bridget Legnavsky.
"I see the advantages being the same as any good relationship – you look after each other, you're on the same page, you're aligned, you promote each other, you help each other develop mana," says Legnavsky, who is also general manager of Cardrona Alpine Resort.
"Sometimes our region is quite confusing because when we go out promoting ourselves on an international stage, we don't necessarily talk about each other. It should always be about the Southern Lakes region. I believe Wanaka misses out on that at the moment. The reality is Queenstown Airport and the Queenstown 'brand' is currently Wanaka's gateway."
Legnavsky agrees Wanaka needs to accept that the town is changing and it's not in our interest to dwell on the past. But it requires the right leadership that listens to and considers the needs of the region's diverse communities.
"That's going to be a massive barrier if we don't address that properly. It's pretty obvious that Wanaka's going to be as big as Queenstown. You can't think one's big and one's small anymore. The way we lead this is to make sure all areas – Hawea, Arrowtown, Kingston, Makarora, Glenorchy, Gibbston, Cardrona, Wanaka and Queenstown – maintain their own sense of being and culture, and not try to disrupt that.
"People have chosen to live in each town – almost like a team. If we start thinking each team as a competitor, that's a disaster for our region. We're on the same team – just playing slightly different games."
So let's stop focusing on the "right now" and look beyond the next 10 years, at what Queenstown and Wanaka will be like in the future. As Legnavsky puts it: "We need to separate our emotions and our personal situations for what's going to be the best for the region. That's our responsibility. It's about how it's going to be for our children and our children's children. That should be our reward."#
Read: Historic Breakthrough as Wanaka and Queenstown agree to cooperate on key issues.
Celia Crosbie is an award-winning journalist who has worked and edited for major print and broadcast media in New Zealand and magazines in the United Kingdom. She moved to Wanaka in 2005 and spent the first eight years here working for newspapers in Wanaka and Queenstown before setting up Scope Media in 2013, an integrated communications and PR consultancy spanning Queenstown and Wanaka. Celia is a board member of the Wanaka Chamber of Commerce and has spent time on the Shaping Our Future and LINK Upper Clutha steering groups.


---