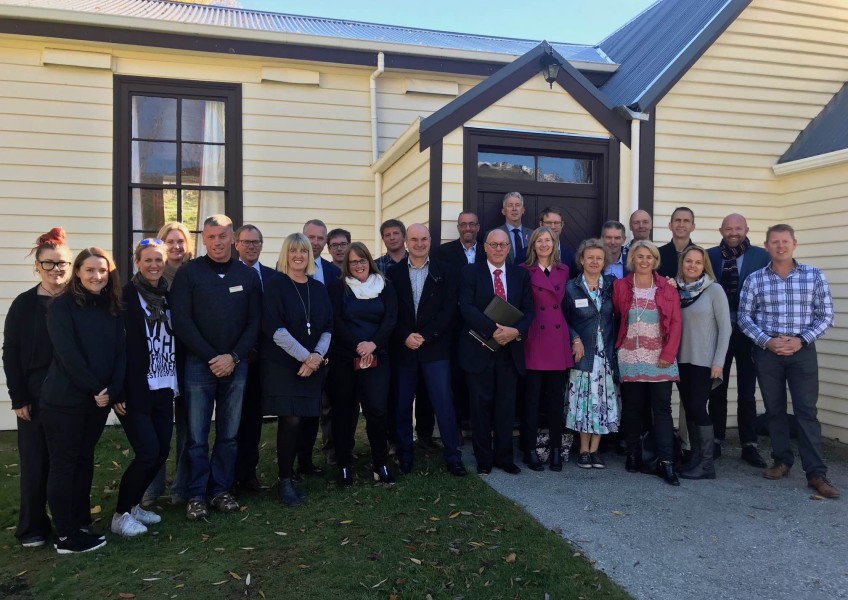 Historic breakthrough - key regional groups combine forces
---
The photo says it all. Cardrona Hall, symbolically halfway between Queenstown and Wanaka, where multiple regional bodies finally agree to work together at an historic meeting this week.
The secret meeting involved the Queenstown Lakes District Council (QLDC), Lake Wanaka Tourism, Destination Queenstown and the two Chambers of Commerce.
It is understood that both QLDC Mayor Jim Boult and chief executive Mike Theelen have been working on the project for months, anxious to resolve the failure of the Queenstown and Wanaka communities to work together to address the considerable challenges and opportunities facing the region.
QLDC is trying to find a permanent solution to the major imbalance between the number of the district's ratepayers (37,000) and the high amount of visitors who come to the region (6.5 million visitor nights per annum), and how the urgent costs of regional infrastructure will be met.
"There has been some tension between the two areas, especially as Queenstown and Wanaka are growing at such a fast rate, but I think there is now a better understanding of the issues both areas are facing," Boult explains.
"To somebody visiting our district from another part of the world, they'd wonder what the fuss was about because both areas are really similar. I think sometimes we spend too long thinking internally instead of externally."
At the meeting on Tuesday, board members from all organisations had an open and frank discussion about how the two towns and their respective individual communities could work together better. It was agreed that the two regional tourism organisations (RTO) would get together in the coming weeks, as would the two chambers, and report back to Boult.
"It was a ground-breaking meeting – I'm not aware a meeting between all four organisations has ever taken place before," Boult says.
"It was enormously positive. Everybody there came away from it determined to address the significant issues we have and I look forward to hearing what comes out of the upcoming discussions.
"Now, more than ever, in a time of significant growth and pressure on communities, it is a time for us to think of the district as a whole to ensure it remains an outstanding place to live, work and visit no matter which town you live in. Some big-picture thinking will lift us all beyond a back-yard perspective and see there are benefits to a single, unified vision for the Queenstown Lakes District." #
Read: Celia Crosbie's analysis of the historically difficult relationship between Queenstown and Wanaka.


---