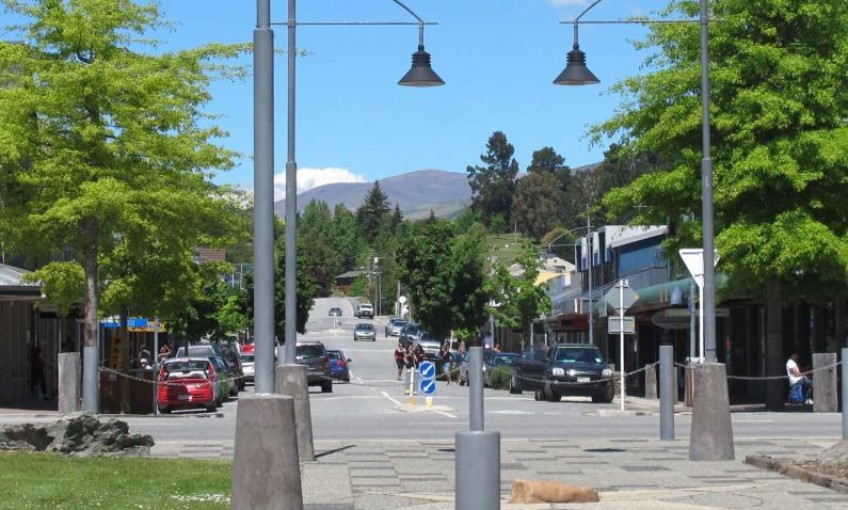 Wanaka CBD road closure plans - retailers have their say
---
The reverberations from last month's Wanaka road closure trial are still echoing around town, but at least one major problem has been resolved.
After over 40 business owners got together before the trial and realised they hadn't been consulted about the upcoming plan to close the lower parts of Ardmore and Helwick streets, they formed the Town Centre Business Group.
Cork bar co-owner and elected chairman of the group, Jeremy Warnock, says the group don't want to dwell on the reasons why they weren't consulted, but focus on the input they can have going forward.
"We got together on Thursday after the trial (March 21) and agreed that businesses were affected, mostly negatively, by the trial. But a trial is a trial, and it's likely not to be a genuine representation of what will happen in the future," says Mr Warnock. He says retailers are very positive about the future and the changes it will bring, and they just want to make sure their voices are heard.
So far, they've made progress -  they're in the process of joining the Community Reference Group, which contributes to decisions about town planning. They've also met with council staff (including the Master Plan Project Manager), and have been invited to the first council Master Plan Workshop on April 4.
"They (council staff) were quite surprised when they came along to our meeting last Thursday and saw how many of us there were," says Mr Warnock. "We're going to be the most affected people if you change the streets and upgrade the town centre, though, so we'd like to be consulted."
He says council staff have recognised that as major stakeholders, the business owners should have been consulted, which is a positive. A subcommittee of the group met last week, and i making a submission this week outlining their main views.
Mr Warnock says the group is pretty unanimously against street closures. "We're in favour of a one way system - we think it will satisfy the reduction in traffic and speed, create more pedestrian areas, and maintain a connection to the lake," he says.
He says the group is wary of street closures for the way they tend to encourage tourism-type business and not independent business that caters to locals. " We don't want to become like Queenstown, where downtown is the tourist centre now, and all the locals go to Frankton," he says. "We don't want to lose what Wanaka is, which is a vibrant community of locals and visitors."
Instead, they're suggesting one way streets with angular parking. According to Mr Warnock, this will mean accommodating the same number of cars but using half the space, so the rest can be used for pedestrians.
He says there are examples, like Fort Street in Auckland, and towns all across Europe, where streets are either one way or closed in the evenings. "That's something I personally would love to see here - the streets open during the working day and closed for events, market days, weekends or after 4pm," says Mr Warnock.
Local resident Lindsey Schofield came in on the Friday of the trial and says she thought it was awesome. "I don't come into town that often, but I thought it was great. And if you look at the bigger picture with the other plans and carparks, it's going to look a lot different to the trial," Ms Schofield says. 
According to Quentin Smith, chairman of the Wanaka Community Board, the trial accomplished what it was aiming to do - start conversations. "While it's too early to comment on what people are saying, it's been incredibly successful in terms of community engagement," says Mr Smith.  As chairman, he is already on the Community Reference Group for the town master plan.
"We had hundreds of people through the tents and a high number of returns on the survey, which has been very valuable," he says.
Mr Smith says they'll be engaging with Business Group to understand the issues raised, and working together to find solutions to them. According to Mr Smith, the discussion and narrowing down of options will start at the workshop on April 4th.
"Our challenge will be to find a balance between making improvements on the town centre, and making sure businesses aren't losing out as a result," he says. Mr Warnock agrees that a balance between pedestrianisation and a vibrant township is needed, and thinks it's important that residents understand the implications of road closures for retailers.
"Whilst visually it would look lovely to have beautiful landscaped parks, a lot of residents don't understand what it means to have a business in the town. That's a point of view that hasn't been put across really - that if there are no businesses, there is no town," he says.
Mr Warnock says the group of retailers are taking action because they want to keep Wanaka a unique town filled with little independent businesses, which is what makes it so special now.
"The master plan concept is great, and we're all in favour of it. The sooner the better, we just need to find the right balance."

---