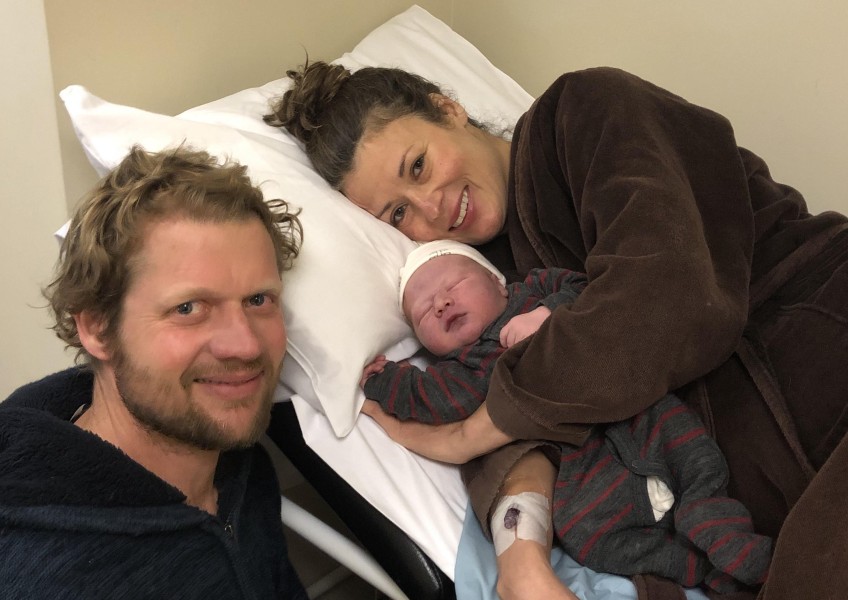 Wanaka baby born in midwife's office
---
In case people weren't already aware of the seriousness of Wanaka's maternity crisis, the leading spokeswoman for change has been forced to give birth in her own midwife's office.
"I'm just so blessed that we didn't have any complications. It was a really wintry night, the roads were frozen, there was black ice everywhere and it was raining," says Kristi James, who delivered her baby boy at 5.35am on Thursday.
Makai Taylor James weighed in at 9.2 pounds, and arrived just two and a half hours after Ms James was woken by contractions. "The plan had always been for us to go down to Dunedin and be near the hospital in case there were any complications, which there can be with a VBAC birth like mine."
Instead, Ms James and her husband drove down to see midwife Deb Harvey at her Wanaka office, where they were told she was at 10cm and ready to push. "It was only about a fifteen minute drive with contractions but I don't know how anybody could possibly do it for longer than that."
Ms James says she didn't even think a homebirth, which was essentially what she had, was even possible. "It's pretty freaky. There's no way we would have made it to Dunedin, or even Charlotte Jean in time, and it would have been a dodgy drive."
Ms James has been a voice for Wanaka mothers, speaking out about both the dangerous lack of facilities and midwives, and the conditions for the midwives themselves. "It is ironic, because it's me, of course. But I'm also quite proud in a way that this is our story."
The maternity crisis in the region has reached terrifying levels: this weekend, 20 women were due to give birth in Wanaka, with two locum midwives to look after them. In Wanaka, there are between eight and ten qualified midwives who don't feel safe enough to work. On May 26th, a baby was born minutes from Lumsden in an ambulance.
In fact, Justine Quirke, a midwife who is contracted by the DHB to cover weekend shifts in Wanaka, has just resigned. "I just don't feel supported and safe at all, they're not meeting the requirements of the contract," says Ms Quirke, who says she will continue to work in Queenstown where there is at least an emergency department and a helicopter pad.
"A few weeks ago, I'd worked 10 straight days, and I said to the DHB "I need 24 hours to rest". I had called 12 midwives, and no one could cover. The DHB left it as my problem. I've been working in the area for 15 years, and was hoping something would have changed by now!"
In an interview on May 27, Southern DHB Chief Executive Chris Fleming told Crux that the funding model for independent midwives is broken, but was short on answers to the crisis. The roadside birth on May 26 prompted an angry letter from local MP Hamish Walker to Prime Minister Jacinda Ardern calling for immediate action.
Ms Ardern has promised to "take another look" at the decision to close the Lumsden Maternity Centre.
Ms Quirke says she's simply not willing to put herself at risk, and has stopped going along to meetings and discussions in the hope of seeing change.
"If the DHB had done what we'd suggested with the contract along the way it wouldn't have come to this, and still nothing's happening."
Mothers, midwives and the community continue to wait for something to change, and are forced to ask, how far is this going to go?
Main Image: Kristi James and her newborn, Makai Taylor James, with husband Mick Coonrod after their office birth in Wanaka


---