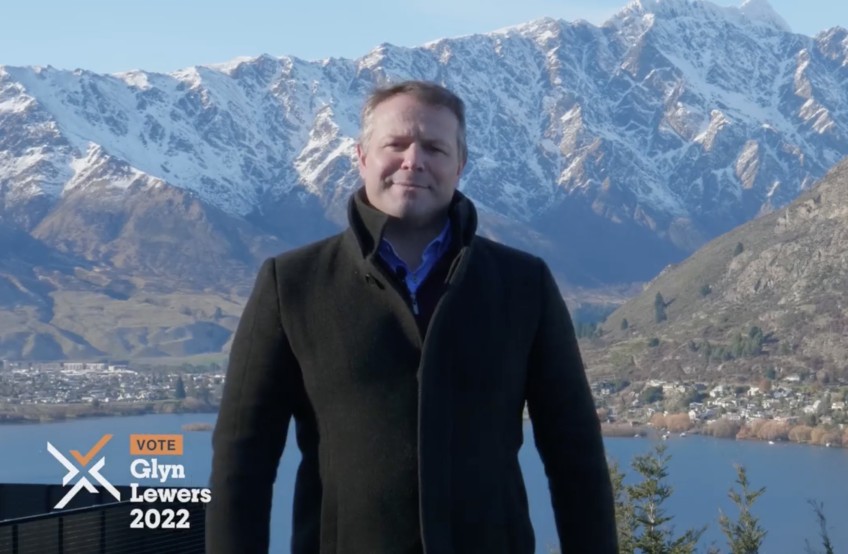 'The making of a mayor' – details of Lewers' election campaign released
---
Editorial/analysis
Official local election campaign expenses forms have been published by the Queenstown Lakes District Council showing a big difference in approach by the four main mayoral candidates.
New mayor Glyn Lewers spent $29,000 on his campaign – just $1,000 under the $30,000 limit.
Mayor Lewers was the only candidate to use a public relations company for the campaign. The company he selected is Scope Media, run by Celia Crosbie, a supporter of former Mayor Jim Boult and a contractor to the QLDC.
Mrs Crosbie entered her mayoral campaign in the 2022 Pressie PR awards under the heading "The making of a mayor: How the Queenstown Lakes District Council election was won". The main image (above) is from one of Mr Lewers' campaign videos.
The entry was not a winner, but was a finalist.
In his QLDC election expenses and donations declaration Mr Lewers said he had no donations over $1,500, meaning that no names had to be included in the document.
His expenses included two sets of script/video writers for the campaign - A company called Scious Media on July 6 ($1,605) and Scope Media on August 8 ($2,755).
A video production company called O'Conner Ltd was paid $2,543 on July 6 but the Companies Register lists no such company. Nor is Scious Media listed anywhere that Crux could discover. When approached for more details on these and other points by Crux today (December 13) Mr Lewers did not reply.
Scope Media was also paid $1,639.90 to write text for Mayor Lewers' campaign website and media releases.

Crux arranged to interview Mr Lewers on election day and met him at what was clearly a very large and pre-arranged party at the Jardine's property at Woolshed Bay.
The new mayor elect met Crux at the entrance to the property, and Crux did not have access to the party, which was attended by between 50 and 100 people, judging by the number of parked cars.
Who was there? We simply don't know, except to say that one constant supporter of the Lewers' campaign was Richard Thomas, the wealthy son of Skyline founder Barry Thomas. Richard Thomas was at one stage the publisher/general manager of the Mountain Scene newspaper, and currently chairs Destination Queenstown, as well as being a Director of Skyline Enterprises.
By contrast candidate Jon Mitchell received one donation over $1,500 from former Auckland mayor and now Queenstown resident Dick Hubbard - $5,000. Mr Mitchell declared $8,000 of video, campaign strategy and social media costs that were donated to his campaign by Storyworks, Tim Buckley (Fluid Design) and Chris Bernhardt (social media).
Mr Mitchell spent just under $10,000 on advertising.
Olivia Wensley also spent relatively significant amounts on advertising and promotion totalling just over $28,000. She received almost $32,000 in declared donations including $20,000 from businessman Peter Huljich and $2,000 from Xero founder Rod Drury.
Neeta Shetty spent $16,907.74 on her campaign.
Returned councillor Esther Whitehead lived up to her promise to spend zero dollars during the campaign.
However new councillor Gavin Bartlett also spent zero dollars on his campaign (and declared no donations over $1,500) and was elected in spite of having no social media presence at all.
Mr Bartlett missed the swearing in ceremony that all other councillors attended at the Lake Hayes pavilion. Crux asked him for the reason he missed the swearing in event and how he managed to get elected, and earn a living as an engineer, without any website or social media presence. Here's his reply.
"I was in Wellington under arrangements made prior to the election and was therefore unable to attend the inaugural council meeting.
"I acknowledge the importance of the role of Councillor, and am keen to listen to the views of our community in order to provide an informed representative voice at the Council table. My contact details will soon be available on the 'Elected Members' page of the QLDC website.
"I live and work in the Queenstown Lakes District, but do not maintain a website or presence on social media."
Mr Bartlett declined to answer follow up questions from Crux.
Read more: Lewers' mayoral campaign shown to contain serious misinformation - police involved

---