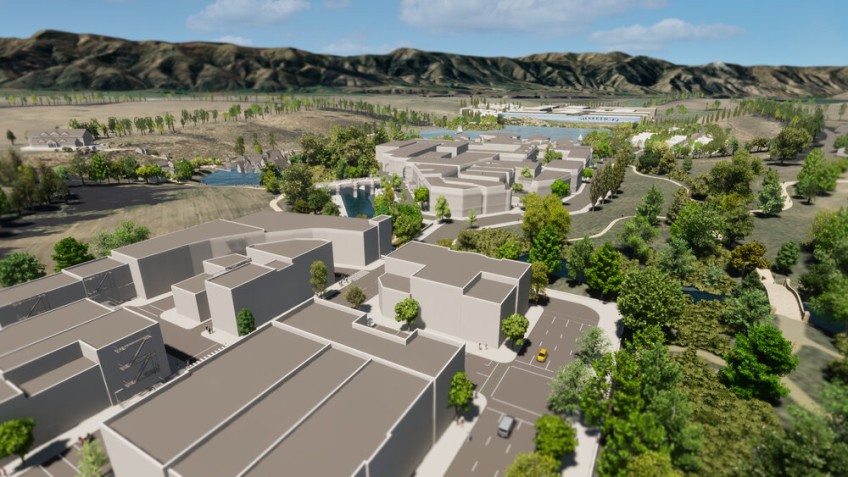 Silverlight Studios gets five year extension on fast-tracked consent
---
After successfully pushing for its project to be fast tracked, a mega film studio planned for the outskirts of Wānaka now appears to be on the go-slow after securing five extra years for any major construction to begin at the site.
Silverlight Studios' two consents to construct and operate its $280-million film studio as well as workers accommodation on a rural site on the Wānaka-Luggate Road were granted by an expert consenting panel appointed under the Covid-19 Recovery (Fast Track Consenting) Act 2020 - and were, by default, set to lapse after two years.
Now, the developer has applied for extensions to the resource consents, and they have been approved by the Queenstown Lakes District Council.
The resource consents will now both lapse on March 14, 2029.
The decision was made two weeks ago by QLDC manager of resource consents Fiona Blight, who says she considered "whether substantial progress or effort" has been and continues to be made "towards giving effect to the consent" when making her decision.
Her verdict: it has and is.
She cites Silverlight Studios' deal with investor group The South Island Office to purchase the land, detailed design documents by Tilt Architecture of some of the consented buildings, early discussions between Silverlight and construction companies for the project, and the government's $4.5-million underwrite for the company, as some of her evidence of "substantial progress".
She also says Silverlight has an approved direct investment through the Active Investor Plus Visa programme, available to anyone with at least $15 million in available assets or funds to channel into a New Zealand project.
It is the view of Ms Blight no one will be "adversely affected by the extension" and that Silverlight has continued to liaise with neighbouring property owners.
In the meantime, Silverlight Studios has another resource consent, granted at the end of last year, for the construction and operation of temporary film-making locations at the site, mainly using shipping containers.
Silverlight is majority owned by Mike Wallis, a former worker at Weta Workshop. He has previously told Crux this is a "quick build" that he can get "up and running" in the shorter term.
The vision is far grander in the longer term, with consented plans for the film park including replicas of a slice of New York's Central Park, a seaside village, a medieval village, a Parisian neighbourhood, and an Italian village, all built around an existing 11-hectare irrigation lake.
Read more:
Silverlight Studios gets $4.5m in government backing
Wānaka's mega studio project goes small - for now
Fast-track panel approves Silverlight accommodation
Main image (Tilt Architecture): The proposed build for the 322-hectare site of Silverlight Studios, approximately seven kilometres east of Wānaka.


---