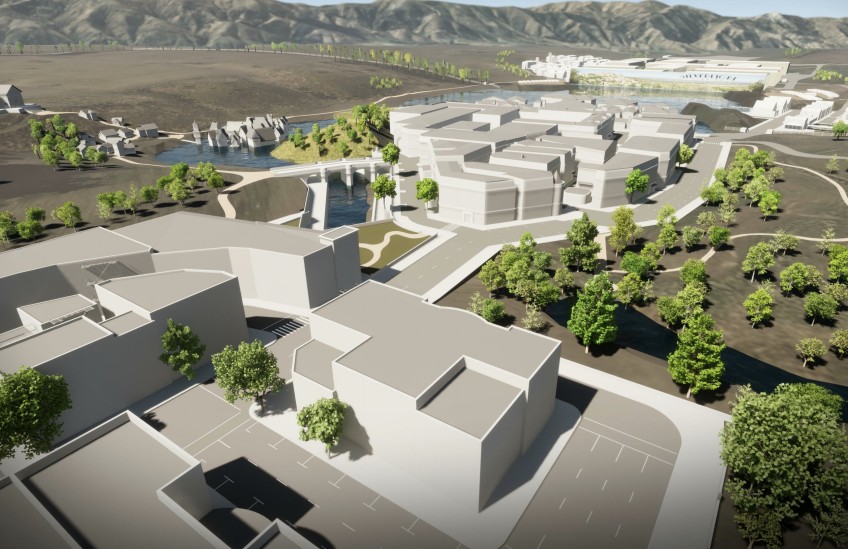 Investor buys Wānaka Silverlight Studios site
---
A Christchurch-based investment group has stepped in to purchase 332 hectares of rural land near Wānaka Airport earmarked as the site of an ambitious proposed film park.
The South Island Office (SIO) bought the land in collaboraton with Silveright Studios, who have plans for a $280 million development at the site.
The land is part of Corbridge Estates, and is owned by Wānaka resident Peter Marshall.
Mr Marshall told Crux this afternoon that he did not want to comment on the Silverlight situation.
SIO partner Rob Farrell says the purchase price is confidential and the $30 million price tag reported elsewhere is incorrect.
"I can't go into the structure of it, but in effect we have gone unconditional, and we'll settle in March."
SIO has a contractual arrangement with Silverlight Studios to help accommodate them with their plans, he says.
As for a timeframe on that happening, Mr Farrell says he can't at this point speak to that.
New Zealand Trade and Enterprise connected SIO and Silverlight for the deal.
"Quite often NZTE acts as a connector in this sort of space - if there's a company that has exportable dollars, and the film studio fits the bill."
SIO isn't in the business of making movies. The South Island-based company was lured by the real estate, Mr Farrell says.
"SIO's only involvement (with Silverlight) is in purchasing the land.
"It was a good fit for us to come in and secure it.
"We're particularly big fans of Wanaka and it's an attractive piece of land."
If, for whatever reason, Silverlight's plans don't eventuate, SIO will happily remain as the owner of the land, Mr Farrell says.
Industry veterans Jonathan Harding, Ra Vincent and Mike Wallis own Silverlight Studios, and the men made the original offer to purchase the farmland in August 2020.
Silverlight Studios has not returned calls from Crux today.
Their plans for the site: the construction of a film park that would include film sets, post-production facilities, a film school, a screening theatre, and a film exhibition centre, as well as supporting facilities like cafes, restaurants and other hospitality and tourism facilities, all built around an existing 11-hectare artificial irrigation lake.
Consent for the studio complex was approved in December, 96 days after Starlight Studios applied for fast-track consent under special Covid-19 legislation.
Still up for discussion is a separate accommodation proposal, which would offer hundreds of rooms to let within the studio buildings.
An independent panel has until Friday, Febrary 4 to deliver a decision on the accommodation proposal.
Main image: The proposed 322-hectare site of Silverlight Studios, approximately seven kilometres east of Wanaka.


---