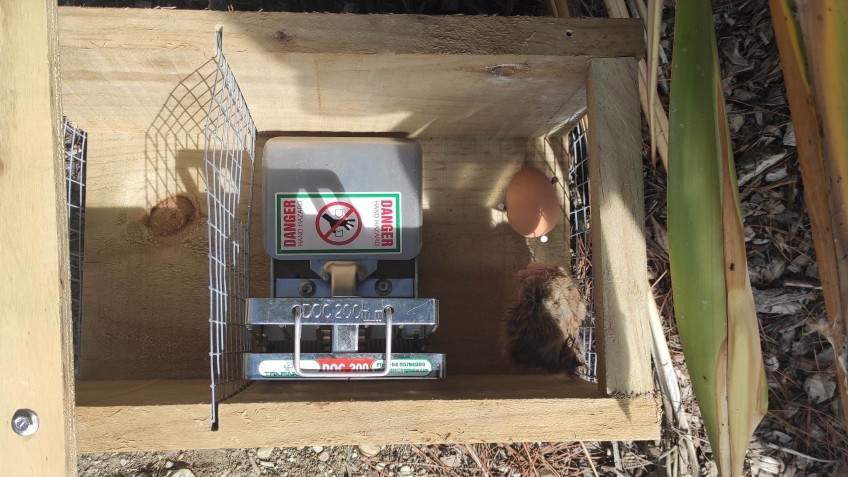 Pest trappers faking eggs amid nationwide shortage
by Gemma Marnane - Mar 09, 2023
---
Eggless supermarket shelves don't mean bare traps in the Whakatipu as conservationists are getting inventive with egg replacements to maintain pest control efforts.
Golf balls, ping pong balls and even rubber eggs are being trialled to replace the real deal.
Traditionally, eggs, steadied on a three-pronged nail, are cosied in alongside fresh or dehydrated rabbit meat in traps to lure pests in.
Chairman of Lake Hayes Predator Free board David Penrose says eggs are enticing for pests like ferrets and stoats.
"When they see an egg in a trap, their eyes potentially light up and say, I've got to have a bit of this."
Mr Penrose says bouncy rubber eggs - otherwise indistinguishable from real eggs - seem to be doing the trick while there's a shortage.
Whether pests will be able to spot the difference with the imposter eggs is now being tested in backyards and reserves around the district.
Whakatipu Wildlife Trust lead of the Bob Cove Project Pippa Speedy has been experimenting with fakes in her close to 400 trap network.
The fakes do lack the alluring scent and shape of an egg that draws the pests in.
"I haven't been that successful with the old rubber egg. People have been using ping pong balls."
Some trappers are smearing mayonnaise and peanut butter on their egg substitutes to increase their lure factor.
Despite these egg-scarce times, the wildlife trust is still accepting egg donations from generous locals via a pick up from the local Department of Conservation visitor centre on Stanley Street in the absence of excess stock from wholesalers such as Royal Bern Farm and New World supermarkets.
But donators need to know pests can be fussy – they generally don't like a rotten egg, so spare eggs that have well passed their use-by date may not work for traps.
Conservationists continue to commit to serving their communities and the environment despite the challenges.
"Once the egg situation sorts itself out it will come back to some normality," Mr Penrose says.
Pest control has resulted in increases in and sightings of native bird populations through the involvement of these crafty community volunteers.
Main image (Supplied): Spot the fake - a rubber egg is used as bait in a DOC 200 pest trap.
Gemma Marnane is a Massey University student journalist interning with Crux.

---