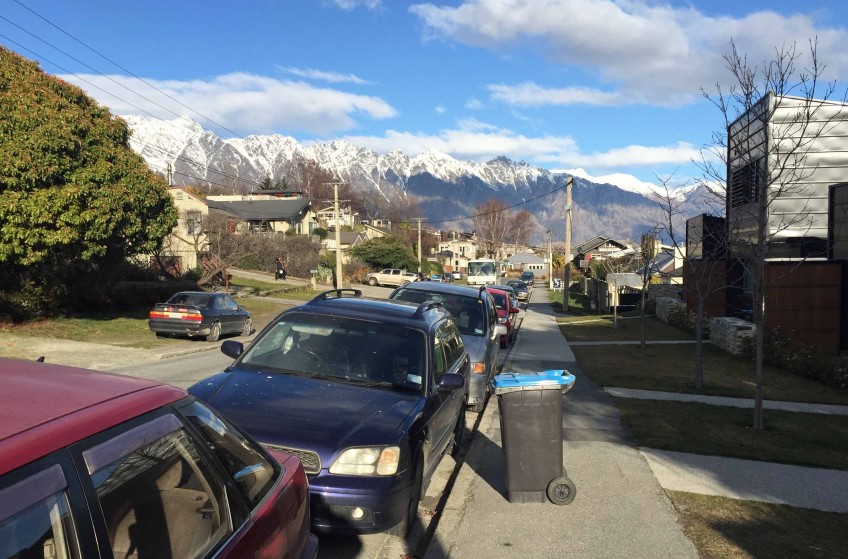 Overcrowding - no action from QLDC or Government
---
Anyone waiting for a proactive response from either our local council or central Government on overcrowded living conditions in Queenstown is out of luck.
In detailed responses to Crux, perhaps unsurprisingly, the Ministry of Business, Innovation and Employment (MBIE) says it's up to the local council - and the council say it is up to MBIE, or at least their tenancy services division.
Either way, there is clearly no active initiative to inspect properties from either body. In summary they are saying it's up to tenants to complain about overcrowding, initially to the landlord. Of course, in a competitive housing market like Queenstown most people are reluctant to complain because they need a roof over their heads and landlords can very easily find new tenants.
QLDC points out that noise, public health issues and parking can be the trigger for action from them, but they say the number of calls is relatively small. The council says that dividing bedrooms using more than a curtain, with something like a partition or wall, can be challenged under building regulations. Running a business from an overcrowded house, or any house, might be a resource consent issue. Even an emergency like a fire, serious accident or other incident would, according to QLDC, be the landlord's fault under the Residential Tenancy Act.
QLDC has no specific bylaws covering rental tenancies even though from the MBIE's response, council bylaws are an important part of the legislative system designed to make rental properties safe.
Steve Watson is the National Manager Compliance and Investigations (Tenancy) for MBIE. "The Regulations are enforced by each Local Authority (Council) and it is appropriate that any concerns relating to 'overcrowding' in that area are directed to the appropriate Council. Your request for an interview would be better directed at the Council for this reason."
QLDC declined to a Crux interview request, instead providing written answers.
In a further comment to Crux, MBIE's Steve Watson said "Shared accommodation does exist in the Queenstown area, and it can operate in a compliant manner that protects the interests of the tenants who choose this type of rental accommodation - as long as the landlord is fully meeting their legal obligations. We would recommend any tenant living in this type of accommodation who wants to know more about their rights and responsibilities visits the www.tenancy.govt.nz website."
MBIE has produced a video to highlight the complaints process that tenants need to go through, and how to get the compliance and investigations team involved.
It's worth publishing the full response from MBIE's Steve Watson that summarises the very dated (1947) legislation that governs overcrowding. The legislation is so old that the worst fine that Crux can find under this law is $40!
"Rental properties must meet health and safety standards and be compliant with the Residential Tenancies Act, which is administered by MBIE. Landlords must ensure that their rentals do not become overcrowded by complying with the Housing Improvement Regulations (administered by the Ministry of Health) and local council bylaws. This includes:
· Ensuring that there are the required facilities for the number of people occupying the house, such as the number of bathrooms and toilets
· The minimum size of bedrooms: generally a bedroom must be at least 6 square metres. If there is more than one person sleeping in the room it will need to be bigger
· The number of adults and children (excluding those under 1 year of age) that can occupy the bedroom depending on the floor area.
· A property should not be advertised or let as having a certain number of bedrooms if the rooms are not compliant with the Regulations. The landlord and tenants must ensure that the number of occupants of each bedroom does not exceed the number allowed under the Regulations.
· For further information about overcrowding contact your local council."
Here's exact detail from the legislation on the minimum size of multiple occupancy bedrooms. Each rental property also needs adequate cooking, bathroom and hot water for all tenants.
Crux contacted The Queenstown Lakes Housing Trust for their perspective.
Trust CEO Julie Scott said "This matter of overcrowding is one which has been discussed regularly over the last couple of years with other social services agencies. I have raised the topic with Council and understand there are currently no rules around overcrowding in the District Plan. However, we would like to see rules implemented in the District Plan to discourage some landlords taking advantage of lower income workers, and improve the general health of these tenants."
However in the QLDC response they said that there was no provision for overcrowding enforcement in the District Plan. There was also little evidence of the regional collaboration that MBIE told Crux was currently in place. Steve Watson told us "MBIE's Tenancy Compliance and Investigation team works closely with our regulatory partners, including local councils, to keep across tenancy issues in the regions."
The Crux overcrowding survey has so far identified over 70 overcrowded properties in Queenstown as reported by tenants and neighbours. Crux plans to keep investigating this story and our anonymous survey is still open at https://www.surveymonkey.com/r/Crux-Overcrowding .

---