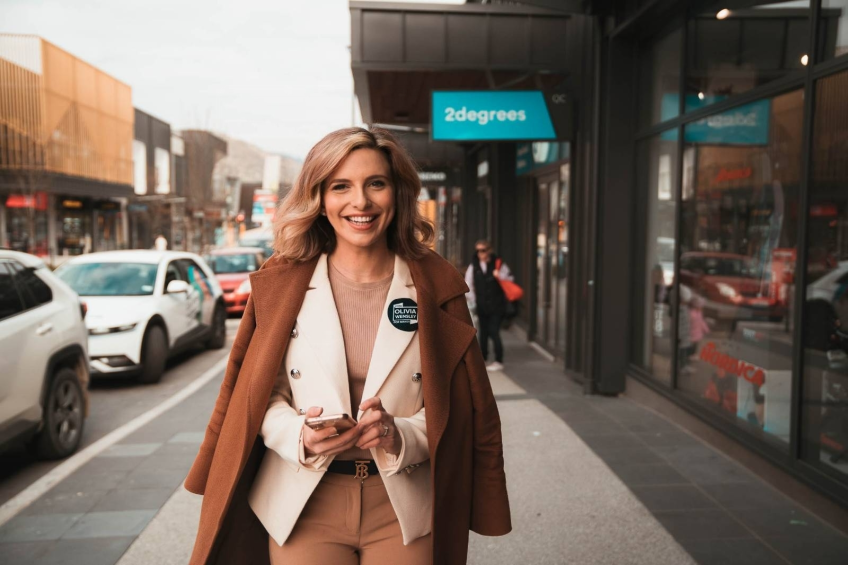 Olivia Wensley: We need big thinking
by Olivia Wensley - Sep 23, 2022
---
Opinion. This article is part of a series where Crux has invited local election candidates to share their views on key local issues. This article was submitted by Olivia Wensley.
We Need Big Thinking - and Even Bigger Action
It's time for our region to have a discussion - about who we are, our place on the world stage and about the type of community we want to sustain, for our children and future generations.
As a mother of two, and a ratepayer, I'm deeply concerned about the direction our region is heading in. This is exactly why I've chosen to run for Mayor.
There has been a lot of talk about the importance of diversifying our economy - but I haven't seen an actual plan for this from any of the other candidates. We need a carefully considered long term plan. Economic diversification will not happen by accident or luck.
My background is in economic diversification - and I bring unique experience in this area, for almost 3 years I have been doing this work in my role as CEO of Startup Queenstown Lakes (currently on leave) - which is funded by the QLDC Economic Development Unit.
This type of expertise is exactly what is needed to drive our region into a positive future, without an over-reliance on a single industry. I don't just talk about what needs to be done, I'm actively doing the work, every single day.
The Golden Goose is Cooked
Our Council isn't serving the communities' needs, mass tourism has well and truly lost its social license.
We haven't just risked killing the Golden Goose - the Golden Goose is cooked.
A survey I commissioned shows that only 2% of residents want higher tourism over 2019 levels. 50% want less. Covid has shown us what life without mass tourism looks like.
I'm not "anti-tourism" by any means - I am a firm advocate for our whole business community. I have worked with 100's of local entrepreneurs and deeply understand their pain points.
However, with tourism projected to double within the next 10 years, and the new Airport plan showing huge increases in the volume of visitors, we need a Mayor who is going to put community first over tourism.
We can't keep going with "more of the same" - we need an absolute reset.
My 100-Day Plan
How can we move forward in a positive direction? I've got a firm plan of action. This focuses on three key areas:
A Resilient Economy
Trust & Transparency
Thriving Communities
A Resilient Economy
My sole reason for running is to create a great future for the next generation. Our kids and grandkids deserve to thrive in the region they grew up in. At present, most of our young people are leaving our region in search of high-paying jobs.
My priority is to create an independent Economic Development Agency, that will attract 100's of millions investment into the region. This is work I'm already doing.
I introduced several investors to the Silverlight Movie Studio project - resulting in $280 million committed towards the project which is currently underway. It is going to be a fantastic asset for our region.
I've been involved in attracting and advocating for investments into the region, including a $20 million Diversification Fund administered through the Government's Kanoa Fund (previously the Provincial Growth Fund).
I have met one on one with the Minister of Tourism & Regional Economic Development on multiple occasions and discussed how this fund should be allocated, with the majority going towards exciting tech projects which will inject vibrancy into our local economy. It is fantastic to have his support for our tech and startup sectors.
In my first 100 days I will:
Meet with the Minister of Tourism & Regional Economic Development to discuss how to better support our hospitality and tourism businesses (this meeting has been agreed upon - date TBC).
Present a report recently completed by The MindLab Auckland on a STEM (Science, Technology, Engineering, and Maths) School to the Minister of Education (this meeting has been set) and the Minister of Business, Innovation, and Science (I have already discussed this with her).
Establish a Mayoral Tech Taskforce of our incredible tech talent living here, to oversee a unified strategy for the District.
Re-establish the Mayoral Housing Taskforce.
Trust & Transparency
Trust and confidence in the Council are at an all-time low. By their own survey, with only 18% of people are satisfied with the current Council.
We need a complete cultural reform. This isn't easy because Council members only have one direct report - the CEO, who is responsible for all QLDC staff. The Council members have no direct control of QLDC staff.
What other regions have done is commissioned an external audit on key senior management, and provide recommendations, which can be followed. This means it is neutral and transparent.
I'm not afraid to bring about an overhaul of the Council's culture - I have done this work before, in the legal profession, which resulted in hugely positive cultural changes, and the adoption of legislation setting out a better code of conduct. I was nominated as New Zealander of the Year in 2019 in recognition for this work.
We need to address the QLDC "culture" of huge spending on Consultants and recklessly wasting ratepayers' money. Over $366 million on Consultants between 2016-2019 is unacceptable.
The proposed $50m "Project Manawa" for new Council offices, needs to be stopped.
Positive change starts from the top.
One of my favourite sayings is "sunlight is the best disinfectant" - so let's shine some sunlight on the current issues in the Council, so we can move forward in a positive direction.
In my first 100 days I will:
Commission an independent audit of current senior management, and expenditure on consultants in the past 6 years.
Reassess the fee charged for access to official Council documents to make information more freely accessible.
Include a register of interests in every public meeting agenda (including partner's interests too).
Create a QLDC transparency portal for mayoral activities/meetings.
Thriving Communities
The entire Southern Lakes region is already known internationally as one of the worlds best-biking destinations for all styles of riding with an amazing network that attracts the world's best riders over our summer.
I'm a big fan of active transport, and I think this is a crucial way to reduce our carbon emissions (road transport makes up 20% of our region's emissions).
It's time to formally have a biking strategy to focus on and grow the biking opportunity for the Queenstown Lakes and plan to get the first international events of the year here (at the end of our summer) to further build our international profile.
I will ensure there is a focus on our cycleway network to be more sustainable, safe and accessible to everyone in our region. We need better connectivity for our kids to get to school, workers to get to work, and for families to enjoy.
One of the big issues I hear from the Upper Clutha is the issues they are facing with their public transport. This isn't good enough - considering the promises made in the last election. If I'm elected, I will do whatever I can to support the new Community Shuttle trial.
Another large issue in Wanaka is sporting facilities - and some locals have provided me with some great ideas to provide better community facilities (including a dog park!).
There's a huge amount to be done in our communities. Something I hear a lot from Wanaka and the smaller communities in our region is that the current Council is too Queenstown-centric. I'm focused on building a more inclusive Council which gives the smaller communities a true voice.
For this reason, I'd like to put a suggestion to the community - should we rename our Council to something which better represents our wider communities (such as Alpine Lakes Council or the Southern Lakes Council)?
In my first 100 days I will:
Work with RTOs to begin developing a regional Bike Strategy based on Benje Patterson's report (funding for this has been committed by a third party).
Provide QLDC support for the shuttle bus trials in Wanaka, and extend this initiative if successful (if my fellow Councillors agree).
Engage with the community on whether we should change the name of QLDC to a more inclusive name.

The Repercussions of Challenging the Status Quo
I'd like to address the elephant in the room. The leaky building crisis.
Ironically, I specialised in construction litigation when I was a Lawyer. I'm well versed in the issues. I've worked with hundreds of owners of leaky buildings, and have witnessed first hand the devastation suffered.
This is a nationwide crisis, which has affected 174,000 homes, with the ultimate repair cost estimated to be $50 billion dollars.
It is a complicated issue and is not just one person's fault on any project. I think it is reckless that many parties have no insurance (including the QLDC), and that the ratepayers have to pick up the bill.
I have been inundated every week, with online vitriol as a result of my father in law's development from 20 years ago, which is now a leaky building.
I understand people's anger and frustration, and I feel it, too, and while I understand it - I believe the anger and frustration is misdirected.
These issues are from a development well before my time and are in no way correlated to my values, quality of work or vision for our community.
Throughout this election, a number of candidates have been very eager in their attempt to smear me with these issues as a reflection of my ability and goals.
So I'm here to tell you that you can put the pitchforks away.
For clarity - I was 17 and in high school at the time the project was started, and in law school by the time it finished and I wouldn't meet my in-laws for another 10 years.
This is a classic case of "dirty politics" and it's a shame - this type of behaviour puts good people off from running for office.
However, I'm confident that the community is astute enough to see through these blatant attempts for what they are.
This targeted attempt to smear me means the "status quo" are afraid. Afraid of the change I represent if I get into office. There's a lot at stake for our region.
And this is why it's such a crucial time to vote - against the status quo.
We need better transparency and I want to shine a light on this type of behaviour. We desperately need a changing of the guard.
I am confident that voters will disregard the noise and vote for their favoured candidate - based on the only things that matter: their qualifications and ability to get the job done successfully.
Why I'm The Candidate Who Can Deliver for the Queenstown Lakes
When you look at the actual job specification - what does it involve? A great piece by Crux discusses this. We need someone who is powerfully positive, media-savvy, and will best represent our vibrant region on the national stage.
At the end of the day, a Mayor is someone who will be the best advocate for our region. As a former Lawyer, advocacy is what I am trained in and what I'm passionate about.
In order to deliver the best possible outcomes for our region, we need a functional Council who will be unified. This is something that I'm confident I have the skills and experience to deliver on - and I already have a great relationship with many of the incoming candidates. We need to work together as a cohesive team where everyone's thoughts are valued.
By the calibre of those who have put their hand up for Council, I look forward to seeing some fantastic positive change for our region, and I hope I will be lucky enough to serve you as your Mayor.
To find out more about my 100 Day Plan go to www.voteforolivia.com/100-day-plan

---