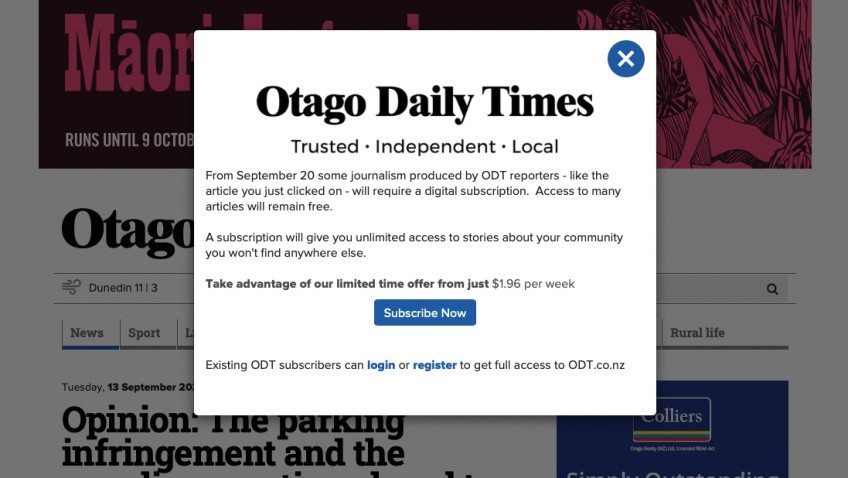 ODT paywall to launch September 20 - Crux stays free
Sep 13, 2022
---
The Otago Daily Times has started to post warning notices on their website that some of their content will require a subscription to access from September 20th.
Crux has announced that we will stay free of charge to all readers, using our voluntary membership programme.
The first article to carry the subscription warning on the ODT website today was an opinion piece from reporter Grant Miller on parking tickets and the Invercargill Rotary Club.
The charge for reading the Otago Daily Times stories online will be $14.95 per month or $194.35 a year if paid annually in advance, according to the Allied Press website.
Allied Press made public plans for a paywall five years ago, but failed to go ahead with the move.
Crux managing editor Peter Newport says Crux local news content will remain free of charge to readers.
"These are tough times for journalism in New Zealand. Crux will continue to rely on the voluntary support of readers joining our membership programme, as well as donations and income from digital advertising.
"Like Allied Press, Crux does receive support via the Public Interest Journalism Fund, but there is no guarantee that fund will continue beyond 2023.
"We believe our brand of strong local news coverage will continue to dominate the local news market with Crux journalists holding power to account in a way that no other platforms do.
"Crux is doing more than any other local news platform in New Zealand to develop sustainable business models that will survive what promises to be a challenging but exciting future.
"Charging readers for local news is a model that has had only mixed success overseas, and our research suggests that New Zealand local towns lack the critical mass to allow such models to work."
The Crux membership model allows readers to pay whatever they can afford, at a time and frequency that suits them. Crux plans to offer a variety of benefits to Members, but core local news content will remain free to everyone.


---