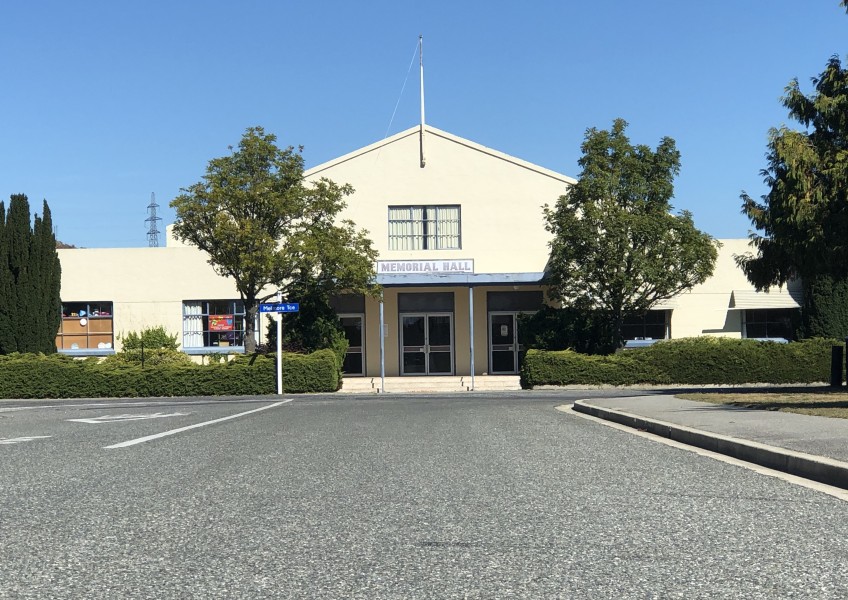 New timeline announced for long-awaited Cromwell hall
---
The Central Otago District Council has today released a new timeline for Cromwell's ambitious, $16-million new events centre project.
The Cromwell Memorial Hall has had a stay of execution of sorts, with plans for it to sit safe until the Cromwell Community Board sees concept designs for its replacement.
Earlier this year, it was announced the old hall would be demolished after hosting its last ANZAC Day commemoration.
But members of the Cromwell Community Board decided at their March meeting to press pause on the plan until they had a better idea of what they'd be helping to deliver to the community in its place.
In a statement today, the Central Otago District Council says concept design plans are expected to be delivered in August.
While the board had chosen to put some decisions on hold until then, work has been progressing behind the scenes on the "investigation" phase of the project, the statement says.
CODC project manager Darren Penketh says it includes geotechnical and asbestos reports, as well as information gathering from theatre specialists, all of which will inform the design of the new facility.
A visual timeline for the project has also been created by the council, illustrating the stages of the project and key milestones along the way where the community can expect to be provided with updates.
Constuction is picked to begin in the "first half of 2023", but a "grand opening" date is yet to be confirmed.
At the time of its decision to postpone the demolition of the existing hall, Cromwell Community Board chair and Project Advisory Group member Anna Harrison said on the community board's Facebook page the board is "fully behind the building of a new hall/events centre but would like to see some concept plans and initial costings before the existing hall is closed and demolished".
She said the board's intention was not to slow things down.
"The Board wants to ensure the concept designs tick those boxes of what the community has said it wants and needs from the new hall before we proceed to demolition."
In November, the council announced Christchurch-based architectural firm Jasmax will lead the long-awaited new hall project, working alongside Cromwell architect Jessie Sutherland.
In January and February, meetings and workshops with stakeholders including the Fine Thyme Theatre Company, the local RSA, the Cromwell Museum, the Old Cromwell Society, and the Cromwell Town and Country Club were held.

---