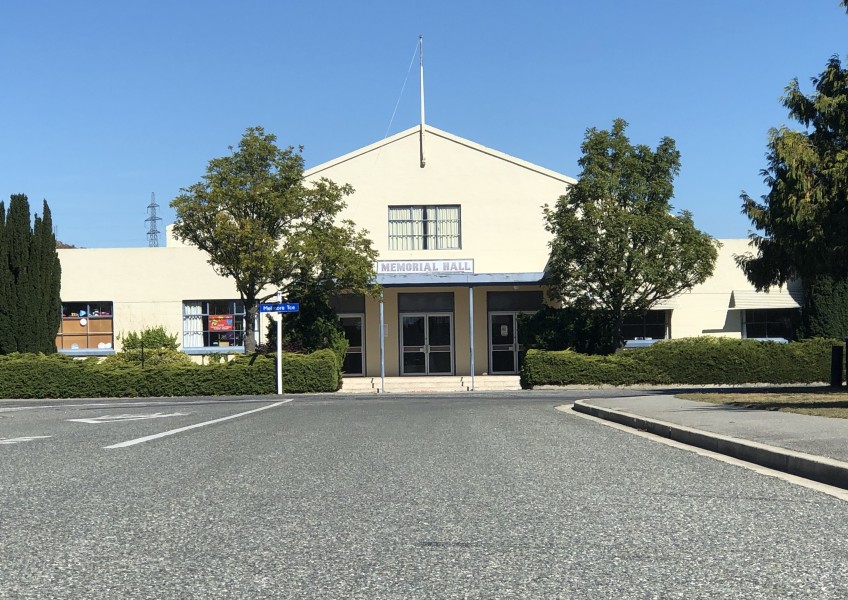 ANZAC event slated as Cromwell hall's last-hurrah
---
Pop the date in the diary – ANZAC Day will mark the Cromwell Memorial Hall's last-hurrah, Covid settings allowing.
For more than six decades the hall above the Lake Dunstan foreshore has played host to weddings, birthdays, fundraisers and ANZAC Day commemorations.
But this year will be its last, with the problem-plagued building set to be demolished to make way for a long-awaited new hall and events centre.
Jasmax, the Christchurch-based architectural firm leading the $16-million project, has had its first workshops and meetings with members of the community hand-picked to help steer the design.
They include the Project Advisory Group – comprising Cromwell Community Board chair Anna Harrison and Cromwell Councillor and board member Nigel McKinlay, and council staff Louise van der Voort and Garreth Robinson – and representatives from the Cromwell RSA, the Cromwell Museum, Old Cromwell, and the Cromwell Town and Country Club.
Central Otago District Council couldn't provide much detail on the specifics of what was covered at the meetings and workshops, other than to say it covered the project's "vision, objectives, sustainability and resilience".
And, the next round of workshops scheduled for later this month will cover "site constraints and opportunities, benchmarking and building accommodation requirements, and the technical, functional and operational requirements".
Cromwell Commmunity Board chair Anna Harrison says these initial meetings and workshops are important for connecting stakeholders and the advisory board with Jasmax designers before they "start sketching".
"It (the advisory board workshop) was an inspirational day and really brought our team together to look at the project from a sustainability perspective and to think about how the project will connect with Cromwell, our landscapes, our people and what we value.
"It gave me great confidence that we have made an excellent decision through the procurement process for the architecture firm and that their process will be thorough."
She knows the groundwork's important, but she's also itching to see things get started and to bring others in town onboard too, she says.
"I am really excited for the next time we connect to take the thinking to the next stage and I am really impatient to start seeing the initial ideas for design.
"I am also really looking forward to being able to share all of this work with our wider community.
"I know that we are going to end up with a facility that our community can be really proud of."
Meetings with representatives from the Cromwell Cultural Centre Trust and the Fine Thyme Theatre Company are scheduled for this week.
With demolition of the hall set for the second half of the year, there will be no access for regular hall users as well as others in the community from Monday, May 2.
The closure date means that should Covid Protection Framework settings allow, the ANZAC Day commemorations on April 25 will likely be the last community event to be hosted in the existing hall.

---