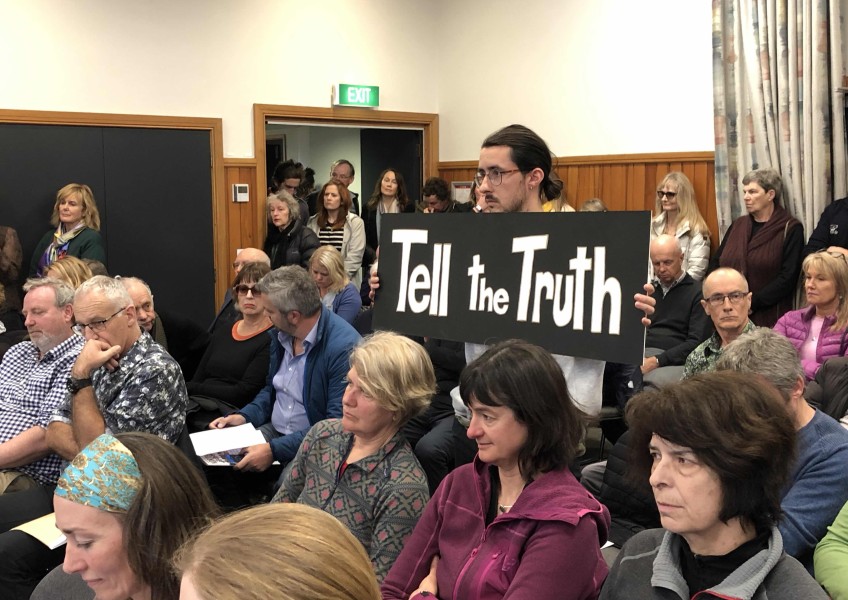 Mayor to pause further airport expansion
---
Mayor Jim Boult made a major move today to take control of the local airports debate by announcing a pause on further expansion work for both Queenstown and Wanaka airports.
Mr. Boult told the packed-out Wanaka council meeting that QLDC had delivered a clear message to the Queenstown Airport Corporation outlining a fresh approach, saying that the wellbeing of the people needed to be brought into the conversation.
"The clear stress, anxiety, dissent and downright vitriol that this issue is creating in both Queenstown and Wanaka is a genuine source of concern for myself, my fellow Councillors and I know, for the Queenstown Airport Corporation," Mr. Boult said.
Until further impact assessments have been done, there will be no change to Queenstown Airport's noise boundaries. For Wanaka, further work on the development of commercial aviation services is on hold.
Several of QAC's short term projects will continue, which include Queenstown's terminal upgrade (Project Pathway) and the Lot 6 acquisition from Alastair Porter's Remarkables Park company. They also include planning and licensing steps to facilitate any future domestic commercial air services for Wanaka Airport – but not associated technical work.
According to Mayor Boult, the pause on further expansion is to allow for a better understanding of the implications of airport growth on our communities, as well as the economic and social impacts.
He outlined the work that QLDC planned to do to reach this understanding, which includes running independent social and economic assessments involving public consultation. The QAC's sustainability goals will be reviewed, and the new spatial plan will align airport demand growth forecasts with the projected population and visitor growth forecasts of the district.
"I have heard some voices say Council is not listening. Today I am going to demonstrate that clearly we are and I can confirm that each and every member of this Council has been very aware of the different opinions across our communities."
However, the mayor's announcement was met with some skepticism from community submitters. Mark Sinclair, deputy chair of the Wanaka Stakeholders Group, said the group was 'cautiously encouraged.'
"Much more detail is required for us to understand and comment on it, which we will do in due course. Our members' requirements remain the same: we want full and proper community consultation and real involvement in the plans for any future development of Wanaka Airport," Mr. Sinclair told council. As of last night, the WSG had 2,150 members, making it the single biggest group in Wanaka, according to Mr. Sinclair.
"We are hearing that our members are deeply concerned about a lack of transparency, consultation and community focus."
Former QLDC councillor Gillian Macleod said in her submission that while she was interested in the mayor's statement, she thinks it's spin.
"I have two alarm bells from several sentences. One was pressing pause on the noise boundaries. Secondly, that there would need to be room for compromise," said Ms. Mcleod. "The word on the street is the airport is not going to stop, that it will incrementally increase its noise boundaries."
"We've all heard of death by a thousand cuts. I think the airport is going to give us death by a thousand decibels. I ask you as a council to be firm and clear and my question to you is this: are you going to say that there is no further increase of airport boundaries? Or are you going to press the pause button and leave us dithering? It's actually our airport, and we need to be firm and clear about how the community's voice is heard."
There were over ten public submissions, and, with airport expansion as the focus point, there were repeated pleas for effective leadership in the face of the climate crisis.
While Mr. Boult acknowledged the need for the environment and QAC's sustainability goals to be considered, local Extinction Rebellion member Anna Simmonds said the announcement was both motivating and frustrating.
"Tourism and aviation as they stand are not wise investments, if we're being truthful. We need to start changing direction and work out how to live here without our ambition being growth at all costs. In the current paradigm, it's called progress. In biology, it's called cancer. And like it or not, we are biological," she told council.
QAC, however, according to Mr. Boult's statement, are compelled to plan for, understand and invest in infrastructure for growth as a Council Controlled Trading Organisation. "Businesses plan for growth, the tourism sector plans for it and so too must the Queenstown Airport Corporation."
"Our intention here is not to cap growth and create a static future, but to protect and strategically plan for the long-term wellbeing of our community, our precious environment and our economy."
The Mayor concluded his statement with a final message to those from all sides of the debate: "Please bring your energy along with an open mind and a willingness, potentially to compromise, to the table in helping shape the right outcomes for all stakeholders and for the sustained future of this incredible place where we live."


---