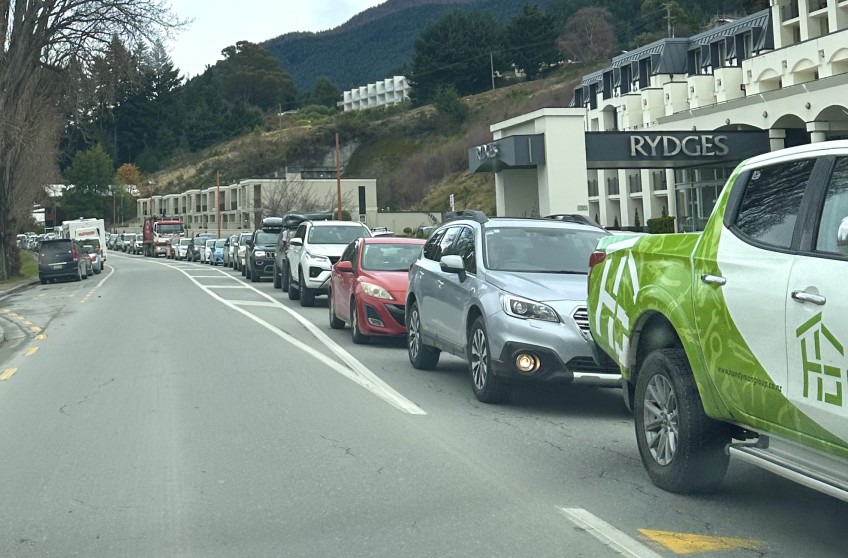 Lake Street frustration: poor communication and community suggestions ignored
---
The two-month closure of Lake Street was announced just 10 days before it was scheduled, leaving the community frustrated by the lack of communication and consideration for the traffic congestion it brings.
Councillor Matt Wong, a resident of Fernhill, one of the Queenstown suburbs impacted by closure, says he doesn't disagree with the road upgrades that have caused the disruption, but with the management of them by Kā Huanui a Tāhuna, the alliance partnership group responsible for the work.
Lake Street is closed as part of infrastructure upgrades to Man Street to support the new Lakeview development, and the traffic congestion its created has more than doubled the commute of Sunshine Bay and Fernhill residents.
The road was also closed for an extended period earlier in the year, coinciding with Australia and New Zealand school holidays.
"There's a community association that represents Fernhill and Sunshine Bay and the alliance hasn't once stepped foot into one of those meetings to talk to us ahead of Lake Street closures," Councillor Wong says.
"I would have hoped there were some lessons learned from last time…when they closed in May and June there was significant frustration from that community."
Since Monday morning when the latest round of works started, the Queenstown Lakes District Council has received 18 complaints relating to traffic congestion.
They have been sent via 'fix it' requests on the website, 'Snap, Send, Solve' requests, emails and complaint forms.
Councillor Wong says the frustration isn't only because people don't like being put out, but because the information and consultation hasn't been there.
"Information builds trust, and with no information, there is no trust."
He acknowledges local solutions to gridlocked streets are "challenging" because Shotover Street is classed as a highway and falls under the authority of Waka Kotahi New Zealand Transport Agency.
Fernhill and Sunshine Bay Community Association acting chairperson Simone Bray says it felt like the closure was "sprung" on the community, without many efforts to mitigate the resulting congestion.
She says she received a phone call from a spokesperson for the alliance, when the closure was announced, and they apologised for the way the information was delivered.
For Ms Bray there's also frustration that her suggestions to council for improving traffic flows weren't taken onboard.
"They're not really trying to make anything better, they're just like 'Oh sorry, just deal with it'."
She suggested blocking off the two pedestrian crossings on Shotover Street, which contribute to congestion, keeping cars stationary to let pedestrians cross even when Shotover Street lights are green.
"How many state highways have three pedestrian crossings and a walk light within 500 metres?"
She received a call from Queenstown Lakes District Council's property and infrastructure manager Tony Avery on the idea, and yesterday he replied to her to say the it was not actionable.
"Pedestrian crossings are there to make pedestrians safe and removing them makes the pedestrians less safe. It may not be practical to fully fence off pedestrian crossings and ask to stop them being used," the response from Mr Avery says.
To Ms Bray, it sounds like excuses: "It's like 'how sad, too bad'."
She is also questioning the timing of the works, which again will coincide with school holidays in September.
In an email sent to Crux, QLDC and councillors, resident Tony Ward says the timing of the closure is "completely wrong", during peak ski season, and after winter and pre-Christmas would have been better.
He questions why the council is "engaging expert traffic engineers who are failing to perform their duties".
"I am bewildered that QLDC traffic engineers and consultants are blindly understating duties with traffic management plans with scant understanding and a serious lack of common sense."
Neil Drouet, a resident of Sunshine Bay, sent a similar email, in which he asks elected members to step up and advocate for residents and ratepayers.
"The council seems happy to sit on its collective hands to please a small number of millionaires up at Lakeview."
The Queenstown Lakes District Council has added information to its Lakeview project webpage in a series of 'frequently asked questions' to help the community understand the works and traffic management.
Read more:
Big wait times back after Lake Street reclosure
Traffic ahead: Queenstown's Lake Street set to shut, again
Fernhill commuters: Up to 5 hours a week lost to road works and new traffic lights


---