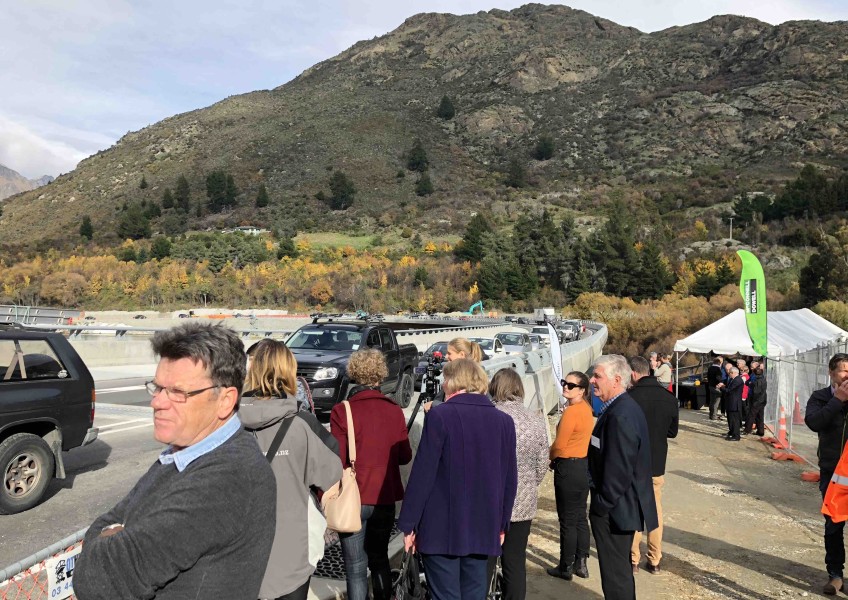 Kawarau Bridge finally open! NZTA blames QLDC for delays.
---
The $22 million Kawarau Bridge finally opened this afternoon, a year later than was originally hoped.
It was planned to be open to traffic before the start of the 2017 ski season but at the opening today the NZTA said that the delay was due to the Queenstown Lakes District Council's decision to add sewer pipes to the bridge, at an extra cost of $7 million.
The "clip on" pipes were originally supposed to cost $5 million but that cost ballooned to $7.2 million as the council allowed for even further growth to the west of the Kawarau River.
The project also struck problems when engineers discovered fault lines and unexpected rock types when driving the piles to support the new bridge.
At long last - the Kawarau Bridge is finally open! Mayor Jim Boult drives the first car across the fully operational two lane bridge. | By Crux
Mayor Jim Boult drove the first car to cross the new fully operational two lane bridge on Thursday afternoon saying the opening has been "a long time coming."
Both residents and tourists have spent many long hours sitting in long traffic queues on both sides of the bridge and today's opening produced instant traffic relief with traffic now moving freely in both directions.
NZTA project manager Phil Dowsett said the contractors had been excused any liability for the delays because they were due to the council's sewer pipe decision. He added that, in any case, the contractors, McConnell Dowell are not liable for the "human cost" of motorists sitting in traffic, just any extra project management costs incurred by the NZTA.
Watch: NZTA's Jim Harland talks in detail about the bridge project, the new Government's roading priorities and whether Queenstown and Wanaka can stay ahead of the current steep growth curve.


---