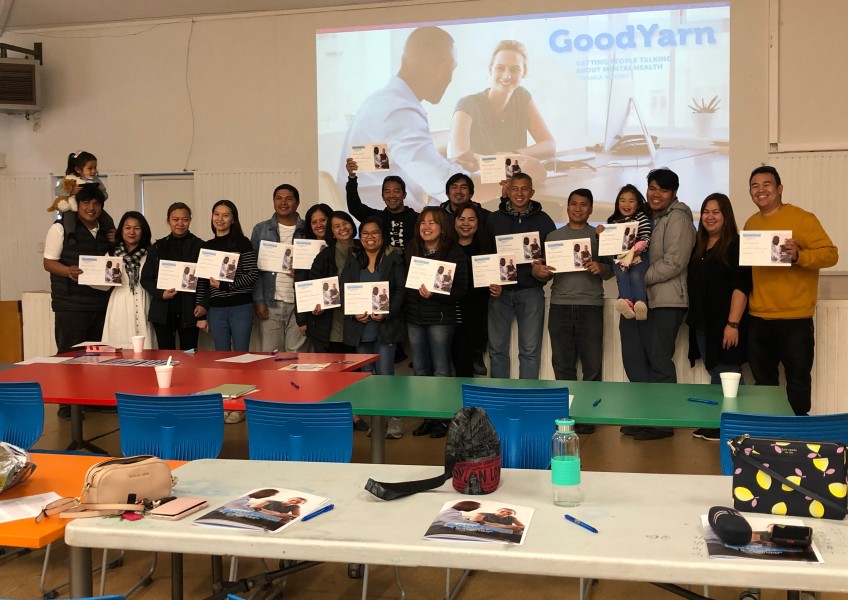 Good work by GoodYarn to destigmatise mental illness
---
An innovative mental health programme helping communities to help themselves in Queenstown is onto a winning formula and should be replicated around the country, according to latest research.
The GoodYarn pilot took people from within specifically targeted local communities – migrant, new parents and small businesses – and trained them up on mental health how-tos.
Then, these people ran workshops with their peers, helping to breakdown stigma around mental health and normalise conversations about it.
Today a report by researcher Anna Williams has been released and it shows the support model's one that works, especially for harder-to-reach and ethnically diverse communities.
Members of the Filipino community were some of the first to take part in the scheme in Queenstown.
Workshops were run in Tagalog, the Filipino language, and away from clinical settings.
There can be stigma attached to accessing mental health care in migrant communities – but practical considerations can impact on how people ask for help.
A consultation in a doctor's clinic, for example, may become a medical record required to be included in residency applications.
Another group to benefit from the early trials: members of the Whakatipu business community, who were under increasing mental pressure during the chaos of early Covid.
Overall, the report emphasises how the pilot programme has had a potentially deep and lasting impact on the community, stating "its approach to delivering mental health education training will have a substantial impact on the mental wellbeing of the Queenstown community over time as the information begins to positively impact relationships and interactions with priority community groups, and their family and whānau".
Headlight, a Queenstown-based charitable trust whose purpose is to empower communities in Aotearoa to support their mental health and wellbeing, has been behind the roll out of GoodYarn's local workshops.
Headlight chief executive Anna Dorsey says it's an example of a successful fresh approach to care, and one that can sit alongside more traditional clinical support.
It upskills an entire community, empowering people of all ages and cultures to learn how to have more open conversations about mental health as part of their everyday, she says.
"It's building the mental health literacy of our community.
"That's so important when you consider most people who are struggling with mental distress will usually reach out to a friend, family member or colleague first before talking to a clinician."
The programme is "powerful" as its facilitators are "people who live here", she says.
"They bring their own stories and experience to the workshops, and that helps build connection and understanding, and also reduces stigma and discrimination around mental illness.
"It is so normal as part of our experience as human beings to have mental health challenges. We're just making it easier to talk about it."
The report notes the potential of the pilot model to be broadened to other harder-to-reach communities around the country.
"Hopefully, it will grow into something bigger," Ms Dorsey says.
Good work by GoodYarn
Between April 2021 and June 2022:
267 participants from priority groups participated in the free mental health workshops
15 peer facilitators were trained from diverse populations
97 percent of responders agreed or strongly agreed that the workshop increased their knowledge of mental health and wellbeing
44 percent of participants had English as a second language
Significant improvements were seen in three learning outcomes of:

increased awareness of signs and symptoms of mental distress
increased confidence in having a conversation with someone you are concerned about
increased knowledge of what support is available to help

The most helpful and educational aspects of the workshop were: recognising the signs of stress and mental health problems, suicide awareness and additional resources and support
Main image (Supplied): A GoodYarn workshop with members of Queenstown's Filipino community.


---