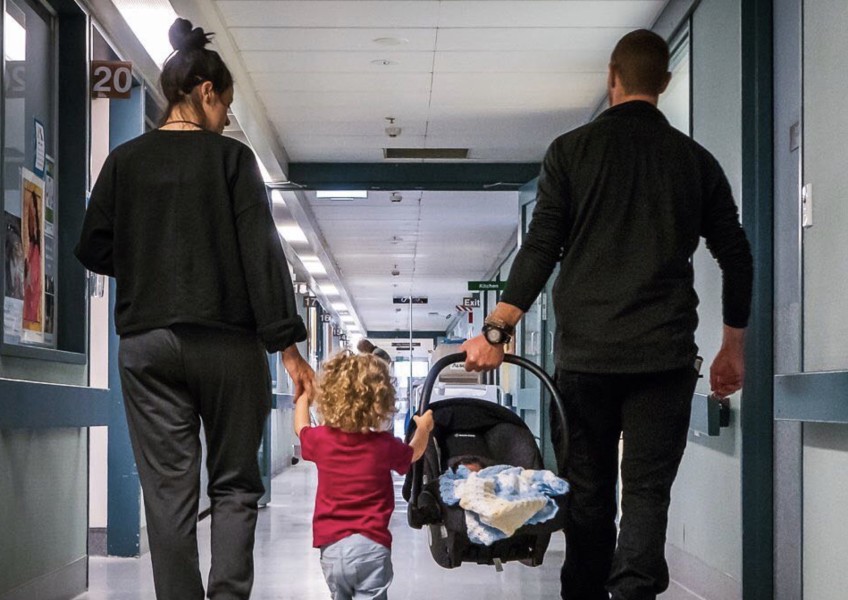 Expectant wait for new Wanaka maternal hub
---
With an announcement on a new maternal hub due 'any day now' there's an expectant optimism that things will soon improve for Wanaka Mums-to-be.
A second full time midwife, Peta Hosking, came on board in November - before this Deb Harvey was the sole midwife in town. Relief locum midwives have also been recruited, allowing Ms Harvey and Ms Hosking to have 36 hours every two weeks of proper time off.
According to Wanaka mother and "Save our Wanaka Midwives" group spokesperson, Kristi James, this is a step in the right direction. "They're actually getting a break without having to be on call, which is great," she says.
The added support means there are always two midwives on call, however with an estimated 200 births this year in Wanaka, the situation remains frightening. "The recommendation from the Ministry of Health is one midwife per forty women - we should have five and we've got two," says Ms James, who herself is six months pregnant.
"Women are, at this stage, choosing to drive down to Dunedin if they can, a week or sooner before their due date just to be closer to the hospital, so that when they go into labour they don't have to drive three and a half hours," she says.
With Wanaka being so rural, the situation here reflects the worst of the nationwide state of affairs for midwives. Early last year, many left the workforce after a budget boost was deemed too small, including former Wanaka midwife Morgan Weathington.
Ms Weathington is now in a support role for the community midwives, contracting herself to the SDHB and running the new Telehealth clinic from Wanaka Medical Centre. She has also been put in charge of finding a location for a new maternal hub, which is part of the solution proposed by the SDHB.
Peta Hosking, Wanaka's newest midwife, says with over 100 women on the books at the moment, and more expected to come, an upgrade from the single room and toilet will be welcome.
"If they actually do it, it will be great, and hopefully it's something that can be upgraded to a unit in the future," says Ms Hosking. She says they've been forced to use chairs and hallway space in the medical centre next door for an examination when both midwives need the room.
More details on the new hub, including a location, are due to be announced any day now. Ms Weathington says while it may look like nothing is going on, there's a lot of hard work happening behind the scenes. She explains that the hub will be more than a space. It will be offering support with services like emergency secondary care and stabilisation, for situations where women living in a bigger city would normally go to the hospital.
"Right now, the space we have is too small for what Wanaka needs. The hub will have more space, equipment for secondary care, and includes the relief midwife service," she says.
"Before, midwives were buying all the equipment for this emergency care themselves, because they only get paid to administer primary care."
Ms Weathington says so far the Telehealth service, which allows women to have obstetrician appointments via video calling, has been a success. "It means families don't have to travel. I'm also not on call, which means those clinics are secure - it's support for families, community and obstetricians."
Ms James, who had her first Telehealth appointment last month, says it's comforting to know there is an alternative to driving down to Dunedin to see a specialist. "Obviously it's a new system and they're still working the kinks out, but I think it has the potential to be awesome," she says.
Ms James and other Wanaka mothers set up the Save Our Wanaka Midwives group early last year. They started a Facebook page and created a video to engage and inform the community, and sent a petition to the Minister of Health for an improved rural funding model.
According to Ms James, the crisis is a 'chicken and egg' situation, because both more midwives and better facilities are needed, with both being reliant on the other. "What we need, ultimately, is a Primary Birthing Unit," she says. The closest one currently is in Queenstown or at Charlotte Jean in Alexandra.
"There are 10 midwives in the area, some which aren't working and some which are in some capacity, and we'd love to see them come back to work. We'd hope that with the right facilities, and some encouragement and financial promise, they might come back," she says.
Ms Harvey says while it's great to have weekend relief, there are still issues with the job itself, and not just the support. "We're still waiting on an increase in funding, and acknowledgement of what we do," she says.
Ms Weathington says there needs to be a huge shift at the MOH level before lots of people come back to work. "There's people definitely waiting in the wings waiting to see what's going to happen, the DHB included," she says.
Main Image: Bel Jones Photography.


---