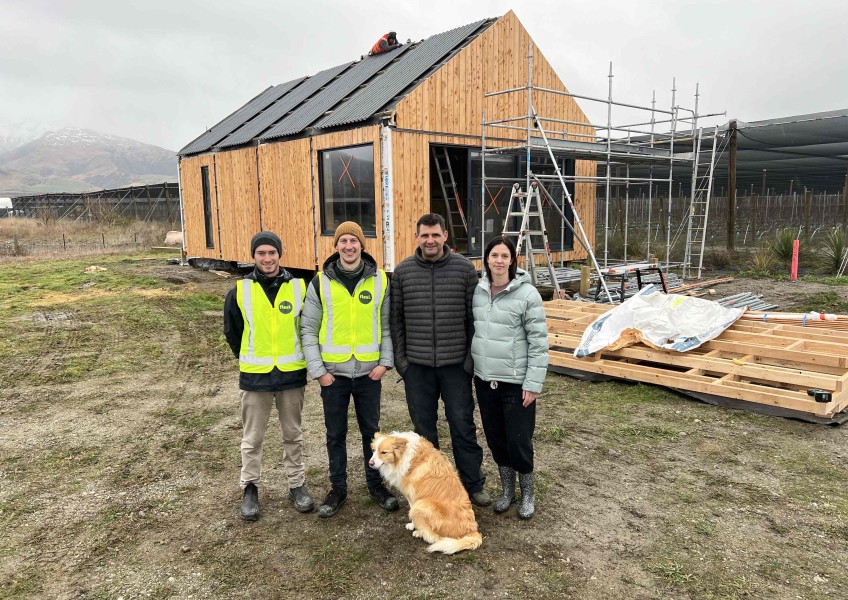 Cromwell weathertight home built in 13 hours
---
In a construction climate of supply chain delays, materials shortages and Covid-related worker absences, it seems inconceivable a new home build could go from piles in the ground to watertight structure in a matter of hours.
But that's exactly what happened on the outskirts of Cromwell yesterday when a 70-square-metre new residence sprung up after a mere 13 hours of tradies on the job.
The building, comprised of one bedroom, two bathrooms, a laundry and an open-plan living, dining and kitchen space sits at Forest Lodge Orchard, a commercial cherry orchard at Mt Pisa, owned by Mike and Rebecca Casey.
The building will be home to one full-time staff member and a base for other workers that come and go at the orchard.
The business is far from usual. In fact, it claims to be the world's first 100 percent electric, zero fossil fuel orchard.
So, it's unsurprising that when the couple decided they needed a way to accommodate staff, they thought of an innovative, unconventional way to do it.
Mr Casey is an investor in Flexi, the Petone-based construction start-up running the staff accommodation project.
Flexi founder André Heller is challenging the way Kiwis traditionally build by creating flexible homes, "so you can build what you need, when you need it".
Imagine Duplo or Lego components, but house-sized, able to be pieced together in a combination of ways by a would-be home owner.
"The special thing about this housing system is it's a modular, prefabricated construction that allows us to build in stages, so we can start with the one bedroom, which this is, and then we can add bedrooms on to it without creating any waste," Mr Heller says.
"We can remove the end walls, add new bedrooms on as required, and then we reassemble with that same end wall back on the end."
The homes are designed to be high-performing, stealing elements of "passive design" – put simply, the house is wrapped up warm, a bit like a tramper layered up with merino, down and gortex to trap body warmth and keep the elements out.
A mechanical ventilation system makes sure there's plenty of fresh air in the house, with the bonus of a clever system working to ensure outgoing warm air heats incoming outside air as it vacates the building, or vice versa on a hot summer's day.
The panels for the Casey's home were prefabricated in a little over a month, in a factory in Wellington.
"We've shipped it all down here and then assembled it in a day-and-a-half, literally 13 hours," Mr Heller says.
When Crux arrived at the construction site late morning, a fully composed outer shell of a house is there, windows, doors, roof and all, with internal walls up separating living spaces inside.
"We started installing the floor panels at 10 o'clock yesterday morning…then the walls and roof panels…the last panel to go on was that triangular gabled panel and that was all about, oh, 20 minutes ago."
A heat pump will be installed, and Mr Heller's confident it will be more than enough to keep residents cosy and comfortable year-round.
"We won't have to have very much heating in this…we'll have an internal temperature of 21 or 22 degrees year-round, with very little carbon impact of having to heat and cool."
Mr Casey says it's doing right by the environment, but it's also a sound business decision.
"One because it's a lot cheaper from an energy perspective and, in order to attract the best workers you need to provide them with appropriate accommodation.
"You give your workers a good place to live on site and they'll be really happy, and more productive as a result."
Mr Casey has been successful with his own tech start-up and has used innovative thinking to tackle challenges as he's set up his electric orchard.
Those same smarts and creative solutions are needed to address challenges in the housing sector, he reckons.
"The housing problems that we have in New Zealand, substandard housing that's incredibly expensive... we need to invest in innovation."
Mr Heller says he sees a future where there's a market for second-hand Flexi home components on sites like TradeMe.
"The ability to build in stages reduces the barrier to entry for first-time buyers. Start with something small that they can afford.
"Invest in good quality housing, but only just what you need. Then, over time, your needs are going to change, so you need to have that flexibility with your house - to add rooms, to remove rooms.
"Everything here can be unbolted and modified. All of our internal linings can be removed, so there's no gib or plaster...so we can reconfigure."
For now, he isn't talking costs per square metre.
The plan: "To mass produce these parts to then bring the price point down...We've got all of the engineering and the architecture now done...It's a repeatable system, so we can can get that scale."
Mike and Rebecca Casey, along with André Heller of Flexi, are opening their completed home to the public on Sunday, September 18, from 12pm until 2pm. Details here.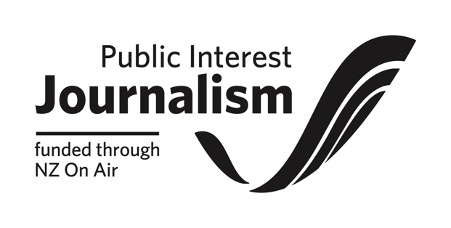 ---