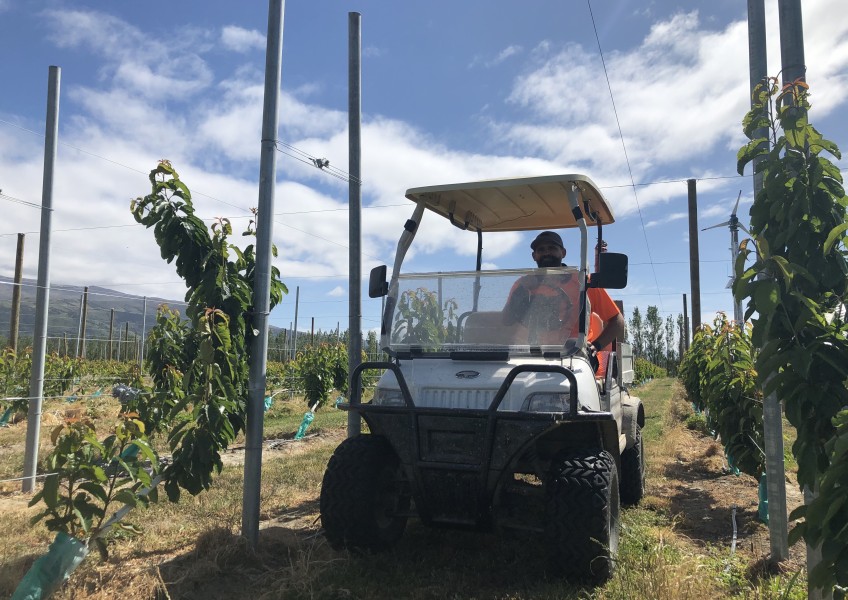 Cromwell innovator launches electric frost fighting system
---
Cromwell cherry grower Mike Casey negotiates his souped-up electric golf cart through the tight rows of his newly planted orchard.
For now, he charges the cart's battery at night, but he has plans to whack a solar panel on its roof to fuel it during the day, when its mostly put to work.
It's an unusual choice of agricultural vehicle.
Mr Casey says he purchased it from a golf cart supplier, then modified it for work on the orchard.
"You raise it up, put off-road tyres on, and add a bit of suspension.
"I wouldn't recommend this to someone who runs a sheep station.
"But for flat land, it's bloody brilliant."
So brilliant, his nearest neighbour has followed suit, decking out his own golf cart for orchard work.
Mr Casey may be new to horticulture, but he's hoping some of his ideas on how to do things may spread further than next-door.
Today, he's inviting growers from across the district to his Pisa orchard, Forest Lodge, to see his latest electric commission in action.
It's a set of modern electric frost fighting fans, not something seen yet in Kiwi orchards where most rely on diesel-generated units.
It was a tough task sourcing the fans, with Mr Casey eventually buying them from a manufacturer in Wellington, a small town on South Africa's Western Cape.
"We are their first international client, so that sort of tells you how bleeding edge this is."
The fans each have three blades, smaller in diameter than some of their diesel-driven counterparts and designed to spin faster rather than lower to the ground.
They have built-in weather stations and can have variable speeds depending on temperature variations within the orchard, plus the fans can sync.
Sounds good, but do they work?
It's a question Mr Casey can't answer yet.
"No one knows how good these fans are until we start trying to lift frosts next spring."
The gamble shows Mr Casey's commitment to his dream: Creating a carbon-neutral cherry orchard.
"I've always been into technology, and now it's morphed into 100 percent renewable food production."
When it comes to lowering its carbon footprint, food production is one of New Zealand's biggest challenges, Mr Casey says.
"You can do all these things to lower your carbon footprint, but you can't just stop eating."
Alongside the golf cart and frost fighting fans on Mr Casey's orchard are electric pruners, chainsaws, and irrigation systems, all powered via 24 kilowatts of solar panels slapped on a shed roof.
A contract with Contact Energy sets out how surplus power can be fed back into the grid.
And, a computer programme built by Mr Casey - "This is where I get nerdy," he says - helps keep track of the spot price of electricity. Sometimes it's smarter to charge his batteries with any excess power, other times, sell it back to Contact.
He reckons there's plenty of space on Kiwi farms for electricity generation, but there's work to do to make the process more accessible.
It was a "cumbersome and bureaucratic task", for example, to upgrade a transformer to suit his electricity needs, he says.
"There's no point in striving to have a 100 percent renewable grid if it's too hard to utlise - people will just continue to burn diesel as an alternative.
"There's got to be some work done to make it easier for people."
There's momentum for change though, and that's obvious in the support he's received from business and government since planting his orchard less than a year ago, Mr Casey says.
Solar powered irrigation needs to happen during daylight hours, which leads to increased evaporation – ORC gave greenlight to his application for water take; BNZ offered competitive business loan rates; Contact Energy came onboard; and The Energy Efficiency and Conservation Authority helped provide backing for the frost fighting fans.
"It has helped mitigate some of the risks of trying something new."
The environmental benefits of using renewable energy to fuel his business are a no-brainer for him, and Mr Casey has faith it will increasingly prove to be a savvy business move generally.
In the domestic market, socially conscious consumers will be willing to pay more for his product, he reckons.
"You only have to look at free-range eggs."
Offshore, the potential value is harder to gauge, but with China moving towards carbon neutrality by 2060, it may be a point of difference that generates more income, he says.
"Although, all the hard work is undone by food miles."
However, it's obvious a top-dollar export isn't Mr Casey's motivation.
Instead, he's driven by an altruistic desire to show tech innovations and disruptive thinking are needed to tackle climate change.
"You either need to stop caring or start doing something because sitting in the middle will just consume you.
"My big thing is I want to show people that it can be done."
He has "city hands", and orchardists with more time in the paddock than him have helped him out with his trees, he says.
"There's a lot of growers here that are really open book in terms of giving me advice on growing."
Now, he wants to return the favour, but he's careful about how he goes about bringing people around to his way of thinking.
"As soon as you try and preach to people they move to resentment; they dig their heels in.
"That's the surest way to turn them off.
"I think the best way is not to tell people what they should be doing but just to show them what you are doing."
Follow Mike Casey's carbon-free journey here.
Read more about how tech entrepreneur Mike Casey ended up growing cherries in Cromwell here.
Main image (source: Kim Bowden): Cromwell cherry grower Mike Casey drives a modified electric golf cart on his Mt Pisa orchard.

---