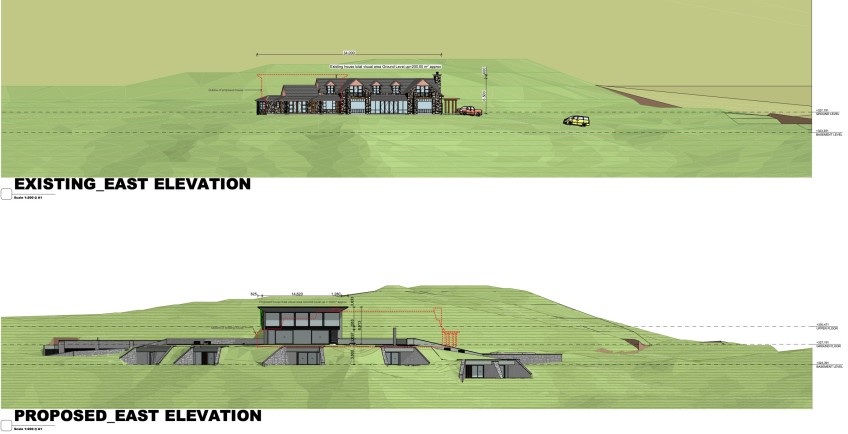 Court reverses decision on $20m partially sunk home on Wānaka's millionaires' row
---
Plans for a giant house to be partly sunk below ground on a stretch of Wānaka waterfront dubbed "millionaires' row" will proceed after an original planning decision of the Queenstown Lakes District Council was overturned in the Environment Court.
The developer, Nature Preservation Trustee Limited, has tweaked plans for its estimated 2,000-square-metre build, which will feature six bedrooms, each with an ensuite, three lounges, a media room, a gym, a sauna and a pool on an underground level.
Five cave-like portals will funnel light into the subterranean rooms, with the project, dubbed 'The Sanctuary', reportedly costing close to $20 million.
It has been designed by Wānaka architects Sorted Architecture.
The latest decision dictates bulk earthworks required to prepare the site "must not commence until spring when leaves have formed on the deciduous exotic vegetation along the south and west boundaries of the site", and that these trees must stay at least until earthworks and construction activity at the site are complete.
Consent for the project was originally declined by independent resource consent commissioners working on behalf of the QLDC, a decision which the trust then appealed.
Go-ahead hung on how visible the proposed new home would be within the landscape, particularly from the viewpoint of the lake.
At that time, a council planner recommended consent be granted, based on expected vegetation growth over a number of years to shield the dwelling, but the two independent commissioners charged with the end decision disagreed, ultimately declining the consent.
Their then decision said, "the adverse visual effects are in our opinion unable to be overcome", despite the "innovation evident in the design of the proposed building, and the comprehensive on-site planting scheme".
An existing 635-square-metre, architecturally designed, two-story home built in the late 1990s will now be demolished to make way for the new project.
Wānaka lawyer Janice Hughes, of Aspiring Law, is named as the sole director and shareholder of Nature Preservation Trustee Limited.
Speaking to Crux, she says the trust is for the benefit of a New Zealand family, who want to live at the property.
The site is located west of Wānaka, between Waterfall Creek and Damper Bay, on a stretch of Wānaka Mount Aspiring Road dotted with luxury homes and exclusive accommodations.
Nearby is United States billionaire Peter Thiel's planned high-end, 10-bedroom lodge, complete with grass roof, consent for which was also rejected by independent commissioners, who said the dwelling would "inappropriately dominant" the landscape.
This decision is also being challenged through the Environment Court.
Main image (Consent documents): The original house and its original proposed 2,000-square-metre replacement, much of which would be built partially underground.


---