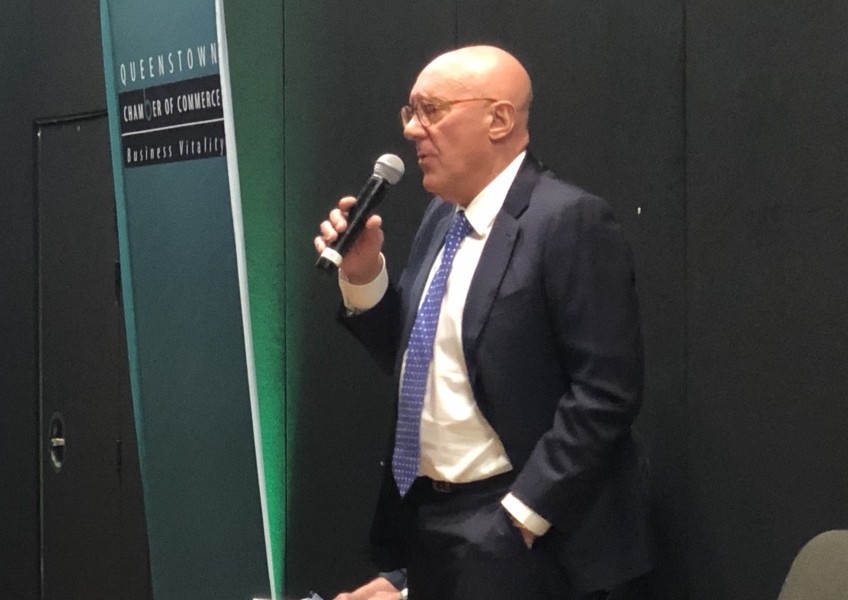 Boult - Q'town airport directors need to be "recycled"
---
Reality started to bite at tonight's mayoral and candidate debate in Queenstown - with Mayor Jim Boult starting to distance himself from the troubled Queenstown Airport Corporation.
Stating clearly that "zero growth" was one of the options being considered during the freeze on airport expansion, Boult said that too many airport directors were Auckland orientated and that there was a need to "recycle" the current QAC directors so that there was more local representation.
This was just one instance of concern being expressed that the Queenstown Airport Corporation was out of touch with local sentiment and that the QAC was attempting to drive growth that was not supported by the local community.
In a positive but robust Memorial Hall session both the QLDC and mayoral candidates repeatedly referenced the issue of airport expansion as being symptomatic of a wider concern around inappropriate and unhealthy growth for the Southern Lakes.
Marginal mayoral candidate Al Angus got the biggest laugh of the evening by saying the QAC directors needed to all "be put on a plane to somewhere other than here." The audience loved it and it was clearly a shared view that growth needed to be managed while infrastructure and sustainability were delivered ahead of more flights and more tourists.
Mayoral hopeful Nik Kiddle gained significant audience support by calling for an "airport summit" where local voices were heard in a process that could take up to 12 months. Kiddle was confident and seemed to be gaining popular support, at the cost of Boult.
But in the end it was Boult that won the evening based on the level of applause for his views.
Boult let rip on the battles that he was facing with the New Zealand Transport Agency, the Southern DHB and the Otago Regional Council. "I wonder if the Southern DHB knows we exist?" he wondered. "Midwives are being paid per baby - how can that work?"
On dealing with the NZTA he said "If you want to go out and slash your wrists, try dealing with the NZTA." And on the Otago Regional Council he made it clear that his goal was to take responsibility for local public transport off the ORC and under the direct control of the QLDC. Boult said that public transport systems needed to be extended to both Cromwell and Wanaka.
Boult also took a swing at local tourism operators who he said were exploiting itinerant overseas workers. "Some employers need to step up. We need better worker accommodation. That is going to be one of my big goals." His comments were greeted by enthusiastic applause from the packed Memorial Hall.
Nik Kiddle also impressed, especially with his statement that the upcoming local elections would be " one of the most important decisions you will all make in the next twenty or thirty years." Kiddle also got him some direct hits on Boult regarding the planned bed tax that was in Kiddle's words "too blunt an instrument that only captured a small proportion of visitor spend."
The QLDC candidates all gave solid performances but John Glover stood out with his "we need to be smarter" stance, even proposing "de-growth." Glyn Lewers and A J Mason also won audience support for their diversification and better productivity positions. Penny Clark also won applause for her "we need to get rid of our million dollar boxes" housing claim.
In summary Jim Boult has a real race on his hands against Nik Kiddle as a mayoral rival. It looks as though it will be the candidate who shows most empathy with the community that will win the day, but Boult seemed to enjoy significant support for his pragmatic performance over the past three years.


---