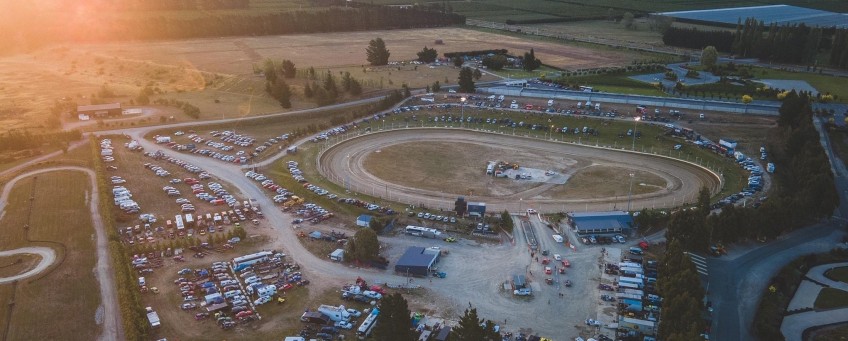 Will talent-loaded field return South Island Champion title to Cromwell?
Nov 30, 2022
---
The South Island Sprintcar title is set to roar into action this Saturday, offering the first opportunity to see this epic battle play out in Cromwell since 2016, when local club driver Daniel Anderson 44T won the title.
As race cars, drivers, crew, families and fans descend on Central Otago ahead of the big day, we look at who could take the chequered flag.
Sporting distinctive wings front and rear, sprintcars are the world's fastest speedway cars and Cromwell 'T' drivers regularly feature on the podium. Covid cancelled the 2021/22 title, but local Sam O'Callaghan 49T took second place in both 2020/21 and 2019/20, with Jayden Dodge 41T second the year before. Before Daniel Anderson 44T celebrated his podium finish in 2016/17, Jason Scott 88T had taken the title five years in a row.
Local drivers are back again, in fighting form. Will Queenstown's Jason Scott reprise his role of South Island champion for a sixth time?
It's only his first season in a sprintcar, but young Adam Evans 98T has already shown stunning talent on the track. Josh Buchanan 43T is another rising star, with a good, strong mindset and obvious talent. Either young gun could take the title.
Veteran sprintcar driver Andy Erskine says the field is just too close to call – no one driver has a complete edge and luck will play its part. It will be an excitingly close final race.
"Sam O'Callaghan is a definite contender; he's local, but driving another race car 75N," he says.
"Canterbury race-drivers the Duff brothers are back. With Christchurch-based Jayden Dodge now racing for us, that strong Cantabrian/Central Otago rivalry will provide plenty of entertainment."
Mr Erskine says the format of qualifying rounds followed by a one-race final means fans will see a clear winner on the night. That win may just usher in the new generation of winning race drivers.
"The average age of drivers racing is under 25, which proves once again the value of mentoring our young speedway talent from a young age.
"On Saturday, the podium might very well belong to a new generation."
Main image (Faded Photography): Central Motor Speedway - Sandflat Road, Cromwell, Central Otago.

---